09 Dec 2020
We'll Meet Again – We Know Where, And When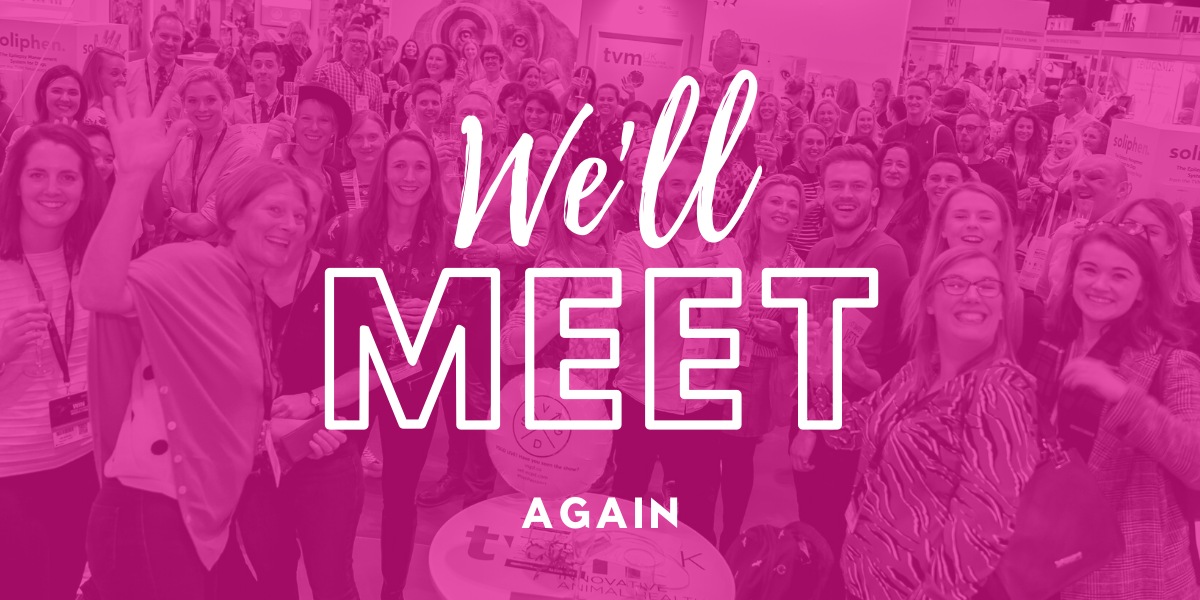 Vet Show HQ, London: As we wind down for the year, we are reflecting on a crazy 2020. We've stood 2 metres apart yet side-by-side the veterinary sector this year. We cried, we laughed, we clapped. Like a lot of businesses throughout 2020, this year hasn't come without hardships. We know that postponing the London Vet Show was like cancelling Vet Christmas.
But here we are, 9 months post-lockdown one announcement and we have become expert webinar providers, developed a leading online CPD resource and created and collate a popular, monthly industry newsletter. And now? There's a new dawn glimmering over the horizon and we are deep into the planning phase of not one, but two live Vet Shows for 2021.
Whether you supported us by purchasing tickets, watching webinars, using Vet Show Academy or reading our newsletters, from the bottom of our hearts – thank you. Your small actions have helped the Vet Show go on and cemented the continuation of our events for years to come. You're simply the best and we can't wait to meet you all again and now we can say – it will be in 2021! Firstly, at BVA Live and again at the London Vet Show. It's not the year we predicted but it is an interesting year in review:
3155 LONDON VET SHOW DELEGATES
The countdown is on! Thousands of vet professionals are registered to attend the biggest and most exciting veterinary event next year: the London Vet Show, 11-12 November 2021 at the ExCeL, London!
17,933 WEBINAR SIGN-UPS
Across 21 live webinars! We covered a huge range of topics from surgery to diagnostics to resilience in the veterinary workplace. That's over 1000 sign ups per webinar! And you can watch the bulk of them now on Vet Show Academy.
17,657 NEWSLETTER READERS
From 9 editions and we were delighted to welcome 674 new subscribers. Sign up now!
3,916 VET SHOW ACADEMY USERS
From the UK alone have been enjoying our global, digital archive of veterinary education, and loads of new webinars from 2020. Check it out here!
BVA LIVE coming June 2021! We're delighted to be working with the BVA on this sparkling new addition to the veterinary calendar, will take place next year for the first time at the NEC, Birmingham!
3 WEEKS
Is the amount of time the Vet Show team is taking to rest, recuperate and get ready for the return of live events in 2021. We've worked tirelessly throughout the year to ensure the constant provision of fresh and engaging CPD. So now, it's time for a break. The office will be closed from 5 PM on Friday, 11th December and will re-open at 9 AM on Monday 4th January.
Any and all inquiries will be responded to upon our return - so please email lvs@closerstillmedia.com. Or get yourself on Santa's Nice List and organise your 2021 CPD in advance: