14 Apr 2020
24-hour support for frontline Vets during COVID-19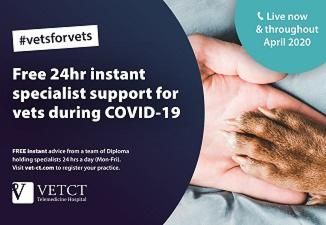 VetCT have announced the launch of Vets For Vets – an online and tele-system providing 24 hour support for frontline vets who are dealing with challenging, emergency clinical cases during the COVID-19 outbreak – which has left many practices running on skeleton staff.
Over the past month, strict staffing restrictions and illness have heightened anxieties throughout the global veterinary community. As a result, VetCT, consultants in veterinary telemedicine, received a significant increase in calls from veterinary practitioners in clinical settings. In response, they have gathered a network of veterinary specialists from Europe and the Americas who can provide 24-hour support, Monday to Friday, for GP vets on the frontline.
"We were overwhelmed with offers (by veterinary specialists to help) and it has been really touching to see how many specialists want to give their time to help GP vets during COVID-19." Said Victoria Johnson, Director at VetCT.
To gain support, a vet in practice simply needs to call a telephone number and will be immediately directed to the appropriate specialist to discuss the case at hand. They can also send supporting information such as lab results, videos or photos. After the call, they will receive a short summary of the advice given. Johnson explained "We are incredibly cautious about keeping excellent records of all the interactions and following careful protocols to protect by the vet and the specialist."
The system doesn't require fees or tie-ins and is available from now until April with the possibility of extension depending on government announcements. Register today at www.vet-ct.com/gb/registration/
"This effort touches so many aspects of what makes veterinary medicine a very caring profession and we are hoping that it brings specialist and GP vets closer together in a lasting manner." Said Johnson.
END
VetCT are long-time supporters of the London Vet Show and are exhibiting this year on stand U50.