17 Nov 2022
AmiShield, a total chemistry diagnostic solution for the veterinarians!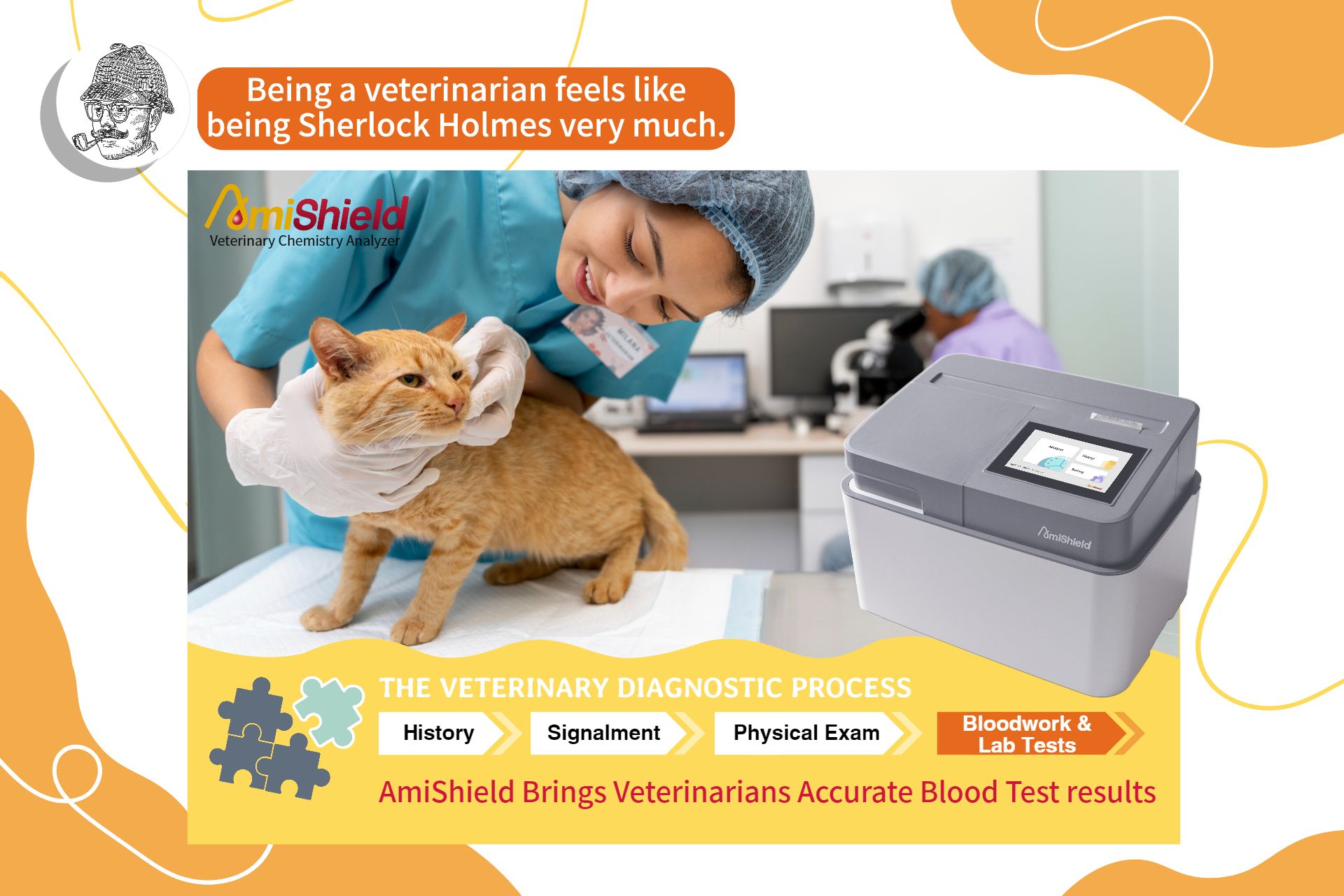 The diagnostic process for pets is more complicated compared with that for human patients. In general, veterinarians have to collect pets' history, signalment, physical exam results, and blood test findings to narrow down the possibilities and make clinical diagnosis. To help veterinarians formulate diagnosis, we believe AmiShield can decode accurate blood test results in the part of bloodwork.
AmiShield, a multi functional veterinary chemistry analyzer, is able to perform chemistry, electrolytes and several immuno assays such as cCRP, fSAA, T4 and HbA1c...etc. Moreover, AmiShield supports over 50 species or exotic pets in addition to companion animals. With the microsampling technuiques, only 60-140ul blood sample is enough to measure or examine chemicals, proteins or other substances in patients' blood and to reveal whether they have any disorders or to monitor a chronic disease or condition.
<IMMUNO-ASSAYS>
Inflammation – cCRP & fSAA
Endocrine – Total T4 & HbA1c
<Biochemistry Tests>
Liver
Kidney
Pancreas
Cardiac
Electrolytes
<Special Tests>
Total Bile Acids
Fructosamine
UPC/UACR
D-Dimer
If you would like to know more about AmiShield, it is for sure that you are welcome to visit our stand at C75 at the London Vet Show and we are happy to showcase our new generation multi-functional veterinary chemistry analyzer; however, if you are unable to attend this event, feel free to email our sales team at info@protectlife-intl.com for more details or visit our website at www.amishield.com.
We also welcome you to follow our socials on LinkedIn, Facebook and YouTube.
LinkedIn: https://www.linkedin.com/company/protectlife-intl-inc-/
Facebook: https://www.facebook.com/ptlpoct
YouTube: https://www.youtube.com/channel/UCJtbt_K2QdABHZkaWBSstQQ/about