16 Jun 2021
An online medical marketplace built by a veterinary nurse! Etsy?! Amazon?! No, MolyMed Supplies!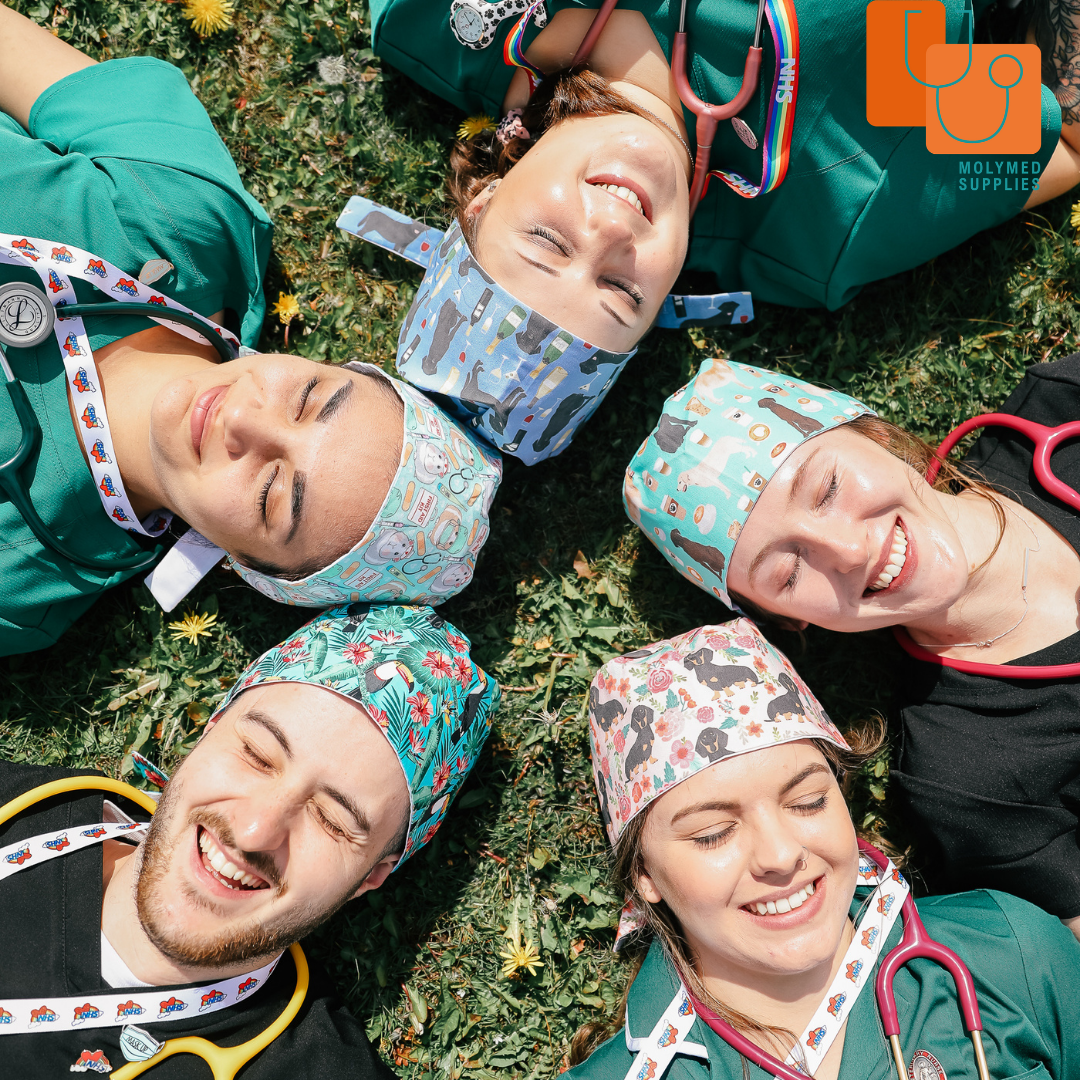 Molly Fiander RVN CERTECC has been a locum for 5 years now and when the pandemic hit lost her income, her new home fell through, her relationship ended, and she was left with a lot of free time.
Molly has never been one for sitting still and over many years has trained herself to always see the positive. So used this free time and the house deposit on something she truly believed in.
During her many years of locum life, Molly has worked with some incredible, talented, inspirational professionals. She came across so many small businesses that she loved supporting, from sustainable scrub hats, pocket organizers, stationary, personalised stethoscopes and even scissors engraved with your name!
The only issue was Molly's memory has never been that great. So, after a busy shift remembering 100 of jobs, medications, patients, and consults. It was hard to then remember the name of the small business she wanted to buy from later that night. It wasn't easy finding them on Amazon or Etsy because the marketplaces were not designed for medical equipment and were too impersonal.
Light bulb moment….
MolyMed Supplies was born!
We asked Molly a few questions and here is her response.
What is MolyMed Supplies?
MolyMed Supplies is a UK online Medical Marketplace where small to medium size businesses in the veterinary and healthcare industry can sell directly to their target market.
We make it super easy for professionals to find all their work life essentials in one place PLUS support small business which are often created by vets, vet nurses, doctors, nurse, physicians, midwives and so many others.
What can I buy from MolyMed?
Everything you need at work and then to also chill out after! Fob watches, scrub hats, scissors, lanyards, tourniquets, pocket organisers, we even have training kits on suturing and how to place an IV!
Then for after work we have yoga equipment and home fragrances to help you relax and unwind.
Who can sell on MolyMed Supplies?
We have 3 categories:
If you are a medical/veterinary professional and have created or supplied a product suitable for veterinary or healthcare industries. E.g., hats, fob watches, badges, wellbeing products or accessories.
If you are a medical/veterinary professional and have created or supplied a product suitable for anyone! E.g., candles, gift books, pins, non-medical creations.
Anyone who supports the veterinary or healthcare industry by creating products for professionals. E.g., Scrubs by a sewing company.
Do you have a website?
Yes! www.molymedsupplies.co.uk
What does the future look like for MolyMed Supplies?
SO exciting! MolyMed is becoming a place where people can come together to support one another either by buying a product, listening to one another, offering guidance, creating change, and building a better work environment which consequently will improve patient (both human and animal) care.
We are also looking into supporting practices and students with a few upcoming projects, but they are top secret for the moment!
So, are you looking to give up nursing?
NO WAY! I am a vet nurse and always will be. I have an amazing team in MolyMed, and I still currently work nights as a nurse. I hope to soon help aboard at neutering charities and elephant sanctuaries.
What is your favourite thing about MolyMed Supplies?
The community it is creating for sure! We are just about to launch a blog page, perform some lives with our amazing vendors and other incredible people in both healthcare and veterinary. There are some amazing charities which we also hope to work with very soon.
Supporting fellow veterinary professionals and our amazing NHS is something I care very passionately about, now more than ever.
Burnout is a real thing and mental health is incredibly important. The suicide statistics are heart-breaking, and something must be done. MolyMed is small (but growing) but we have big voices and big hearts which is sometimes all someone needs to stop them making that heart-breaking decision. Everyone is incredible and I won't stop until every individual knows that, and the industry starts treating professionals better regarding pay, hours, and mental wellbeing. We are humans not machines.
How do I set up a shop then if I want to sell?
It's a super easy process and takes less than 2 minutes!
Simply go to www.molymedsupplies.co.uk
Click "Create my Shop" on the homepage and follow the 5-step seller registration process.
Then all you need to do is add your logo, products and shipping and you are ready to sell on MolyMed Supplies!
MolyMed Supplies is so excited to be part of the London Vet Show this year and we can't wait to see everyone face to face again! The atmosphere is going to be electric, and we are ready for it!