11 May 2018
At the Animal Health Trust (AHT) we are the leading veterinary and scientific research charity dedicated to the health and welfare of dogs, cats and horses.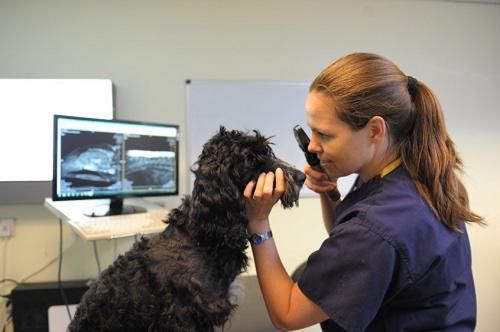 At the Animal Health Trust our Small Animal Clinic offers a world-class referral and diagnostic service for dogs and cats. We work with referring vets to gather and collect information about the problems our patients are diagnosed with so we can learn more about these conditions. This enables us to evaluate the effectiveness of new treatment options and better understand individual cases. Ultimately, we pass everything we learn on to the wider veterinary and scientific professions for the benefit of animals across the world.
Our small animal clinic provides a 24/7, 365 days a year service offering expertise in a range of disciplines, including:
Dermatology
Internal Medicine
Medical Oncology
Neurology/Neurosurgery
Ophthalmology
Physiotherapy and Hydrotherapy
These are also supported by speciality teams in:
Anaesthesia
Diagnostic Imaging
At our Equine Clinic our orthopaedic team's forte is investigating performance horse problems and lameness. We perform comprehensive evaluations used to determine a bespoke treatment and rehabilitation programme for each of our patients and also offer a direct imaging referral service using our comprehensive diagnostic facilities.
The AHT has pioneered the use of HDR brachytherapy for skin tumours around the eye of horses under sedation and has now treated more than 100 horses, with a success rate of over 90%. The AHT remains the only veterinary clinic in the UK to offer this kind of treatment to horses.
To find out more about the work of the Animal Health Trust come and visit us at the London Vet Show on stand M84. Take part in our Ophthalmology quiz and be in with a chance to win a free CPD day.