11 May 2018
AVID will be showcasing its latest MicroChip products and services at London Vet Show on stand R32.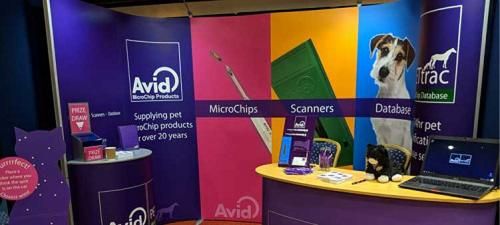 Every AVID MicroChips includes FREE database registration, either electronically or paper forms. If you're practice uses VetEnvoy in conjunction with your practice management system then you'll be able to register your MicroChips automatically through your software, but there's always our easy-to-use website or mobile app as an alternative.
AVID manages the PETtrac Database, which means that AVID MicroChips come with FREE transfer from breeders to the new keeper, when transferred online. Come and talk to us about this and the other services we offer which could be of benefit to your practice.
If you haven't seen it before we'll have the AVID MiniTracker with Bluetooth connectivity which will work in conjunction with our app for registering AVID pet MicroChips or any compatible Bluetooth device.
We love helping our customers, especially independent practices, by providing free marketing materials in the form of leaflets and posters to help them promote MicroChipping.
Supplying pet MicroChips for over 25 years in the UK, AVID offers the complete solution for your practice including pet MicroChips, scanners and the PETtrac Database service.
Pop along to see the choice of MicroChip implanters and the smaller MicroChips and don't forget to enter our competition!
If you aren't attending London Vet Show visit www.avidplc.com or call freephone 0800 652 7 977 for more information on our products and services – otherwise we'll see you on stand R32.