04 Nov 2021
Biosecurity Need Not Cost the Earth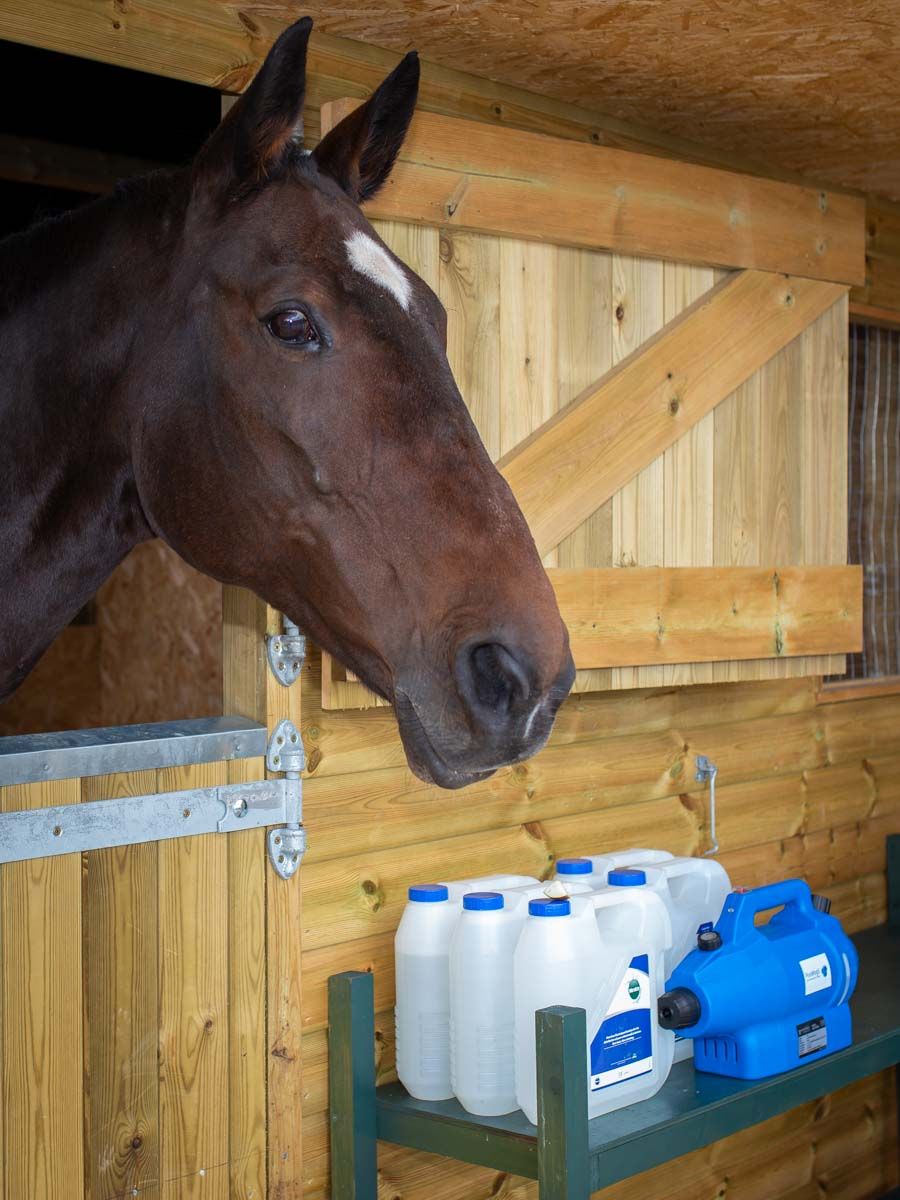 London Vet Show Introductory Offer – 50% off

SAVE TIME, MONEY AND THE PLANET
Safe for use around animals and people and harmless to the environment
Visit Purazine Stand J04
Vets visiting Purazine Stand JO4 at this year's London Vet Show can save on biosecurity measures and keep staff and clients safe this winter with discounts of at least 50% on MicroSafe, the world's most widely verified and approved, natural, 99.9999% effective, non-toxic, non-corrosive eco-disinfectant.
MicroSafe is the perfect infection control partner in practice. Quickly (under a minute), efficiently, effectively (Log6 reduction) and efficiently fog and spray Microsafe in high traffic areas such as receptions, kitchens and bathrooms, stables, stocks, water buckets, mangers, kennels, treatment rooms and operating theatres - - in fact anywhere that it is vital to mitigate the spread of infection.
MicroSafe is approved and safe for use on all semi-critical medical devices. Requiring no waiting time and no rinsing, endoscopes, for example, can be safely and quickly disinfected between horses. As it is environmentally friendly, MicroSafe can be disposed of safely posing no threat to aquatic or plant life.
Used topically, MicroSafe can be used to treat a multitude of conditions such as mudfever and whiteline disease.
"Fogging is the quickest and most efficient way to sanitise stables, the operating theatre and hard-to-reach areas – and I know it's not going to damage surfaces and equipment so it has become an essential weapon in our infection control armoury, explained Tim Galer B Vet Med Cert ESM MRCVS Peasebrook Equine Clinic. "Also, MicroSafe doesn't irritate the respiratory tract like the other solutions and is kind on skin" he concluded.
MicroSafe – the facts
Kills 99.9999% of bacteria, fungus, and viruses including SARS-CoV-2 (COVID-19) and Norovirus (Gastro) and those that cause equine illnesses such as Equine Influenza, Strangles and conditions like mud fever and white line disease among others
Kills on contact within 30 seconds, unlike other disinfectants that can take up to ten minutes
All natural, biodegradable, pH Neutral, zero toxins, zero hazards, zero sensitivities
Sprayed or fumigated as a fine mist disinfects quickly and effortlessly
Is harmless to all; no special handling or precautions are required
Safe around tack and equipment and all surfaces – including leather, synthetics, horseboxes
Passes all aviation material compatibility testing requirements - zero corrosion risk – perfect for all semi critical medical devices
Requires no dilution, activators or mixing; touch dry in 60 seconds; no harmful residue
Global Approvals - CE, FDA, DAWE, and TGA approvals and GECA Certified
Widely used: Hospitals to Veterinary Practices, Supermarkets to Schools, Racing yards to Retailers and Aged-care to Airlines.
All relevant certificates, lab test reports and registrations available on request.
"With this level of efficacy, contact time, shelf life and being non-corrosive, MicroSafe sets the gold standard in disinfectants making it ideal for use in clinical settings as well as general disinfection application." Dr Hugh Martin, former Head of Agricultural Science now Honorary Fellow at RAU, and scientific adviser to the HOCl Trust for Hygiene and Safer Water"
Hear about the science here https://vimeo.com/233746798
MicroSafe is distributed by Purazine UK and Purazine Ireland
End
For further information please contact:
Andrea Worrall on 44 (0) 7778 302502 aworrall@purazine.co.uk