13 Sep 2019
Caraselle Pet Hair Removers ' the UK's brand leader and an ideal retail product generating repeat sales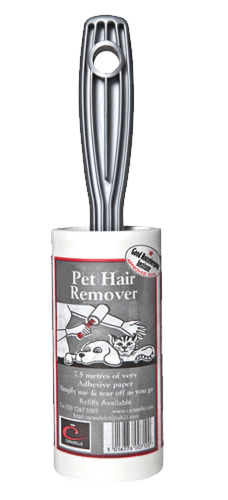 In the UK we believe about 1 in every 2 households owns a dog or cat, so it's no surprise that people LOVE our Pet Hair Removers!
These pet hair removal rollers are by far the best! A truly great product.
It is the best product I have ever used for removing pet hair and fibres from any material. Was recommended this years ago by another pet owner and have never looked at buying anything else.
I have two very hairy dogs and your product is absolutely right for stopping me looking like a hairy dog as well!!
There's so much to say about our Award Winning Caraselle Pet Hair Removers! Boasting an incredibly long 7.5 metres of the stickiest paper on a continuous roll (to prevent drying out), this is much, much longer and stickier than any others on the market, which typically have only 1 to 2 metres of not very adhesive or effective paper. They are made in Europe to our own high specifications, and all plastic components are recyclable.
The removable handle is a big benefit to customers who can buy refills when needed instead of a replacement Roller, and it's a big benefit to you because of the profit boosting REPEAT BUSINESS the Refills provide! They are extremely effective at removing pet hairs, fluff, lint and lots more from most surfaces like nothing else can!
For many pet owners it can seem virtually impossible to keep up with the hair loss on carpets, furniture, clothing and more, so people turn to our products to give them that helping hand. There are so many opportunities to promote this product in your own practice, simply you and your staff using them on your own clothes and chairs in front of customers will get their interest, and provide a perfect endorsement and demonstration of the benefits of these Rollers! We also provide Jumbo sized Rollers, as used by M&S in their food production area for sandwich preparation.
They make a great giveaway product to send to some of your Best Customers, and they also provide amazing promotional opportunities with the option to tailor them to your own brand and requirements you can get noticed and stay noticed with a product that will be used every day! We are the only company that prints throughout the entire roll, and with up to 3 different messages your brand would be seen over and over again!
And you'd be in good company, they have already received success from companies such as:
James Wellbeloved
Royal Canin
Dogs Trust
Fish 4 Dogs
Fish 4 Cats
Hugo Boss
M&S
Timpsons
Pet Gazette
and many, many more!

Our Sticky Rollers are simply the best! They provide unique selling and promotional opportunities for Vets or anyone in the Pet Industry.