19 Jul 2019
CLOSERSTILL VET US ANNOUNCES NEW VETERINARY CE EVENT IN WASHINGTON, DC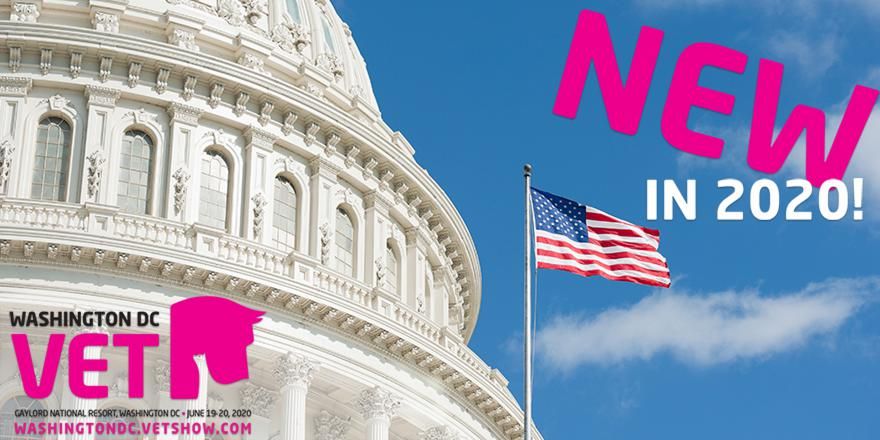 NEW YORK, NEW YORK—CloserStill Vet US, LLC, a joint venture between the London‑based exhibition and conference organizer, CloserStill Media, and US‑based veterinary media company, Brief Media, is launching a new veterinary exhibition in Washington, DC.
Washington DC Vet will be held at the Gaylord National Resort and Convention Center, June 19 – 20, 2020. This 4‑star venue is the largest combined convention center and hotel in the National Harbor and on the Eastern Seaboard.
Following the success of New York Vet, now in its third year, DC Vet is a much‑anticipated addition to the US Vet Show portfolio, which also includes Austin Vet, Chicago Vet, and the upcoming Wild West Vet. CloserStill Media will once again work with Brief Media, publisher of Clinician's Brief, to bring another excellent program to a new destination.
Clinician's Brief, a veterinary industry staple, has been ranked as the #1 most essential publication by small animal veterinarians for the past 12 years. CloserStill Media is proud to partner with these experts to present veterinary professionals with another exceptional learning experience in June 2020.
"In consultation with the vast community of 20,000 veterinary professionals in the DC area, we are very excited to launch this outstanding new addition to our US Vet Show portfolio," said Rob Chapman, managing director of the Vet Portfolio at CloserStill Media. "This upcoming conference will bring relevant and innovative content to the nation's capital. Attendees will learn from experts in the field and sharpen their own skills in veterinary practice. It will be a great experience for everyone.
"DC Vet follows the unique 2‑day format of New York Vet and is designed both for veterinary professionals in the area and those who enjoy traveling for their continuing education. Attendees can expect to hear from world‑class veterinary leaders, network with other professionals, expand their knowledge, and develop essential skills in treatment, client education, practice management, and much more. Exhibitors can anticipate continuous traffic and an incredible ROI.
"We are immensely gratified to see the continued growth of the US Vet Show events through our partnership with CloserStill Media," said Elizabeth Green, CEO and founder of Brief Media. "We look forward to delivering our trademark CE experience to veterinary professionals at DC Vet."
The hosting venue, the Gaylord National Resort and Convention Center, features a 19‑story glass atrium, a spacious event floor, and several amenities for guests, including a full‑service spa and multiple restaurant options. This exceptional event venue is situated along the shores of the Potomac River and is surrounded by 3 major airports, ensuring easy access for travelers. DC Vet will debut at the Gaylord National Resort and Convention Center, June 19 and 20, 2020. For more information, contact Cheryl Sutton, Brief Media director of events and partnerships, at 918‑710‑4605, or visit us online at washingtondc.vetshow.com.