16 Aug 2022
Disabled Mini Horse TROTS in New Wheelchair! Rescued, Running, & on the Road to Recovery!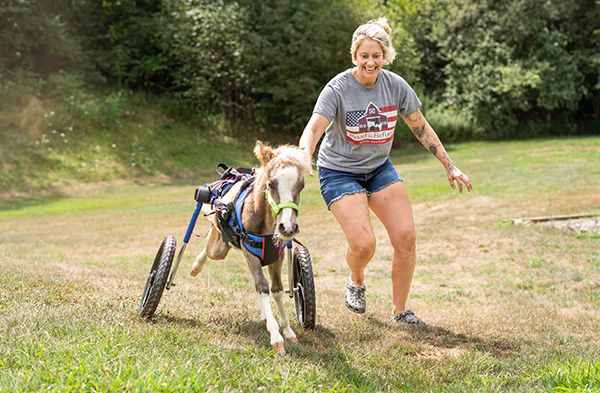 Turbo can only walkn a hunched position, with his total weight being placed on his two front legs. Turbo's previous owners contacted Road to Refuge Animal Sanctuary (R2RAS) in North Haven, Connecticut, for guidance, and R2RAS stepped in and offered to give Turbo a fighting chance at their sanctuary!
Megan, the Founder of Road to Refuge and Mixed Animal Vet Technician, began her organization after working at a veterinary practice. During her time as a Vet Tech, Megan saw a surplus amount of farm animals being brought in to be euthanized. She knew she couldn't let that happen, and instead, toshe ok the animals home with her to give them a second chance at life
Megan is no stranger to animals with special needs, saying, "I lean towards the special needs ones, the broken ones, the really medical intensive cases." She has cared for blind goats, elderly goats, and a goat named Peaches who needed a wheelchair for assistance - which is how she got started on this path, which ultimately led her to Turbo's rescue!
Walkin' Pets, a NH-based pet mobility company, came across Turbo's story on social media and drove to the sanctuary, where they donated a wheelchair to Turbo. Before they could even get him fully strapped in – he took off RUNNING! Everyone in attendance couldn't believe their eyes . . . Especially Megan. "Seeing Turbo 'walk' before any assistance and dragging his legs to being in his cart - I almost started crying. I am not a crier, but I almost started crying. He was running, bucking – it was all very exciting," says Megan. Megan urges people not to shy away from adopting a special needs animal, "it's definitely a road worth traveling – they really make a special place in your heart."
Visit Booth #F63 at The London Vet Show 2022 to learn more about Walkin' Pets and the many pet mobility solutions available.