Discover KRKA pharmaceutical solutions for daily added value in practice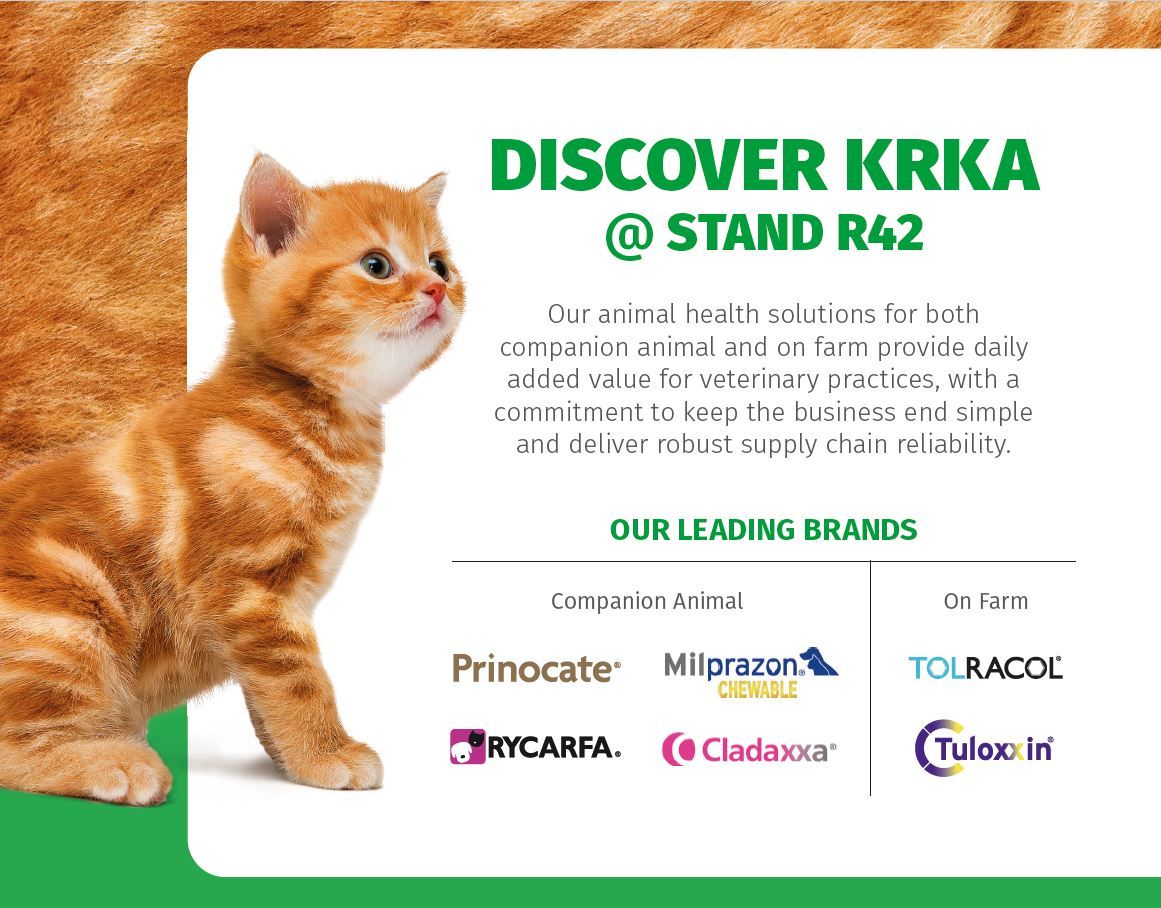 Come to Stand R42 and meet the KRKA Team at London Vet Show
Our animal health solutions for both companion animal and on farm provide daily added value for veterinary practices, with a commitment to keep the business end simple and deliver robust supply chain reliability.
With 50+ years in developing animal health pharmaceuticals, Krka continues to bring innovation to the category with its Generics+ range covering key areas such as parasite and infection control and pain management.
We are showcasing two new 2022 product launches at London Vet Show
NEW launch of Cladaxxa (Amoxicillin/Clavulanic Acid)
Krka has extended its companion animal product range with the launch of Cladaxxa®, a broad-spectrum antibiotic offering proven efficacy in the targeted treatment of respiratory, digestive, urinary, skin and dental infections in dogs and cats.
Offering bioequivalence to the market reference product¹, Cladaxxa is a combined amoxicillin/clavulanic antibiotic, designed for first line treatment of bacterial infections2. This new range is available in three strengths of flavoured tablet, with the 200/50 mg formulation also licenced for cats to reduce the tablet burden in larger breeds.
The range is presented in Krka's unique blister design packaging to protect the clavulanic acid, which is highly sensitive to moisture. Ready-scored tablets support accurate dosing and optimal use is also ensured as halved tablets can be returned to the protective blister packaging to be used within the following 24 hours. It is offered in packs of 60 or 100 tablets to offer maximum efficiency for practices.
PLUS Don't miss the latest module in our Vet2Vet Insights series... Best Practice Advice For Responsible Use of Companion Animal Antibiotics that will launch LVS. Krka have teamed up with Dr. Tim Nuttall from the Dick Vet School and who is a globally recognized veterinary specialist in dermatology and antimicrobial resistance, to provide vets with the latest practical guidance on how to replace, reduce and refine the use of antibiotics.
Upgrade to Milprazon Chewable (Milbemycin Oxime/Praziquantel)
Krka's well-established broad-spectrum dog and cat-wormer, Milprazon®, has been further upgraded to a new highly palatable format to facilitate easier year-round worming regimes for dogs and cats.
Milprazon CHEWABLE is the first wormer in its category with proven palatability for dogs based on EMA Testing Guidelines. In a study¹, more than 85% of dogs ate the tablet 'voluntarily', with 75% taking it unprompted from their food bowl.
The optimised tablet shape across the range combines the best features of both chewable and film-coated tablets and the new colour-coded packaging supports clear and simple dispensing.
It is the latest addition to Krka's portfolio of added value, tried and trusted generic medicines and is available in a range of presentations, making it suitable for puppies from two weeks old (0.5kg) and kittens from six weeks old.
And last but not least… the chance to win in our prize draw and lucky dip chocolates competition!
Bring your LVS delegate bag Krka voucher to our Stand at R42 for a chance to win a Portable Bose® Speaker in our prize draw. Plus we are offering visitors who pop in to say hello to the Krka Team and learn more about our product range a free box of chocolates and a chance to win a lucky dip prize!

https://www.krka.co.uk/media/uploads/uk/pharmaceuticals/Krka-at-London-Vet-Show-2022.pdf