11 Jan 2019
DIY Digital Marketing Basics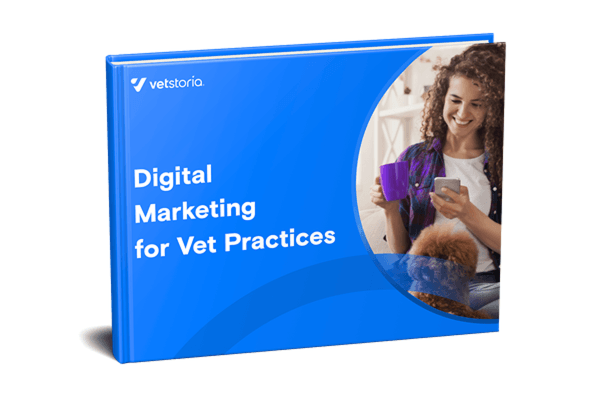 Practices must continually acquire new clients in order to survive. And when it comes to acquiring new clients, digital marketing works. (That's why it's everywhere!)
Digital marketing consists of many different components which all boil down to driving visitors to your web presence (website or social media page), engaging and converting some to marketing leads, then closing sales. Read on to find out what the general prerequisites are for a practice to manage its own digital marketing or download the complete 30-page ebook here.
Of course, a website is one of the prerequisites.
Good News: There are many easy-to-use tools that enable you to build a site yourself without being a web developer, such as Wix and WordPress.
Digital Marketing for Vets Starts with a Decent Online Presence
"Some estimates suggest that as many as 25% of all visitors to a practice website are at least potentially looking for a new practice - and a remarkably large number of clients follow more than one vet on social media."
Good News: Don't spend thousands on a "branding" design package. Just launch a decent website. A stunning website is highly unlikely to generate significantly more revenue.
In addition to your own website, you must be present with regularly posted updates on social media and review sites.
Include Online Appointment Booking
A quality online booking solution provides convenience to pet owners and effectively makes your practice "open" 24/7. Online booking improves digital marketing efforts by attracting more website visitors, and then quickly and easily converting potential clients into new clients.
Online booking also saves time for vet practices, and frees up front desk staff to focus on other initiatives that generate revenue and improve customer service.
Good News: Adding "book Now" to your website helps you transform website visitors into new clients. With tools like Vetstoria, it can be quick and easy to set up, with no downloads required.
Get Your Vet Practice Listed Online
Standardize your directory listings everywhere by making sure to have consistent, up to date info on sites such as Yelp, Bing, and Google My Business.
Leverage Happy Clients for Effective Digital Marketing for Vets
Reviews are critical. Having genuine and representative online reviews on a website increases conversion rates by about 20%.
Good News: Just ask your clients to post reviews! Research shows that 70% of consumers that have been asked to leave reviews went on to do so.
Measure Digital Marketing ROI
There are many opportunities to improve your customer acquisition processes and improve the rate, or progression through each stage of the marketing funnel. For example, improving your search engine rankings will increase the number of visitors to your website. You can also increase the number of customers who take a step to become a lead by making your calls-to-action more appealing. And you can increase the number of those leads who become customers by creating and sharing content, such as testimonials, that helps drive a visit to your practice.
Evaluating key metrics enables you to make incremental improvements in your digital marketing initiatives and allocate funds effectively to the best performing channels.