09 Jul 2020
Dr Laura Sullivan: the smiling face behind "All Scrubbed Up"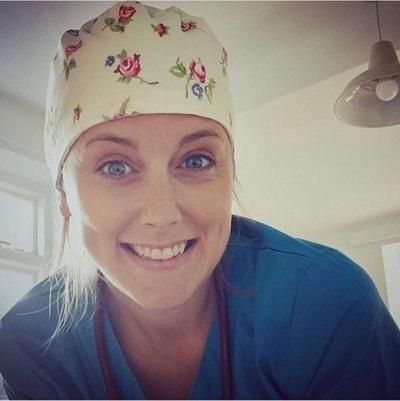 Meet Dr Laura Sullivan MRCVS and founder 'All Scrubbed Up', a small business providing bespoke, fashionable reusable scrub hats to veterinary staff, who is using her platform not just to awareness of eco-friendly alternatives, but also to promote a positive team culture in the veterinary workplace:
"The ethos of All Scrubbed Up is to make a difference - to have a lasting positive impact on the environment - while spreading joy, recognising and appreciating each other.
Some vets and vet nurses may be frustrated with the amount of waste produced in veterinary practice and are looking for ways to become more eco-friendly. Disposable single-use items such as scrub hats are a contributing factor which can easily be avoided. The scrub hats are high quality, lined and comfortable and available in a wide variety of fun and funky fabric choices to suit everyone, ranging from Unicorns to Sloths to ECGs and even Labradors & Wine.
All Scrubbed Up scrub hats enable the human and personality behind the uniform and job role to be showcased, increasing a sense of identity. They make the perfect cost-effective, eco-friendly addition to your practice's PPE.
A positive team culture can be reinforced by spreading smiles and gratitude through the celebration of a variety of occasions such as birthdays, graduations, passing exams, new jobs, or simply for those 'thanks for being so great' moments; all of which are worth capturing as permanent keepsakes."
Get in touch to discuss how All Scrubbed Up can manage your reusable scrub hat needs – bespoke options including logo printing available, practice/individual orders and collaborations welcome.
Contact: allscrubbedupscrubhats@gmail.com
Facebook www.facebook.com/allscrubbedupscrubhats
Instagram @allscrubbedupscrubhats
Website: COMING SOON www.allscrubbedupscrubhats.com