02 Oct 2020
Ella, the Wonky Puppy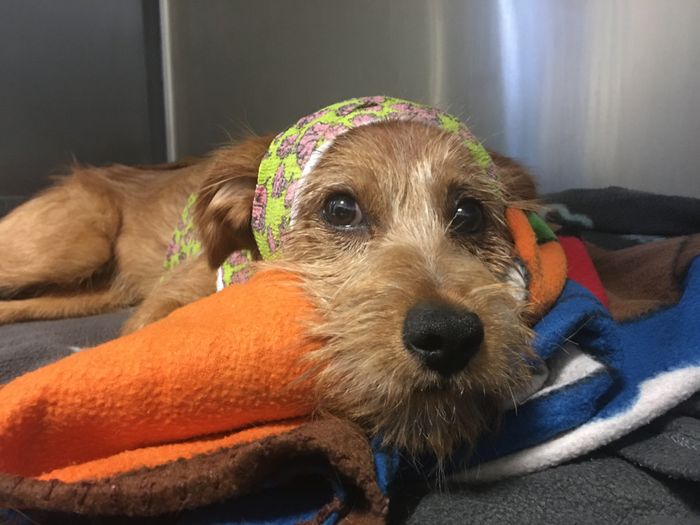 Ella, a 7-month-old female crossbreed pup, was recently referred to the neurology department at Pride Veterinary Centre Referrals in Derby, part of the IVC Evidensia Referrals Network. She was experiencing episodes where she collapsed with stiffness in her neck and developed trouble walking.
She had not had a great start in life, finding herself in a rescue centre in the Galicia region of the north of Spain. A charity brought her to the UK and she was with a foster family until a forever home could be found for her. It was while she was with her foster family that her collapsing episodes were noticed.
She had a total of three episodes over a few months, always when she was excited or walking. She would lose her balance, her neck would stiffen and she wouldn't be able to walk. Although she recovered after about 30 minutes, she would then be quiet for the rest of the day. She was definitely a poorly puppy, not able to walk, run and play as a normal 7-month old.
Patricia Álvarez, a neurology resident at Pride, examined Ella on referral. She had a weakness in all four limbs and virtually no paw placement response, with the weakness more pronounced on her left side. She was reluctant to move her head, preferring to follow whatever she was watching with her eyes only, and she showed a painful response when her neck was gently manipulated. Her proprioceptive responses were quite reduced in all four limbs, again worse on her left side and in her back legs.

Patricia arranged for cervical radiography to help make a diagnosis and discovered that Ella's cervical vertebrae had not developed so the alignment of her spine wasn't correct. As she gently moved her neck the C1-C2 joint were trapping her spinal cord, causing her to collapse. She had a malformed C2 vertebra (missing odontoid process) and also had a curvature of the spine at C2-C3 possibly resulting from missing or weakened ligaments. She had been born with a wonky spine that was damaging her spinal cord as she was moving around.
Once Patricia had her diagnosis confirmed by Irene Espadas, Pride's Referral Veterinary Neurologist, Ella had her neck splinted to keep it straight and to make sure no further damage would be caused. Irene said,
"When a first opinion vet is presented with a case like this, it's not easy to pinpoint the problem so, it is important to keep referral in mind. The sooner the patient's neck is stabilized, the better. The degree of recovery from cases such as these is dependent on how quickly the issue is diagnosed so further spinal cord damage does not occur."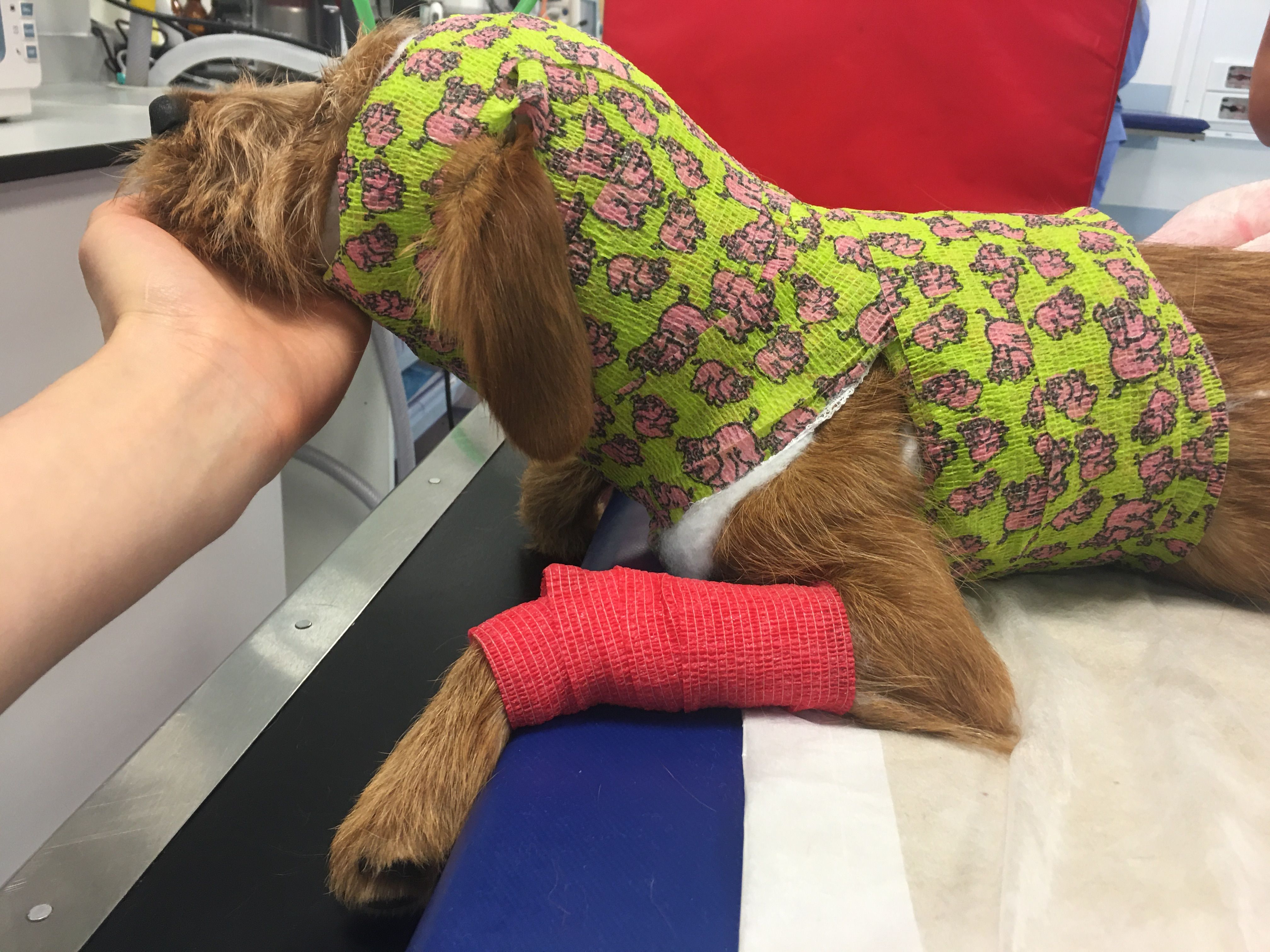 It was agreed that surgery would be needed to stabilise Ella's vertebrae and stop any further damage. This would involve implants to replace the missing or weakened ligaments.
Felipe de Vicente, Specialist in Small Animal Surgery, was called upon to help with the surgery, using a CT scan of Ella's spine to plan where the implants were needed.
The surgery was a success and Ella will be able to run and play, without collapsing or any neck pain, after she had healed from the surgery. Due to the extensive vertebral stabilization (C1-C2-C3) she will always experience some stiffness in her neck but it won't impede on her life and would remain pain fee. Patricia said,
"She will always be a little bit of a wonky puppy when she runs, which is to be expected after the concurrent injuries she had suffered over a few months but, she will live a pain free, happy, healthy life."
---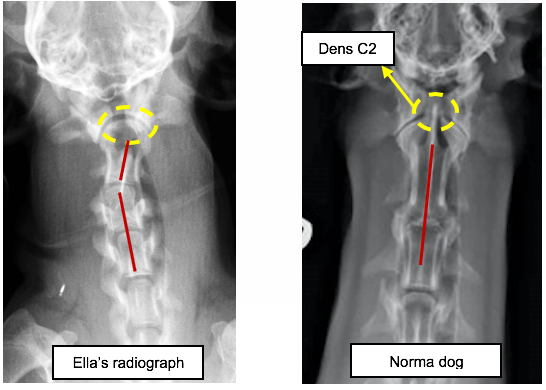 Case Notes
Patient: Ella F 7m Cross Breed dog.
History and examination: Ella (6.1 kg) was presented to the Neurology and Neurosurgery service on 18 May 2020 with a 3-month-history of ataxia and intermittent collapsing episodes progressing to severe non-ambulatory tetraparesis.
A total of 3 collapsing episodes were reported. The episodes usually occurred when Ella was overly excited or walking and, were characterised by loss of balance, neck rigidity and dorsiflexion, lateral recumbency and pale mucous membranes. After the first two episodes, she recovered within 30 minutes, yet she remained quiet during the day. The last episode occurred on the day of the referral.
Physical examination: Within normal limits. BCS 4/9.
Neurological examination: Ella's mental status was normal. She was severely ambulatory tetraparetic slightly worse in the left side. Ella had a persistent rigid cervical dorsal extension.
The paw placement response was absent in all limbs. The hopping response was moderate to severely reduced in all limbs slightly worse in the left side and in the pelvic limbs. The segmental spinal reflexes were normal in all limbs. The cutaneous trunci reflex was present and intact. The perineal reflex was normal. The cranial nerve evaluation was within normal limits. The muscle tone was normal in all limbs. Moderate painful response was present on gentle palpation of the cranial cervical spine. Ventroflexion of the neck was not performed as Ella was reluctant to move the neck and this could cause further damage.
Neuro-anatomical localisation: C1-C5 spinal cord segments.
Investigations
• Cervical radiographs (neutral and flexion position): The C2 vertebral body dens was absent. There was a sigmoid shape at the level of the C2 and C3 vertebral bodies with a curvature to the right side. On the flexion radiograph there was a mild increased distance between the dorsal lamina of the atlas and the dorsal spinous process of the axis. These findings are compatible with atlanto-axial subluxation, C2 dens agenesis and possible laterolateral C2-C3 subluxation.
• CT scan of the cervical vertebral column (for surgical planning):
- The odontoid process of C2 is absent. The cranial portion of the vertebra is smooth. C2 is luxated dorsally compared to C1 with moderately to markedly narrowing of the vertebral canal and consequent cord compression. There is widening of the space between the dorsal lamina of C1 and spinous process of C2 (distance: 0.6 cm); they form an angle of approximately: 47°.
- In dorsal view the cervical spine has a sigmoid shape, with pivot point at C2-C3 (curvature to the right). There is asymmetry of the C2-C3 intervertebral disc space, being wider at the left lateral portion and narrowed contralaterally. In sagittal view this space has an inverted cone shape, being wider dorsally.
- The supraoccipital bone is partially misshapen.
- These findings are consistent with a C2 Odontoid process aplasia with consequent atlantoaxis instability and luxation. Consequent cord compression and scoliosis. The reported occipital dysplasia could be consider a component of Chiari-like malformation.
Differential diagnoses
• The history, clinical examination and diagnostic investigations are consistent with an atlantoaxial luxation most likely secondary to C2 dens agenesis and consequent instability and spinal scoliosis at the C2-C3 vertebral bodies.
In patient treatment
Ella was admitted on the day of the consultation. After the cervical radiographs, a splint was placed to restrict the movement of the neck and avoid cervical ventroflexion.
Ella underwent surgical stabilization of her atlantoaxial joint on 21 May 2020. The surgical technique consisted in a ventral approach to the cervical spine followed by stabilization with two screws in the body of C1, one screw in the body of C2, 3 screws in the body of C3 and two transarticular screws (C1-C2). Artificial cancellous bone was placed in the joint of C1-C2 and C2-C3 vertebral bodies for promoting vertebral fusion. The ventral aspect of C1-C3 vertebral bodies was covered with gentamycin impregnated bone cement including the head of the 8 crews. The surgical wound was sutured routinely. Post-operative imaging was performed to confirm correct placement. The right C1 pedicle screw was laterally positioned slightly invading the vertebral canal but without spinal cord compression. Considering its lateral position and the physiological wide space within C1 vertebral canal, no further treatment was recommended.
Ella recovered uneventfully and was discharged on 24 May 2019. During hospitalization, Ella showed a good neurological improvement. On discharge, she was comfortable. At the time of the discharge she was ambulatory with no assistance although displayed moderate general proprioceptive ataxia. She was comfortable upon gentle manipulation of the neck.
This represents a significant improvement compared to her preoperative state.
Comments
Congenital atlanto-axial malformation has been reported in association with atlanto-axial instability as a consequent of chronic stress over the ligaments that hold C1-C2 vertebral bodies.
The surgical stabilisation performed in Ella's atlanto-axial joint was successful and her initial improvement is encouraging for a complete recovery.
In Ella's particular case, a good long-term outcome is expected. Although unlikely, future neurological deterioration could occur secondary to implant complications (broken screws, screw displacement or spinal pain).
Further, mild neurological deficits such as ataxia or paresis could remain in the long-term.
Please don't hesitate to contact us as soon as possible should Ella show any neurological deterioration as a re-examination and potential imaging+- surgical revision may need to be considered.
Management instructions given to the owner
o Omeprazole 10 mg (antiacid): Please give 1 tablet orally once daily 30 minutes before food until finishing the current course.
o Calpol 24 mg/ml (paracetamol, pain relief): Please give 2.4 ml orally three times daily until finishing the current course. If vomiting or diarrhoea occur please contact us.
o Gabapentin 100 mg (pain relief): Please give 1 capsule orally three times daily for 5 days, then reduce to 1 capsule twice daily for 10 days and then stop. Side effects include sedation and pelvic limb weakness. Please contact us if Ella remains painful or appears to be sedated.
o Rilexine 300 mg (antibiotic): Please give half a tablet orally twice daily until finishing current course.
o Cerenia 16 mg (anti-sickness): Give only in case of vomiting/sickness/nausea, please give 1 tablet once daily for 2 days. Please contact us if vomiting occurs.
o Loxicom oral syrup (meloxicam, painkiller): Give 6kg dose once daily with food. Stop if she vomits, appears nauseous, is painful in the abdomen or passes diarrhoea.
Exercise: Strict rest for the next 4 weeks in a playpen or small confined room without the ability to jump onto furniture. Please avoid high impact exercise such as running, jumping or climbing stairs or playing with other dogs. Please encourage Ella to do gentle exercise 3-4 times a day for 5-10 minutes for the next 3 weeks with the support of a harness. Please avoid neck leads.
If after this period no deterioration occurs, please increase gradually her exercise activity over the following weeks by 5-10 minutes per week until she is fully able to support her weight and no stumbling. Off lead exercise could be re-introduced after 2 months depending on his reexamination.
Physiotherapy: The above exercise regime is part of the physiotherapy protocol. Please apply physiotherapy including effleurage, petrissage and passive range of motions 3-4 times a day as shown until Ella is fully able to bear weight on all limbs. Please follow the physiotherapy instructions (link) sent to your email where videos were provided to mimic the exercises.
Diet: As usual. Please monitor Ella's weight to ensure her body condition is optimal.
Wound care: The surgical wound does not require any particular care apart from ensuring it is clean and dry. Please monitor Ella is not scratching her neck and placed a collar or a bandana to protect her in case of further trauma. Skin stiches are visible at the level of the right shoulder.
These were placed for the attempt of reaching autologous cancellous bone. The stitches can be removed in 2 weeks from her discharge.
Plan: Re-examination with neurology nurse in 10 days.
Telephone update in 3 weeks. A radiograph of the neck is recommended in 2 months from the surgery.
About Us
Pride Veterinary Centre opened in August 2011 is one of the most advanced small animal hospitals in Europe, built by Scarsdale Vets in partnership with Nottingham Vet School. The state-of-the-art hospital includes CT and MRI, Radioiodine suite, Oncology suite, ICU and spacious operating theatres. The hospital offers a multi-disciplinary referral service including surgery (spinal, soft tissue and orthopaedic), oncology, ophthalmology, neurology, dermatology, cardiology and internal medicine.
The referral centre is specialist-led with an experienced and dedicated nursing team, many of which have additional training and qualifications.
Pride Veterinary Centre is the base for the Scarsdale Vets out of hours service, Vets at Night offering clients round the clock care 24/7
Established in 1945, Scarsdale Vets has grown into one of the largest veterinary providers in the East Midlands, offering a trusted, caring and professional approach to veterinary care for farm animals, equines, and pets. With 12 practices, Scarsdale Vets employs a highly qualified and experienced team of veterinarians and veterinary nurses, offering diagnosis, treatment and veterinary advice on a range of conditions. In 2019 Scarsdale Vets and Pride Veterinary Centre joined IVC Evidensia. For further information please visit www.scarsdalevets.com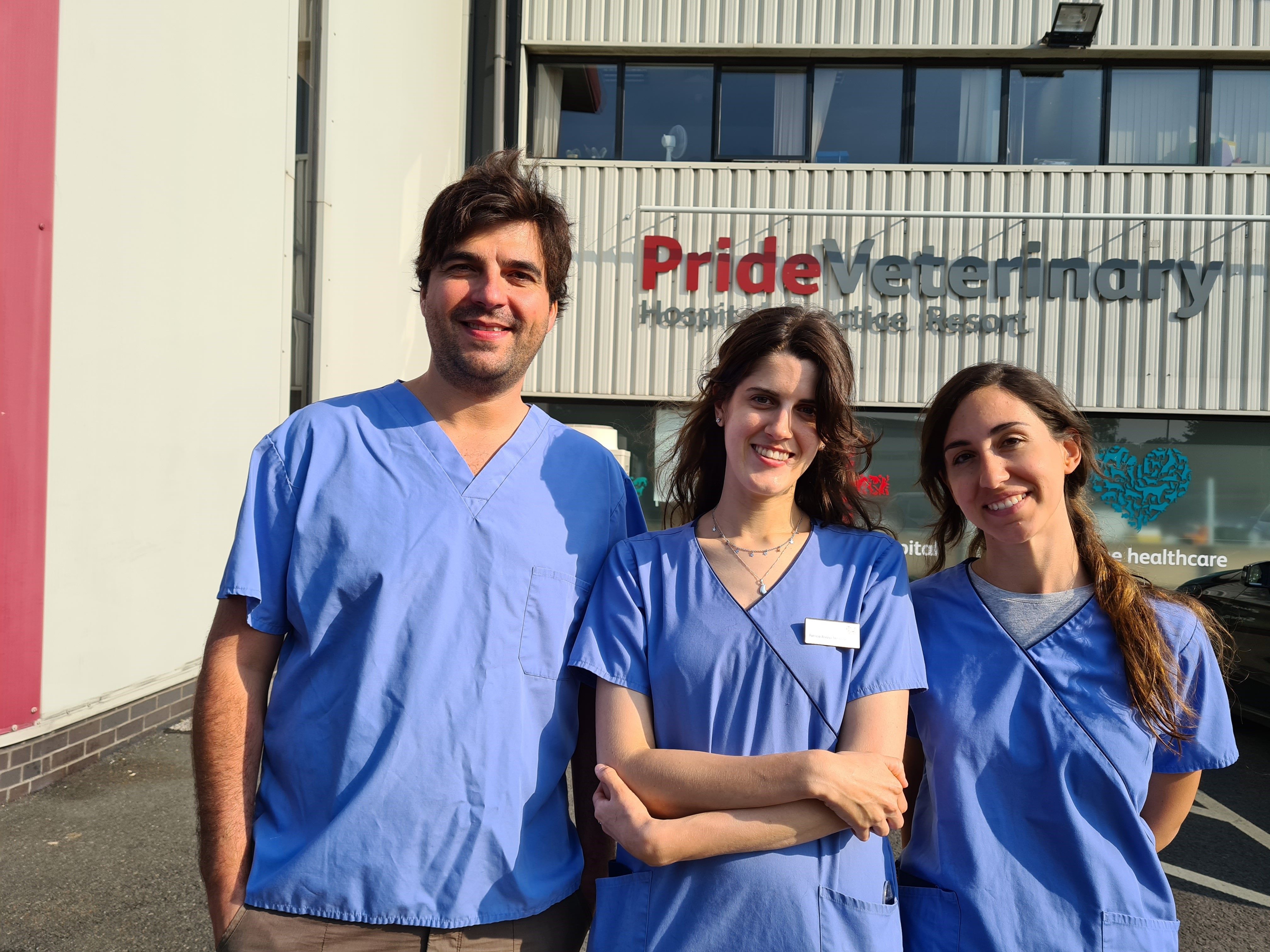 Contacts:
Susan Wilkinson BA(Hons) DipM DipCAM(DigitalM) MCIM Chartered Marketer
Marketing Manager
01332 548919 susan.wilkinson@scarsdalevets.com
Wendy Furness MA VetMB CertEP MBA MRCVS
Business Development Director
1332 678333 wendy.furness@scarsalevets.com
For general press enquiries, please email pressoffice@scarsdalevets.com