16 Nov 2022
EZYVET TO DONATE £1 TO VETLIFE FOR EVERY DELEGATE THAT VISITS THE EZYVET BOOTH AT THE LONDON VET SHOW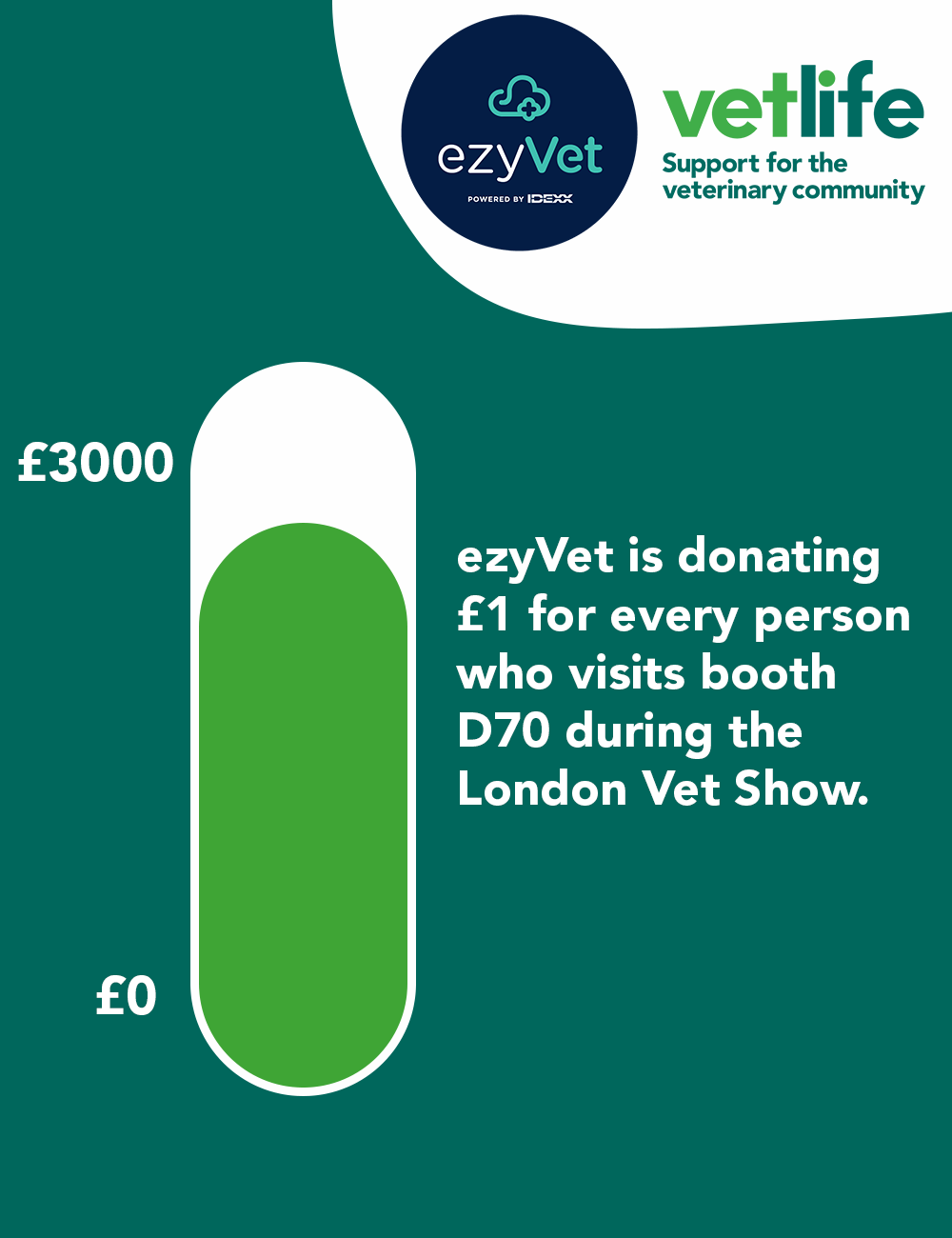 ezyVet, one of the world's most popular cloud-based veterinary practice management solutions, today announced that it will donate £1 to Vetlife for every person that visits the ezyVet booth at the London Vet Show, which runs from November 17-18, 2022.
The ezyVet team is inviting delegates to join them at booth D70 to find out how veterinary professionals can use technology to save time, drive revenue, and strengthen patient care. For every delegate who visits the booth, ezyVet will make a donation to Vetlife, a charitable organisation that provides support to the UK veterinary community. With thousands of people expected to attend the London Vet Show, the initiative could lead to a significant donation.
"We're delighted to have the opportunity to support Vetlife," said ezyVet Chief Growth Officer Pete Brown. "As innovators in the veterinary software space, we're passionate about bettering the lives of veterinary professionals and we recognise the critical work Vetlife is doing to support the hard-working veterinary community. We're going to be donating £1 to Vetlife for every person that visits the ezyVet booth at the London Vet Show, so we encourage everyone to come down and help us support this very worthwhile cause."
Access to confidential emotional, financial, and mental health support is extremely important in the veterinary sector. The current cost-of-living crisis, ongoing veterinary staffing issues, and the much-welcomed expansion of Vetlife operations to embrace registered veterinary nurses, have led to Vetlife support services being needed more than ever – both now and for the foreseeable future.
Vetlife is the first port of call for UK veterinary professionals who need a helping hand. ezyVet's donation will help provide Vetlife with the resources it needs to support vulnerable members of the veterinary community.
"We are hugely grateful to ezyVet for their support," said Vetlife Donations Relations Manager Emma Helbert. "The donations we receive from fundraisers help ensure that there is support in place for anyone in the veterinary community in difficulty. Demand for all three services Vetlife services is high, with Vetlife Financial Support applications up 85% since 2019. Donations are therefore particularly welcome at this time."
The London Vet Show is one of Europe's premier veterinary conferences. The event boasts a robust continuing professional development programme, abundant networking opportunities, and a bustling exhibit hall featuring more than 350 veterinary suppliers. The London Vet Show will be hosted at the ExCel London and takes place from November 17-18.
For additional information and media enquiries, please contact marketing@ezyvet.com.
About ezyVet, part of IDEXX Veterinary Software
ezyVet is the next generation of practice management software that improves the lives of vets, pets, and people. Designed in partnership with leading veterinarians, ezyVet is the solution of choice for more than 3,000 animal hospitals and over 90,000 veterinary professionals who want to save time, grow their business, and deliver excellence in all aspects of veterinary care. ezyVet is headquartered in Auckland, New Zealand, with offices in Dallas and London. ezyVet is a proud member of the IDEXX family, a NASDAQ-listed multinational corporation and one of the world leaders in pet healthcare innovation. For more information about ezyVet, visit www.ezyvet.com.
About IDEXX Laboratories
IDEXX is a global leader in pet healthcare innovation. Our diagnostic and software products and services create clarity in the complex, constantly evolving world of veterinary medicine. We support longer, fuller lives for pets by delivering insights and solutions that help the veterinary community around the world make confident decisions – to advance medical care, improve efficiency, and build thriving practices. Our innovations also help ensure the safety of milk and water across the world and maintain the health and well-being of people and livestock. IDEXX Laboratories, Inc. is a member of the S&P 500® Index. Headquartered in Maine, IDEXX employs more than 10,000 people and offers solutions and products to customers in more than 175 countries. For more information about IDEXX, visit www.idexx.com.
About Vetlife
Vetlife is a charity offering independent, confidential and free support for everyone in the UK veterinary community including veterinary nurses, students, and non-clinical staff. The organisation provides this support through three services: Vetlife Helpline, Vetlife Health Support, and Vetlife Financial Support. Vetlife works to ensure that those engaged in the veterinary community are aware of available assistance, and signposts them to sources of help should they, or a colleague, need support. For more information about Vetlife, visit www.vetlife.org.uk.