10 Nov 2018
Finest Yak cheese treat handcrafted in the Himalayas. Vet Exclusive.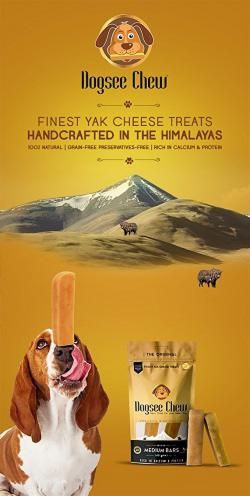 Dogsee Chew – Super Treats for your Super Dog
When it comes to dog treats, there are a plenty of brands that are popular in the market. Most of them claim to be perfectly healthy and nutritious for our dogs. However, it's quite far from the truth. A lot of these dog treats are manufactured using animal by-products that contain 4D (Dead, Diseased, Dying and Disabled) meat sources and are laden with harsh chemicals in the form of preservatives, colours etc. Feeding our dogs with such treats is definitely not a great idea.
Dogsee Chew's 100% natural, grain-free dog treats, on the other hand, are a healthier and more nutritious option for the dogs. They are the finest healthy Yak cheese dog treats handcrafted in the Himalayas. Not only are they manufactured from human grade ingredients but are also completely devoid of any artificial chemicals, preservatives or colours. They are made from a mix of skimmed Yak and Cow milk. A very small amount of lime juice and salt is added to coagulate (harden) the milk, which is then compressed into blocks. These Yak cheese treats are smoked & sun-dried for over 35 days to give them a naturally uneven shape that helps in cleaning your dog's teeth and a rich flavour that adds to their fresh breath. In terms of nutrition, Dogsee Chew treats have 59.2% protein, only 5.2% fat and are high in vitamins & minerals. The treats also contain 2% calcium and thus can help your dogs to have strong bones and teeth.  
There are a lot of benefits of feeding Dogsee Chew treats to the dogs. The primary one is that they help reduce plaque and tartar and promote good dental health. They contain the essential amino acids that dogs require. The low fat treats also help in healthy weight management. In addition to that, the presence of antioxidants and Omega 3 fatty acids help them in attaining a good skin health. These treats are packed with important minerals like Phosphorus, Magnesium, Zinc, Vitamin A, D and E.
The Himalayan Yaks are reared in a very natural environment and consume wild grasses and herbs that have high medicinal value. Hence, the milk they produce is also pure and filled with health benefits.
Dogsee Chew is a Vet Exclusive product. We would love to meet you at Stand Q 12 at the London Vet Show on 15th & 16th Nov' 18. To know more about us now, click here.