16 Nov 2022
Focusing on General Practice – Specialist & Referral – International – Read More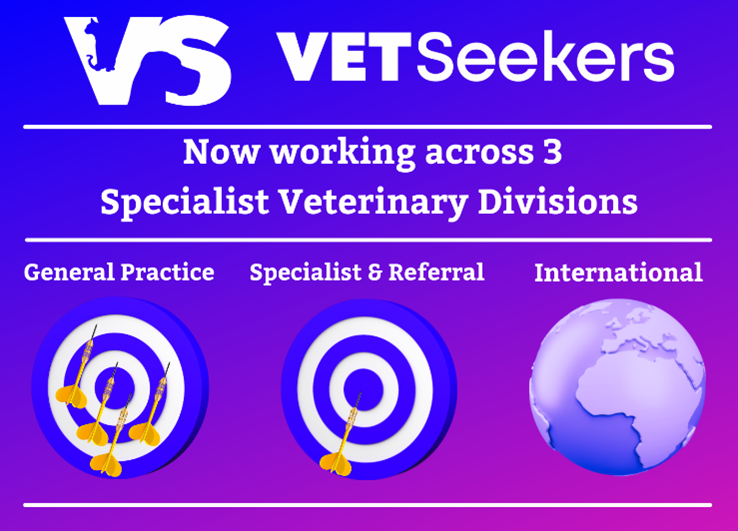 Did you know Vet Seekers now
works across 3 veterinary divisions – General Practice - Specialist & Referral - International
Our new Vet Seekers website is currently under development and will be ready to launch in the new year and we are all very excited about this. Read more below!
A brief overview:
Vet Seekers General Practice (VSGP)
Permanent & Locum Veterinary Surgeons, Veterinary Nurses, Practice Managers, New Graduates, Support Staff withing Small Animal, Farm Animal, Equine, Mixed and OOH first option practices.
Vet Seekers International (VSI)
With a dedicated international veterinary team in place who will be focusing on diplomate board eligible / certified RCVS/ANZCVS/EBVS/ACVS/CVMA specialists within a variety of fields including:
Residency Trained & Board Eligible Referral Clinicians
Certificate Holders & Advanced Practitioners
Primary Care & General Practitioners
Out of hours & ER Vets
Chief Medical Officers & Senior Leadership
Clinical Directors
Practice Managers
Veterinary Nurses
And will be working on a global scale covering UK, Europe, USA, Canada, Australia, New Zealand, UAE, Asia...
Vet Seekers Specialist Referral – (VSSR)
This team will be purely focusing on a host of specialist referral positions across the UK and overseas including:
Anaesthesia, Behavioural Medicine
Cardiology
Dentistry
Dermatology
Diagnostic Imaging
ECC
Exotics
Feline Medicine
Internal Medicine
Interventional Services
Referral Nursing
Oncology
Orthopaedics
Ophthalmology
Orthopaedic Surgery
Neurology
Radioactive Iodine Therapy
Rehabilitation
Soft Tissue Surgery
Our specialist veterinary talent team will use a combination of highly proactive search techniques and through both traditional and online channels to cast a wide net on behalf of our clients and candidates with total commitment to service and results.
We strongly believe in working to the highest levels of service and being honest, transparent and compliant with all our veterinary clients.
In the meantime, you can reach out to the Vet Seekers team for a confidential chat about your career or recruitment opportunities at 03330147374 or hello@vetseekers.co.uk
Telephone: 0333 014 7374
Email: hello@vetseekers.co.uk
Website: https://www.vetseekers.co.uk/