06 Nov 2020
Free webinar recording – Reimagining the power of feline nutrition: managing cat allergens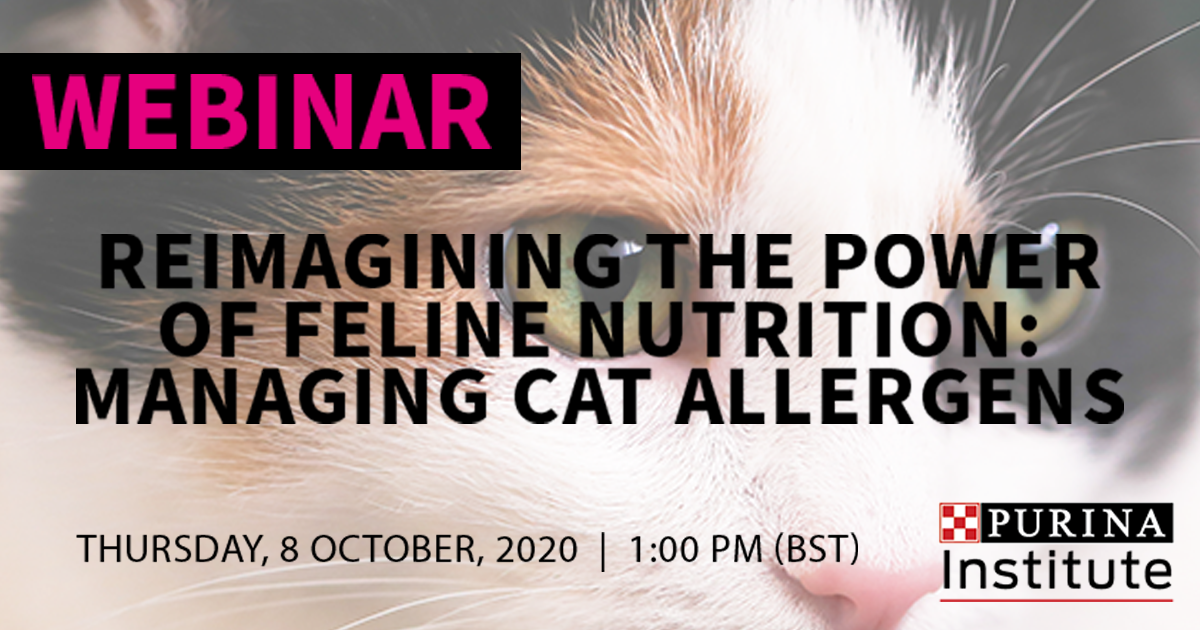 We all know that cat allergies are common, but it's perhaps surprising to hear exactly how common they are. In fact, it's estimated that as many as one in five adults are sensitive to cat allergens.
For cat owners who are allergic to their pets, home life can be a constant balancing act between managing their symptoms and enjoying time with their cat. When struggling to achieve this balance, owners will often turn to vets for advice.
This October, we hosted a webinar introducing a revolutionary new approach to managing cat allergens. With this strategy, owners can reduce the amount of active allergens that cats groom onto their hair, and hence shed into the environment, simply by feeding their pets a novel diet (PURINA® Pro Plan® LiveClear®). You can access the webinar recording here using code PURINA.
The webinar begins with a talk by Dr Ebenezer Satyaraj PhD, an immunologist and molecular nutritionist whose work at Purina's Nestlé Research Center laid the foundations for the recent breakthrough. The issue is close to his heart, as his own daughter is a cat lover who is allergic to cats.
Dr Satyaraj talks through the biological basis of cat allergies, explaining that the major cat allergen is a protein called Fel d 1 that's produced in cat saliva. He then outlines PURINA®'s novel approach to neutralise Fel d 1 with anti-Fel d 1 antibodies2 – helping owners to simply and safely reduce their allergen exposure.
After Dr Satyaraj's presentation we hear from Dr Andy Sparkes BVetMed PhD DipECVM MANZCVS MRCVS, an independent consultant specialising in feline medicine. Dr Sparkes first explores the power of the human-animal bond, presenting some fascinating data about the physical and mental health benefits of pet companionship. After setting the scene, he then explains how human allergy to cats can place a strain on this emotional bond, and outlines the implications for cat welfare and cat relinquishment.
Concluding the webinar is a lively Q&A session hosted by Libby Sheridan MVB MRCVS, PURINA®'s Veterinary and Technical Affairs Manager for the UK and Ireland. The discussion delves into the detail of the science, and Libby also answers various questions on the Pro Plan® LiveClear® diet.
If you're interested in watching the webinar, you can access the recording here for 1.5 hours of free CPD. Further information on the Pro Plan® LiveClear® diet is available at https://www.purina.co.uk/proplan/liveclear.
References
Bousquet, P.-J., Chinn, S., Janson, C., Kogevinas, M., Burney, P. & Jarvis, D. (2007). Geographical variation in the prevalence of positive skin tests to environmental aeroallergens in the European Community Respiratory Health Survey I. Allergy 62: 301-309.
Satyaraj, E., Gardner, C., Filipi, I., Cramer, K. & Sherrill, S. (2019). Reduction of active Fel d1 from cats using an antiFel d1 egg IgY antibody. Immunity, inflammation and disease 7(2): 68-73.