06 Aug 2021
Grab a bite and see the sights: 6 restaurants to book around the ExCeL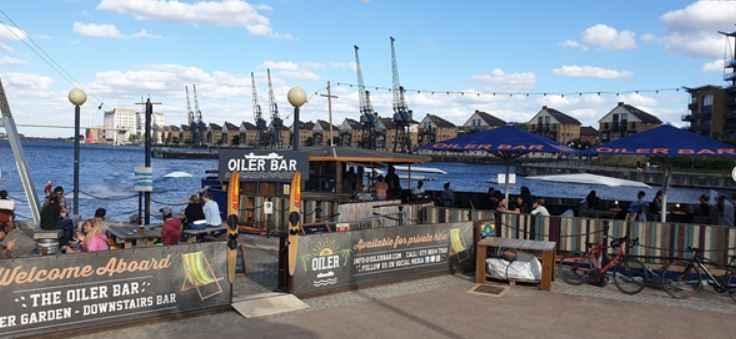 After being locked away for months on end, who wants to spend their evenings in their hotel rooms? With a vast selection of cafes, bars, and restaurants it can sometimes be a bit tricky to find the perfect spot. So, whether it be a cheeky drink or two with colleagues or a more formal dinner with a potential client, we have filtered down the top 6 picks for you all within a 10-minute drive or 15-minute walk of the venue.
The Oiler Bar
Fancy a beer or maybe a pizza but don't want to walk a mile? If so, then you'll like the sound of London's very own floating beer garden created by converting an ex-Royal Navy refuelling barge. Only a 13-minute walk from the ExCeL, this bar offers spectacular views of the Docks and even better, no booking is required! If you want to find out more feel free to click here.
The Sunborn London
If you want to stay local (and by local we mean a 60 second walk away) but not miss out on some of the best views of London's skyline, then the Sunborn Yacht is the right place for you. Whether you want to take a stroll around the river, or maybe you plan on having drinks after the show at the sundown bar then the Sunborn Yacht can offer just this. This unique venue gets booked up quickly though, so make sure you secure your booking in time for the show at Sunborn Hotels.
Café Bonnane
If you're craving something delicious for breakfast then you can shop locally at Café Bonnane, a friendly family-owned business situated only a 15-minute walk from the ExCeL. Whether you decide to eat in or takeaway, this little gem certainly won't disappoint - and if you don't believe our word for it you can check out some reviews here.
Café Rouge (O2)
Perhaps you're interested in exploring the local area or nearby sights? If so, then you could take a short 10-minute walk to the Emirates Royal Docks terminal and jump on the cable car (not to worry if you aren't a local, just make sure you have your contactless card handy!) which will take you over to the O2 Arena where you can find a dish to suit any mood at Café Rouge, full of French food with a contemporary twist. To avoid disappointment on the day, just book here.
Galyons Bar and Kitchen
If you're not scared of ghosts, then you'll enjoy visiting the Galyons Bar and Kitchen. This grade 2 listed building is steeped in history as well as great food and drink. Located only a 7-minute drive from the ExCeL, you can enjoy traditional pub grub with a modern twist at this riverside location. But be careful…legend has it that this pub is haunted by ghosts of prostitutes, so don't be surprised if an unexpected guest joins you while you relax for a drink or two. Book now to secure your table.
The Old Fire Station
If these picks aren't wild enough for you, then you may appreciate having a meal in an old fire station. Dated back to 1905, this fire station has been converted into a restaurant offering long-lost classic tastes and an impressive cocktail menu. Only a 10-minute drive from the ExCeL, this restaurant offers a unique dining experience, but as you can imagine it gets booked up quick. To avoid disappointment, book online here.