11 Jan 2019
Have you tried Credelio Cat yet?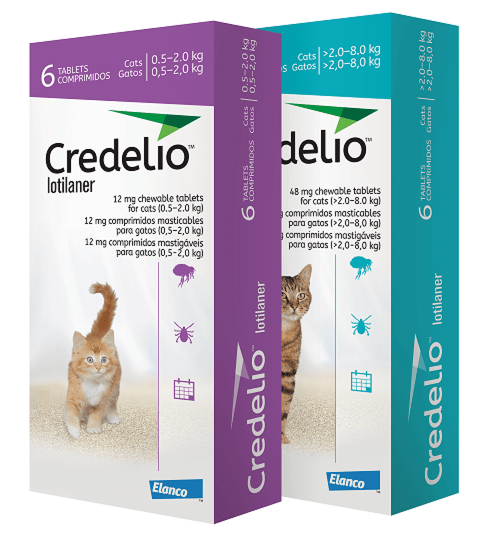 Visit Elanco stand E20 to experience Credelio Cat
We all know regular treatment is essential to keep ticks and fleas at bay, but for some cat owners, the monthly application is a source of stress and worry.1 A recent survey of cat owners using topical spot-on or collar treatments against fleas showed that 1 in 3 pet owners would prefer to give their cat a small monthly tablet.2
What other reasons are there to try Credelio Cat chewable tablets?
Easy to administer
It is easy to administer and suited to meet the needs of individual cats (free choice, hidden in food, placed in mouth) helping to maximise compliance.3
Award-winning
Elanco has been awarded the Easy to Give Award by the International Society of Feline Medicine (ISFM) for Credelio chewable tablets for cats.
Fast and effective control
Credelio is rapidly absorbed and after 24 hours, kills at least 99% of ticks and 100% of fleas for the whole month.3–5
Impact on the owner/pet relationship
Credelio has no label requirement to separate cats during treatment, distance them from children, worry about stroking them or restrict their freedom.
No residue on fur
A simple monthly tablet with no risk of product transfer by patient contact.
Refs
1. Kadence Cat Owner Insights Apr 2017 (v1.0) - Stressful (p.29);
2. Kynetec Yoda Messaging Mar 2018 (v1.0) - Around 1 in 3 cat owners would prefer a small, monthly tablet for ticks and fleas (p.35) 29 %;
3. Cavalleri D et al Parasit Vect 2018 411 (v1.0) - Successful administration (p.1) Owners successfully administered all treatments;
4. Cavalleri D et al Parasit Vect 2018 408 (v1.0) - 100% (p.1) 24 h was 100 % at all time points;
5. Cavalleri D et al Parasit Vect 2018 410 (v1.0);
Credelio™ chewable tablets for cats contain lotilaner. Legal category POM-V in UK.
For further information call Elanco Animal Health on +44(0)1256 353131 or write to: Elanco Animal Health, Lilly House, Priestley Road, Basingstoke, Hampshire, United Kingdom RG24 9NL.
For further information, consult the product SPC. Refer to the product packaging and leaflets for information about side effects, precautions, warnings and contra-indications. Always seek advice on the use of medicines from the prescriber. Use medicines responsibly www.noah.co.uk/responsible
Credelio, Elanco and the Diagonal bar logo are trademarks of Elanco or its affiliates. ©2019 Elanco or its affiliates.
PM-UK-19-0765. Date of preparation 10/19.