Hill's Pet Nutrition: Cats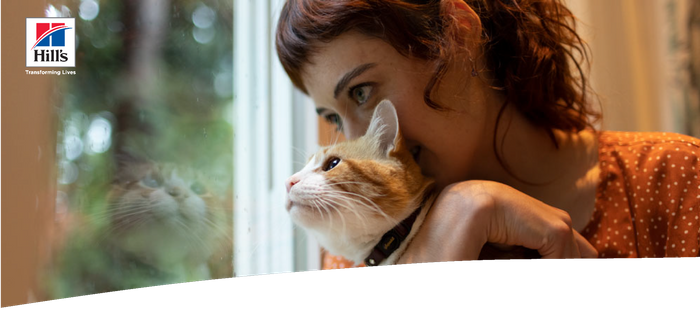 Cats have long been a part of our lives, and to many of us, their aloofness and independence are attractive traits that make them the perfect companion. We have also long understood the very special feeding habits and nutritional needs of our feline friends.
Cats are, of course, carnivorous. This is due to the need for taurine, preformed vitamin A and arachidonic acid, all of which are only naturally available in animal tissue. Cats have a need for extra dietary protein, which is used as an energy source, regardless of whether or not this means their amino acid requirements are met. We are all no doubt familiar with the loss of muscle condition in cats who do not consume adequate protein, as they break down their own body tissue in an attempt to provide what is lacking in their diet.
Many cats are prolific hunters, and although a less attractive trait to many owners, the predatory drive in cats is so strong that they will stop eating to make a kill. This strategy means that the cat has evolved to eat 10-20 small meals daily, throughout the day and night. Unfortunately this predatory behaviour can frustrate owners who confuse it with hunger.
Taste is important for both pets and pet parents. Dogs and cats have to like the food to eat it and derive all of the necessary benefits from the nutrition. For pet parents, it's all about perception. They want to see enthusiasm and enjoyment! They want to truly feel that they are doing the best for their pet, not just from the perspective of health, but also from the perspective of their happiness and enjoyment of life. So, great taste is a win-win for everyone. If we are providing a great tasting pet food, the pets and the pet parents are happy, which ultimately helps both of them stick with the nutritional plan you've recommended. That's why we at Hill's invest so much time in ensuring our foods are as tasty as they can be. In fact we won't put any food onto the market until we know it's at least as tasty as our leading competitor.
Hill's are proud to be a leader in the field of nutritional innovation, supporting and conducting ethical research to drive nutritional knowledge further. We were the first to launch a hydrolysed food for pets with dietary sensitivities, are still the only pet food manufacturer making a food for management of feline hyperthyroidism. Our combination diets acknowledge that the complexity of patient care often means we're managing concurrent conditions. So if you're treating an obese cat with FIC, or an CKD cat with concurrent joint pain, there's no compromise in the dietary management of each issue.
We are proud to deliver evidence based clinical nutrition in our extensive feline portfolio, and because we understand the taste preferences of cats, we offer a variety of formats and flavour options, because we know that better compliance means better care
Ask your Hill's representative to get a cat-focused clinic seminar and get to know more about Hill's Prescription Diet food for cats by clicking here.
You can also join the Hill's vet professional community on Facebook by just scanning the QR code.