13 Jul 2018
HOW AN AQUATIC TREADMILL CAN ENHANCE YOUR VETERINARY PRACTICE.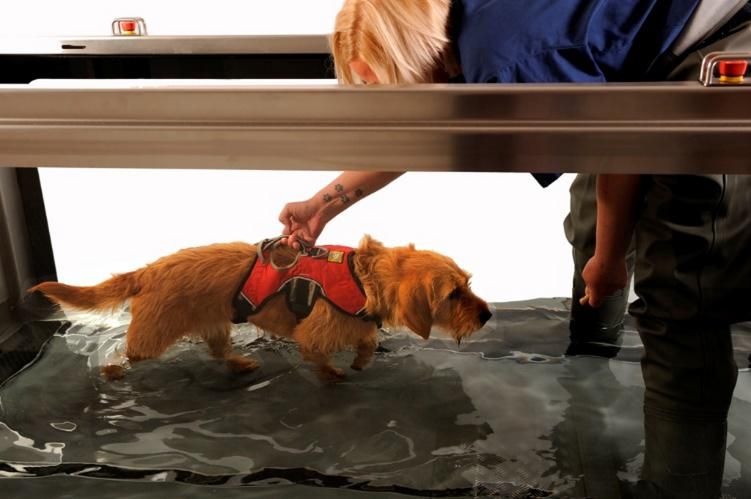 At Tudor, we are asked by veterinarians "why should I consider investing in an aquatic treadmill?" Followed by, what benefits will our practise see, and what do I need to consider?
So, we thought it would be a good opportunity to answer these questions.
INCREASING YOUR RANGE OF SERVICES:
Treadmills are designed for Rehabilitation, Fitness & Wellbeing and Weight Management. With a treadmill on site you can treat common conditions effectively, without referral to other multi-disciplinary specialists.
Such conditions include:
Pre and post-operative orthopaedic conditions,
Arthritis
Hip & Dysplasia
Weight & Pain management
Fitness
Mental health and wellbeing
IMPROVING YOUR PATIENTS QUALITY OF LIFE:
Adding a treadmill to your centre will benefit your patients from pre-surgery right through to post surgery rehabilitation.
Improved joint ROM and mobility
Improvement of respiratory function
Improved cardiovascular performance
Pain management
Reduction of swelling & stiffness
Increased blood flow to the tissues increases flexibility
Re-education of gait patterns
Increase in muscle mass & tone
INCREASE IN PROFITS:
Our Veterinary Practice customers tell us that on average they treat between 10 and 15 patients a day, 5 or 6 days a week. Many of whom are referred to a third party for hydrotherapy treatment.
With onsite facilities, not only do you get to control the rehabilitation of your patient following the surgery you provided, you can benefit financially.
Most Insurance companies will now cover up to 10 hydrotherapy sessions on their policies.
Visit our website and use the Return on Investment Calculator to see how offering Hydrotherapy treatment can bring in a significant profit to your practice.
CONSIDERATIONS:
MARKET – Is there a market for Hydrotherapy in your area, how many patients could you treat now?
FINANCE – Is there a budget for expansion? Finance or lease options available.
SPACE – Have you a space in the practice available?
STAFF – Who can you train to become your Hydrotherapist?
PRODUCT – Which treadmill should you buy?
WHY CHOOSE A TUDOR TREADMILL
Here at Tudor we care about the Hydrotherapy Industry and have worked with the best and most respected Hydrotherapists in the country to develop a treadmill that works how you want it to.
For those of you that missed us at the London Vet Show last year, come and visit us this November where you can see for yourself why Tudor is the right treadmill for your practice.
Tudor Treadmills Limited
199 Newhall Road, Lower Don Valley, Sheffield, S9 2QJ
Tel: 0114 244 2424 EXT 246 Mob: 07718 185529
Mekyla.Osbourne@TudorTreadmills.com