10 Feb 2019
INDIBA' Animal Health, a new technology for an old problem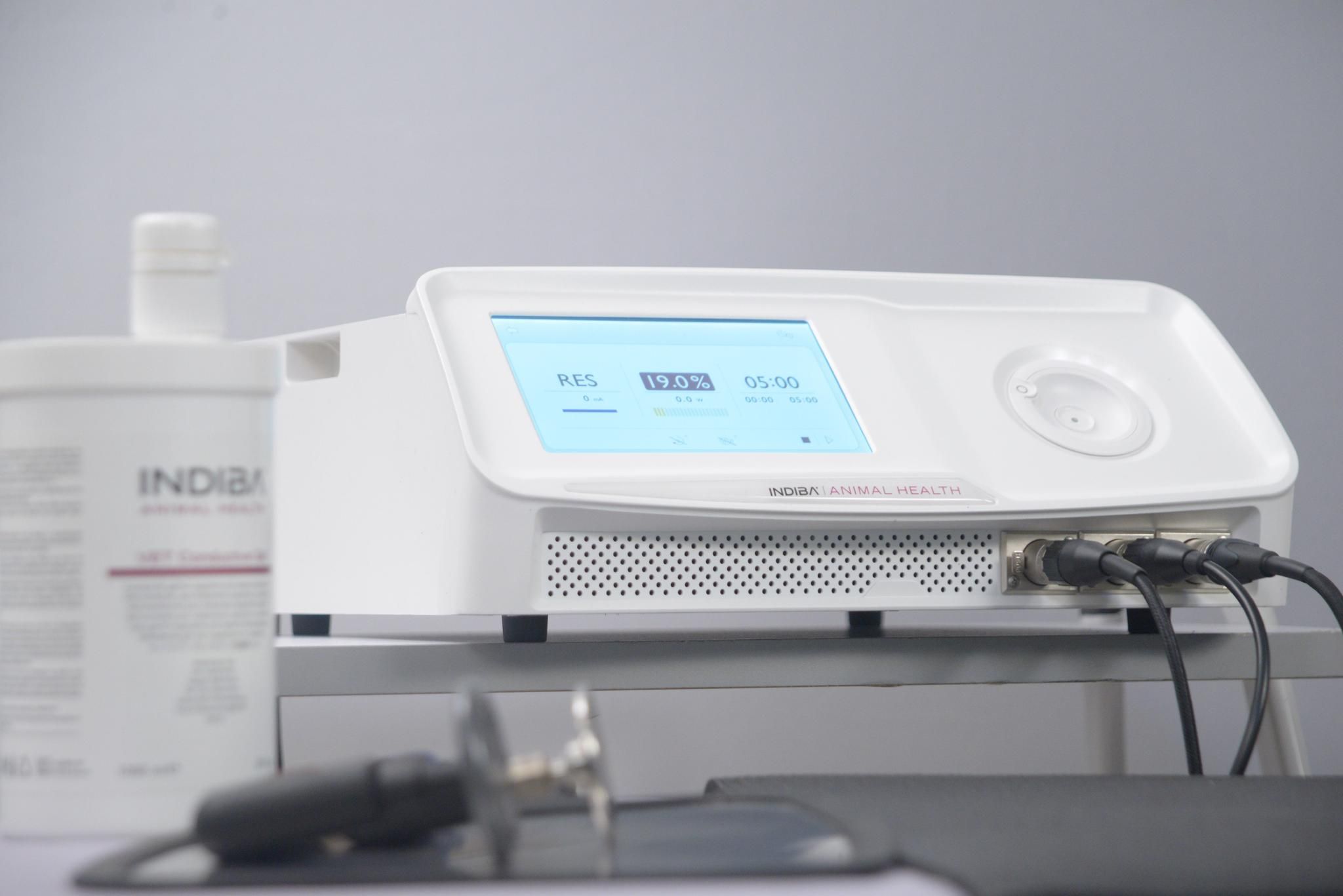 INDIBA® Animal Health is the brand of INDIBA® dedicated exclusively to the veterinary sector. Our specific products for small animals and horses are adapted to be used on each species and to the daily practice of the veterinarian or animal physiotherapist.
INDIBA® Anima Health is a radiofrequency device that works in a closed circuit at a very precise frequency, 448 kHz. These specific features make our devices suitable to treat acute and chronic injuries, superficial and deep, localized or generalized.
Our technology is based on more than 300 scientific references, and many case and clinical reports on both humans and animals. It is a safe, effective, non-invasive and painless technology. INDIBA, S.A., our company, has dedicated 35 years to the development and perfection of our devices. And 4 years ago, we launched our division dedicated to the veterinary physiotherapy sector.
But, when can we use INDIBA® Animal Health? Our technology is indicated for the treatment, rehabilitation and prevention of musculoskeletal conditions. Our best results are in treatment of chronic degenerative diseases like osteoarthritis, dysplasia, chronic pain, among others.
New technology for an old problem.
It is no news to us that osteoarthritis is a very common disease among dogs and cats, especially when they get old. Researches calculate that 20% of the adult canine population is affected by osteoarthritis1. We are very familiar as well with the treatment options, which vary from nutrition complements containing glucosamine and chondroitin sulphate along with weight control in the early stages, to daily intake of strong pain medication that many times lead to unwanted secondary effects. Dogs lose their quality of life from the medication effects, from the lack of mobility and from the pain; and owners lose hope.
So, what else can we do? Fortunately, there is one new option! Radiofrequency is widely known for its benefits from the rise of temperature of the tissue (diathermy). INDIBA® Animal Health differentiates from the rest because it works with a very specific and precise frequency, 448kHz, which has additional effects, such as decrease of pain, stimulation of chondrocytes at the cell level, improvement of elasticity of the tissue – and therefor range of motion – and improvement of blood flow. All these result in a better quality of life for the pet and restored hope on the owner from seeing his fury friend playing again in the park.
We like to do things right.
Our Animal Health devices and protocols are developed by veterinarians and specialists in animal rehabilitation. We take very seriously the correct use of our technology, the safety and the effectiveness, so we take a great effort into training and giving technical support to all our users. We are constantly improving our services with the support of research centres, universities, specialist institutes and privet practitioners that use our technology daily.
Visit us in the next London Vet Show edition, and find out more!
Rob A. Pettitt, Alexander J. German. Investigation and management of canine osteoarthritis. BMJ Journals. InPractice Volume 37, Issue Suppl 1. https://inpractice.bmj.com/content/37/Suppl_1/1