11 Jan 2019
Infection Prevention and Control in Veterinary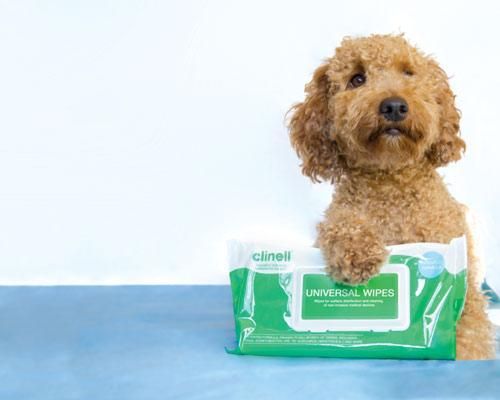 Infection Prevention and Control (IPC) in veterinary medicine has similar challenges that human healthcare facilities encounter and remains an essential part of daily veterinary practice. It is estimated that 60% to 80% of emerging diseases are zoonotic¹, which emphasises the importance of veterinary practices in the identification, prevention, and control of emerging infectious diseases. Although arguably less studied than human healthcare associated infections (HAIs), animal HAIs do occur, and can significantly and adversely impact on the health of veterinary patients. Every veterinary practice, hospitals and small clinics, should formulate and implement an IPC programme to protect patients, owners, veterinary personnel and the community.
A recent systematic review suggested that there was a lack of evidence necessary for the development of feasible IPC guidelines and protocols for veterinary practice, and that further research was required in the field of IPC in order to reduce the risk of nosocomial infections and zoonotic disease transmission.2 This is worrying given the worldwide epidemic of antimicrobial resistance (AMR), particularly methicillin-resistant Staphylococci and extended-spectrum β-lactamase production in Gram-negative bacteria, which has had tremendous impacts on human and animal populations. Multidrug-resistant pathogens cause large numbers of infections annually and can be associated with higher morbidity and mortality rates; the need for more expensive, toxic, or invasive treatments; and the risk of transmission to other humans or animals.3,4
As AMR becomes more of a concern in veterinary medicine, prevention of infection becomes more crucial. Preventing the spread of multidrug-resistant organisms depends predominantly on good IPC practice being applied. Standard infection control precautions, such as a focus on effective environmental decontamination, are just one of the basic IPC measures we should focus on to reduce the risk of transmission of infection within our veterinary practices.
Ultimately, IPC is everyone's responsibility and all veterinary staff have a role to play in preventing the spread of infection. IPC is a dynamic and evolving topic in veterinary medicine. Kate Sparksman, College Lecturer (Medivet) and Karen Wares, Associate Clinical Director (GAMA Healthcare) aim to raise the profile of IPC in the veterinary sector with a focus on environmental decontamination. Come and join them in their discussion about the importance of cleaning and disinfection procedures within the veterinary practice, in relation to preventing the spread of HAIs during their session entitled 'Clean Between - The Essentials of Environmental Decontamination' on the 14th November from 15:15 - 16:15 at Exhibitor Showcase 2.
Morens, D.M. Fauci, A.S. Emerging Infectious Diseases: threats to human health and global stability. PLoS Pathog. 2013;9(7):e1003467.
Willemsen, A., Cobbold, R. Gibson, J. Wilks, K. Lawler, S. & Reid, S. (2019) Infection control practices employed within small animal veterinary practices—A systematic review. Zoonoses and Public Health.
Weese, J.S. van Duijkeren, E. Methicillin-resistant Staphylococcus aureus and Staphylococcus pseudintermedius in veterinary medicine. Vet Microbiol. 2010;140(3-4):418-429.
Trott, D. β-lactam resistance in gram-negative pathogens isolated from animals. Curr Pharm Des. 2013;19(2):239-249