11 Nov 2022
Introducing Churu Vet to the European veterinary world!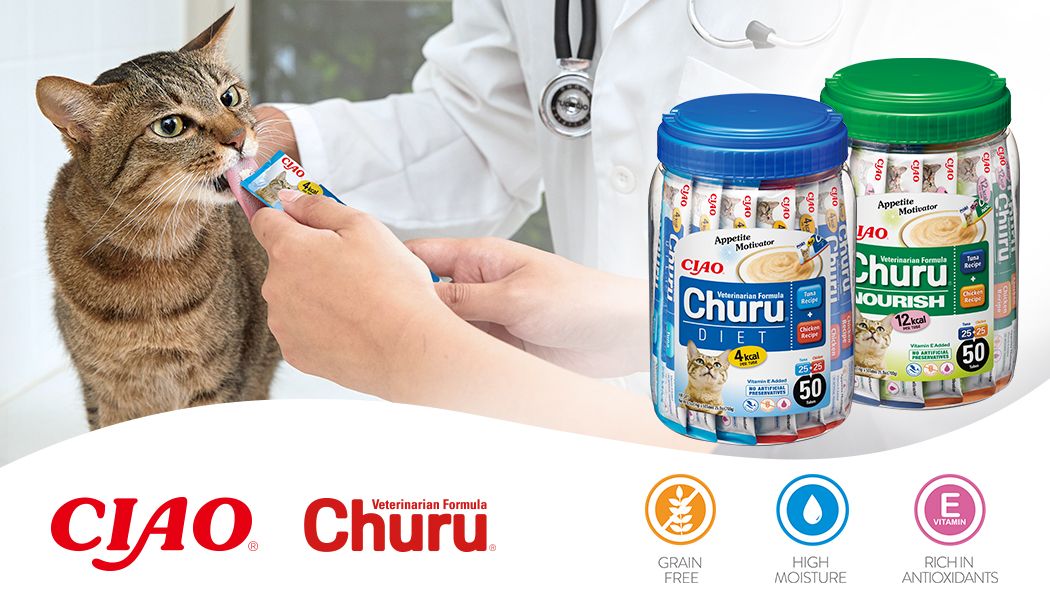 Churu
Veterinarian Formula
All-Natural Appetite Motivator
Churu Veterinarian Formula is an all-natural appetite motivator for cats. Use this highly palatable liquid-based puree to reduce exam anxiety, for post-surgery recovery, to deliver medication, and more!
Simply tear open and give it a little squeeze to administer tubes by hand. You can also pour them into a bowl or use as a topper on wet or dry food.
STIMULATES APPETITE
98% palatable Delivers calories when cats can't or won't eat anything else
HELPS SUPPORT HEALTHY HYDRATION
Protects from dehydration by increasing water intake Beneficial to cats with urinary tract- and bladder-related issues
ALL-NATURAL INGREDIENTS
Contains natural wild tuna and farm-raised chicken Grain-free with no artificial preservatives or colourings
LOW CALORIE
Easy-to-feed tubes assist with monitoring daily caloric intake 12 kcals per tube
Nutrition Philosophy Inaba takes great pride in providing delightfully tasty and healthy products that make cats, their humans and the veterinarians who treat them happy.
Churu Veterinarian Formula Diet
Churu Diet is a highly palatable all-natural appetite motivator with a liquid puree consistency. A variety of diseases and issues can cause cats to take daily medication. Use Churu Diet to help deliver medication by hiding pills inside the tube. Plus, your cat will benefit from the high moisture content!
​APPETITE MOTIVATOR
Cats that don't eat are predisposed to many potentially serious health issues. Churu Diet is highly palatable and motivates cat to eat again while delivering calories and hydration to cats.
FOOD TOPPER
Help your cat make the transition to prescription food by using Churu Diet as a hydrating tasty topper. Churu Diet's high palatability, all natural ingredients and low calories makes it ideal for top dressing your cat's food.
MEDICATION DELIVERY
Eliminate the struggle of pilling your cat. Churu Diet is a great low calorie option for cats on daily medication and can improve pilling success. Just hide the pills in the tube or mix with the puree.
DISTRACTION
Make grooming and vet exams a positive experience for your cat while avoiding anxiety and scratches. Distract your cat with a tube of Churu Diet during brushing, nail trimming, exams, weight checks, blood draws and more.
HYDRATION
Fluid intake helps the kidneys flush out toxins, preventing urinary problems, and helps organs function properly. Churu Diet is ideal for keeping pets hydrated with its 93% moisture content. Even the highest quality kibble only has about 10% moisture content.
TRAINING
Get your cat into a carrier without a struggle. Use Churu Diet as a low calorie reward for your cat during training. Teaching your cat to go into a carrier willingly will eliminate a lot of stress and anxiety for the both of you.
4 kcals per tube / 93% moisture content
Available in: 50-count jar: a combination of 25 tuna and 25 chicken flavours in 0.5oz/14 g tubes