11 Nov 2022
From laundry to instruments, 360° solutions for veterinary practices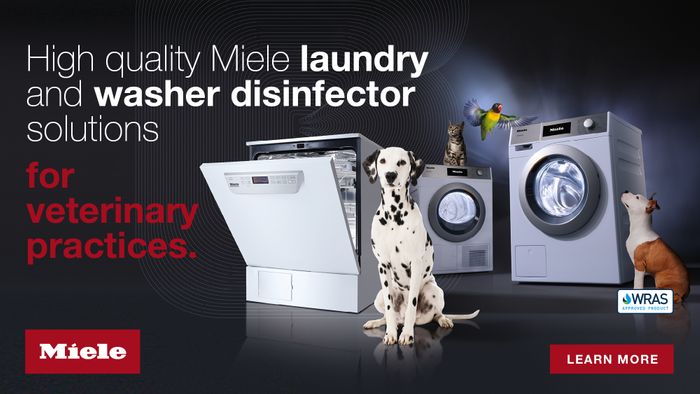 With patients to treat and animals to care for, adhering to strict hygiene principles is paramount within veterinary practices to prevent the risk of infection. Yet, this can be easier said than done considering the busy nature of many practices, especially given the increased workload due to the pandemic, staff shortages, and high levels of demand for the medical care of pets. To ensure maximum hygiene protection and that the day-to-day running of the practice goes without a hitch, a reliable, professional solution will make for the best investment. Not only is it crucial for effective infection prevention and control, but it can also support cost savings, energy efficiency, and reputation management.
At Miele Professional, we work closely with a network of partners to deliver effective solutions to our veterinary customers, providing reassurance that their patients will be safe from harmful infections and that equipment is built to last. If you're thinking about purchasing commercial appliances, here are three areas to consider:
In the laundry
While laundry may not be the first priority of a busy veterinary practice, it's an incredibly important cog in the wheel that shouldn't be overlooked – just think about the mountains of bedding and towels that are created each day, not to mention staff uniforms.
On-premise laundry is usually a cheaper option than outsourcing and provides more control over laundry processes. Using commercial equipment rather than domestic also delivers many benefits including high wash temperatures to kill bacteria, disinfection programmes, short turnaround time and, depending on the quality of the machine, a small environmental footprint. Miele's Little Giant washers and dryers, for example, are a popular space saving option which provides hygiene reassurance as well as minimal downtime.
Instrument reprocessing
Everyday work at a vet surgery also involves the crucial tasks of cleaning, disinfecting and sterilising instruments. Using a washer-disinfector rather than handwashing will deliver the most thorough results, minimising the risk of cross contamination. Miele's PG 8582 washer-disinfector provides added value with liquid dispensing, EcoDry function, and variable speed heater pump for efficient use of resources.
Air purification
Viruses and infections can be transmitted through the air that we breathe, meaning sufficient ventilation is required to protect patients, visitors, and staff from infection, whether it's in the waiting room or in treatment areas. Miele's first ever air purifier, AirControl, has been designed to remove 99.995% of harmful airborne particles thanks to its five-stage filtration which includes a HEPA H14 filter. AirControl is also simple to use and operates with minimal noise disruption making it the ideal solution for rooms with limited air circulation.
If you would like to learn more about Miele's professional solutions for veterinary care, please head over to: https://www.miele.co.uk/p/vets-and-veterinary-care-3934.htm