LONDON VET SHOW REVEALS KEY SPEAKERS & STREAMS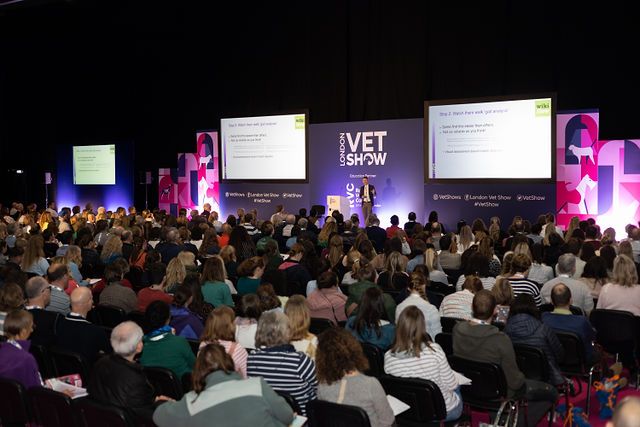 19th April 2023, London, United Kingdom: CloserStill Media, the team behind the London Vet Show, have released the first wave of the world-famous conference programme. After a record-breaking 28 streams of CPD education in 2022, CloserStill have promised this year's line-up is bigger and better than ever before.
Europe's largest veterinary exhibition and conference, the London Vet Show is taking place at the ExCeL, London on 16 and 17 November and is set to welcome over 300 renowned speakers. Available now is the small animal clinical sessions in the highly anticipated RVC Clinical Theatres 1, 2 and 3 as well as the BVA's farm theatre and equine stream (in partnership with BEVA).
About the 2023 line-up, the Vet Show's Head of Marketing and Content Charlotte Ellicott said, "The clinical streams are shaping up to be cutting-edge this year. We are delighted to have the continued support of excellent CPD providers like the RVC and BVA. Later in the year we will also be able to supplement these key theatres with the line-ups from IDEXX's Advanced Diagnostic Stream, IVC Evidensia's Referral Theatre, Central CPD's Wet Labs and many more."
Professor Jill Maddison, Professor of General Practice at the RVC said: "We are delighted to be heading back to the London Vet Show this November to host a broad range of clinical lectures. We have a fantastic line-up of speakers gathering from near and far who will be delivering lectures covering all aspect of clinical practice. Our keynote international speaker will be Caroline Mansfield, Professional Research Fellow and Registered Specialist in Small Animal Medicine, who will be presenting six sessions covering all things gastroenterology. Not matter where you are in your veterinary career, there will be something on the clinical programme to inspire you and that will enhance the welfare of your patients and clients."
British Veterinary Association President Malcolm Morley said: "This really is a remarkable programme and I would encourage all vets to take advantage of the high-quality CPD opportunities on offer at London Vet Show this year. We look forward to complementing these excellent clinical sessions with another round of thought-provoking BVA Congress discussions. The topics for these will be announced soon."
Ellicott continued, "We are keeping some plans under wraps which will be announced exclusively to pre-registered delegates first throughout the year. But all you need to know is we are continuing to create unique learning opportunities and a variety in the way in which it's delivered. Our goal is for
our delegate to be able their own bespoke learning paths from two exciting, jam-packed days of quality CPD to suit specific needs."
Early bird tickets for the London Vet Show are on sale until 28th April for just £289+VAT. BVA and BEVA members receive further discounts. Book now at London.vetshow.com.
[ends]
More information on any of CloserStill Media's Vet Shows can be requested from Rachel Kilmartin, Senior Marketing Manager, r.kilmartin@closerstillmedia.com
About CloserStill Media
The London Vet Show is part of CloserStill Media's Veterinary Portfolio. Founded in 2008, CloserStill Media now have more than 80 events in the UK and international markets including the United States, Germany, France, Spain, Singapore and Hong Kong. We are one of the world's fastest-growing exhibition businesses, running best of class events in the learning, medical & healthcare, technology and veterinary sectors. In the last 13 years we have won over 50 major industry awards, including the coveted 'Best Exhibition' eight times, featured in The Sunday Times 100 Best Places to Work (2018 & 2019) and HSBC International 200 (2018, 2019, 2020), been voted by members of the Association of Exhibition Organisers as the 'Most Respected Company' in the exhibition Industry and winners of over 50 major industry awards in the last 10 years, including: Best Marketing (x8) and Best Sales (x5) Best Launch or Brand Extension (x5).