11 Dec 2018
Macahl Animal Health celebrates Oralade's 10th Anniversary at the 10th London Vet Show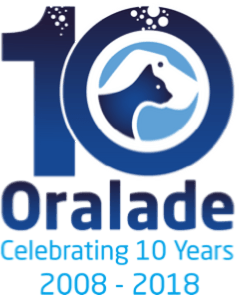 Exhibiting at the 10th London Vet Show 15th - 16th November, Excel, London, Macahl Animal Health is co-incidentally celebrating the 10th anniversary of Oralade, and its involvement with Guide Dogs UK through its inaugural decade.
Oralade's isotonic formula as a liquid complementary feed for dogs and cats helps manage acute intestinal absorptive disorders. From acute diarrhoea to pancreatitis and post-GI surgery, it rehydrates at a cellular level.
Packed with electrolytes, including sodium and potassium, with easily digestible sugars, simple amino acids in a purified isotonic solution, it's also low in phosphorous making it ideal for renal patients too.
Its formula is highly palatable with a natural chicken flavouring, which encourages dogs and cats to drink and restore their appetites. Low in fat Oralade is suitable for diabetics and is 100% natural and hypoallergenic.
Over the past decade Oralade has made an impression with Vets and Vet Nurses worldwide as an 'essential' to aid rehabilitation and promote vital enteral nutrition.
With over 1,000 Vet practices in the UK alone embracing its potential, its popularity and market leading position is reflected by distributors in 38 countries across mainland Europe and worldwide.
The feedback from UK vets is summed up by Dr Dan Chan, DVM, DACVECC, DACVN, DECVECC, FHEA, MRCVS. As Professor of Emergency and Critical Care Medicine, and Clinical Nutrition, at the Royal Veterinary College, he is also a leader in the field of enteral nutrition, he simply commented: "I have had great success in sick patients readily drinking when needed by using Oralade".
Also celebrating 10 years working with Guide Dogs UK since 2008, Macahl Animal Health has offered Oralade to Guide Dogs' UK National Breeding Centre, providing vital oral re-hydration as a nutritional supplement for their very special puppies.
Caroline Peacock, RVN Lead Canine Services Adviser, commented: "Oralade is offered to the puppies at weaning and every pup leaves with a bottle of Oralade when they depart the Breeding centre to live with their handler. The journey for any puppy to their first new home can be stressful and a challenge. They may not want to eat or drink much, but having Oralade encourages them to drink readily as they know and love the taste."
Oralade's Managing Director, Anthony Mackle, added: " The past 10 years have been an amazing journey for both Oralade® and Macahl Animal Health. We are so thankful to our customers from around the world for all the support and great feedback they have given us during that time. We're a family business with a love for pets and a passion to develop innovative products for better pet health. There will be some exciting new products launching from Oralade® in 2019 and we will be celebrating this 10 year Anniversary with special promotions and giveaways for our current and new customers to say a very big thank you!"
Visit Macahl Animal Health at The London Vet Show to find out more about Oralade on stand no: R55  www.oraladevet.com
For further enquiries contact Anthony Machal:
Tel: +44 2887 789245 Email: anthony@macahl.com
For press enquiries contact Anna Webb:
Tel: + 44 7973 282803 Email: anna@annawebb.co.uk