11 Jul 2018
Make SANOS part of Every Dental Cleaning!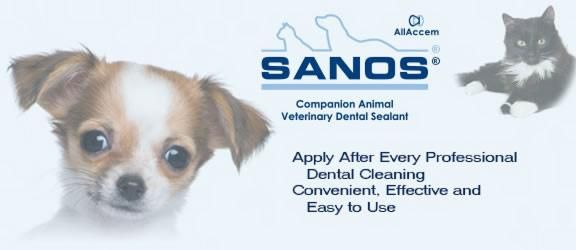 Convenient, Effective and Easy to Use
Decreasing plaque and tartar accumulation in the periodontal pocket is critical for fighting periodontal disease. This is where the application of SANOS Gingival Dental Sealant can help. Apply SANOS under the gum line (in the gingival sulcus) after every dental cleaning. SANOS is a Veterinary Oral Health Council (VOHC) accepted gingival sealant for dogs and cats that lasts up to 6 months. Request here your copy of the Educational SANOS Dental Presentation.
What is SANOS?
SANOS is a professional application by the veterinarian that seals the subgingival gumline (gingival sulcus) against bacterial attachment that can lead to plaque formation.
Benefits
• Easy precise application
• Dries in seconds
• Awarded the VOHC Seal
• Non-waxy, low viscosity
• No home re-application 
How to Apply?
A great way to quickly learn how to apply SANOS is to watch Dr. Peter Emily's instructional YouTube video.
Apply SANOS under the gum line after spay/neuter and after every dental cleaning.
A single application by the veterinarian helps keep the gingival sulcus of dogs and cats clean for up to 6 months.  No additional take home product re-application required.
SANOS is not for stopping plaque on the crown of the tooth. SANOS is for protecting the gingiva and gingival sulcus, the most important area to aid in the prevention of periodontal disease. 
Contact ALLAccem,Inc.
1300 Industrial Rd,Suite 16
San Carlos,CA 94070, USA
Phone +1-650-593-8700
Email: info@allaccem.com