26 Aug 2022
"Nutrition is Vital" CPD Events with Hill's Pet Nutrition this Autumn!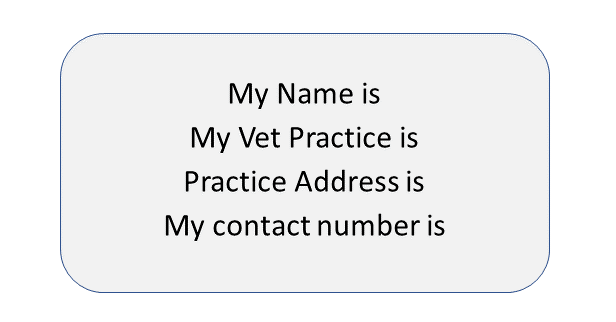 Join Hill's Pet Nutrition at a series of interactive regional CPD events this autumn focusing on Nutrition as the 5th Vital Assessment. Learn HOW and WHY to incorporate nutrition into every consult. Vet surgeons and nurses are invited to attend the events, where they will receive an in-depth introduction to the 2022 AAHA Nutrition is Vital Guidelines and the concept of nutrition as the 5th Vital Assessment. Participants will be given an opportunity to brainstorm solutions to common barriers to making strong nutritional recommendations, together and with the experts present
Delegates will learn from renowned speaker Brian Faulkner, BSc (Hons), BVM&S, CertGP (SAM), CertGP (BPS), MBA, MSc (Psych), FRCVS. Brian is an experienced clinical vet and business owner, the co-founder of Colourful CPD and an Associate Professor in Veterinary Business at Nottingham University. He will demonstrate how a strong nutrition programme is a cornerstone of a prosperous and healthy veterinary practice from a business perspective.
Delegates will also hear about the plethora of tools from Hill's that make nutrition easy for vet practices to implement, including the new free Hills4Me digital ecosystem. The new and improved Quick Reco tool provides a platform for making strong, quick nutritional plans for patients. It seamlessly integrates with the Loyalty tool and the online Vetshop, driving clients to purchase pet food from the clinic while providing the flexibility of an online shopping option.
Each event will also feature a surprise keynote clinical specialist, who will give a practical, case-based presentation about how "nutrition is vital" to their success when managing medical or surgical cases.
The events will run from 10:00-16:00 and include lunch and breaktime refreshments on the following days:
6th October, 2022; Debden House Centre, Loughton, IG10 2NZ
12th October, 2022; Stirling Highland Hotel, Stirling, FK8 1DU
10th November, 2022: Stanton House Hotel, Swindon, SN6 7SD
7th December, 2022: The Killeshin Hotel, Portlaoise, R32 TYW7, Ireland
Save your preferred date in your diary and watch our professionals-only Facebook group or chat with your Territory Manager to find out when registration becomes available!