20 Sep 2022
Play Plus Plummet!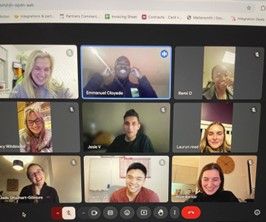 The leader board has reset after BVA Live, so you now have another chance to win some great prizes, with Plus Plummet at LVS!
You won't want to miss playing the addictive Plus Plummet game, and now there are even more chances to win some great prizes! See how you score against your region with central, north and south leader boards, and the overall UK leader board will reset each month.
Haven't played the game yet? Make sure your dog's parasite protection doesn't plummet with the new Credelio™ Plus game! Catch the plus symbol and the active ingredients, lotilaner and milbemycin oxime, while dodging the pesky parasites!
Every month our top scorer will win a £50 Secret Escapes voucher, helping them embark on their own personal adventure! The next four leading the pack will get their paws on an exciting pack of goodies.* Make sure you check back in regularly and play again to win!
Credelio™ Plus is the exciting addition to Elanco's all-round parasiticide portfolio – offering trusted worm control with milbemycin oxime plus immediate and persistent tick and flea kill with lotilaner, in one tasty, monthly, chewable tablet. Visit MyElanco to find out more about Credelio™ Plus for dogs.
We hope you enjoy playing Plus Plummet and we look forward to seeing you on our leader board!
* This pack of goodies will include a yoga mat, dog treat bag, collapsible dog bowl, LED collar light, microfibre towel and poo bag roll, to help turn every day into an adventure. Terms and conditions apply.
Credelio™ Plus for dogs contains lotilaner and milbemycin oxime. Legal category POM-V in UK, POM in IE. For further information call Elanco Animal Health on +44(0)1256 353131 or write to: Elanco UK AH Limited, Form 2, Bartley Way, Bartley Wood Business Park, Hook, RG27 9XA, United Kingdom. For further information consult the product SPC. Refer to the product packaging and leaflets for information about side effects, precautions, warnings and contra-indications. Use medicines responsibly www.noah.co.uk/responsible, www.apha.ie
Credelio™, Elanco and the diagonal bar logo are trademarks of Elanco or its affiliates. ©2022 Elanco or its affiliates.
PM-UK-22-0369 Date of preparation: 08/22