23 Aug 2022
How RAMP Registrants contribute to the vet care plan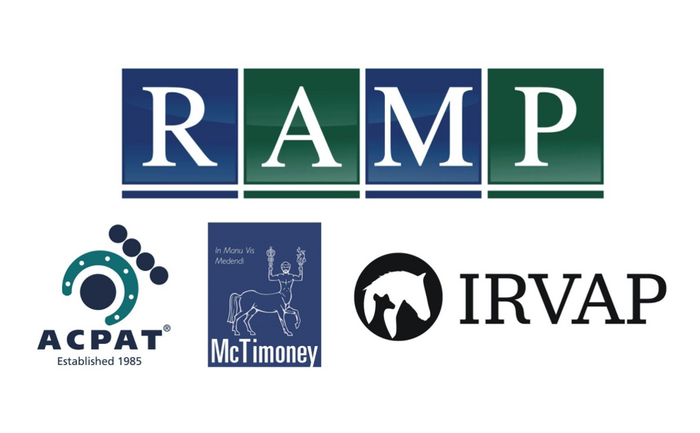 RAMP helps vets in practice by providing an easily searchable online list of musculoskeletal professionals who are highly qualified, properly insured and committed to working as part of the multi-disciplinary team.
As the national industry regulator for MSK professionals using Chiropractic, Osteopathic and Physiotherapy techniques for animals, RAMP covers those working in the UK. They can help with Maintenance Care, Competition Care and Rehabilitation cases – the latter only through referral or delegation to ensure proper liaison with the vet.
RAMP publishes their Gold Standard to ensure registrants provide the same level of care for your animals as you would expect for yourself. Any condition outside the practitioners remit is quickly referred back to the veterinary surgeon to allow early diagnosis and treatment of pathology.
All registrants are insured as individual practitioners which means that referring to them does not incur any additional liability risk. Also, they are kept up-to-date through annual CPD training requirements.
RAMP has filled a vacuum where there was no previous regulation. It is an impartial and industry-led organisation collaborating with DEFRA & RCVS, MSK Professional Associations and relevant Insurance Companies. It registers, represents and disciplines registrants to ensure animals get the best treatment possible, chosen with fully informed consent.
How McTimoney Animal Chiropractors contribute to the vet care plan
The beauty of the McTimoney technique is how light and effective it is. The technique stimulates a response in the tissues without forcing change or compromising acute or chronic pathologies. Veterinary diagnosis is always required before commencement of treatment, and where pathology has been identified and veterinary intervention pursued, application of McTimoney chiropractic techniques as part of the vet care plan enable the animal's body to accommodate the compensatory mechanisms necessary whilst facilitating a return to normal neural and musculoskeletal competency. We see this so often in cases where gait parameters are not clinically lame but have not returned to pre-injury movement, or where cases present with a mild lameness which persists despite conventional medicine. By stimulating the nervous system, improving joint function in a specific and directed treatment protocol and thereby enabling muscular strength to return, we are able to facilitate a quicker recovery whilst also allowing for monitoring of sub-clinical changes to the musculoskeletal system through palpation for compensatory mechanisms not immediately obvious to the eye. Ongoing communication between the McTimoney Animal Chiropractor and the vet in charge of the case also facilitates a flexible treatment plan where other conditions may also be present or emerging, particularly in cases where owner knowledge may be lacking too.