26 Mar 2018
Recurrent Otitis Externa: Which approach do you take?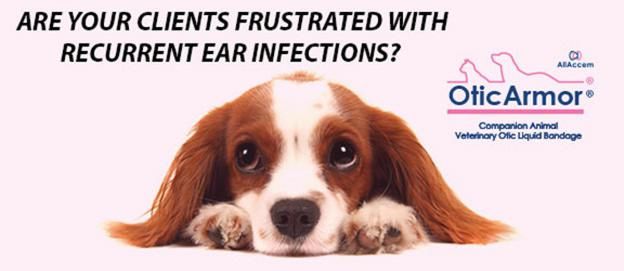 OticArmor, Your Professional Solution to
Otitis Externa!
OticArmor is applied as the last step in your treatment protocol for Otitis Externa and lasts up to 3 months. OticArmor is designed to help and aid in controlling Otitis Externa by protecting the epidermis which is compromised and sensitive to inflammation due to weakening of the ear canal lining. First, treat the Otitis Externa with your preferred medication. Next, OticArmor is then applied at the recheck exam to: 1. Help patient comfort; 2. Protect the epidermis; 3. Shield the allergen receptors. OticArmor helps and aids in lengthening the time between Otitis Externa reoccurrence. Request here your copy of the Educational OticArmor Presentation.
What are the Key Benefits?
Puts the care in your professional hands to help eliminate the client compliance problem
One easy professional application helps keep the ear canal clean for up to 3 months
Relieves the burden of daily/weekly ear cleaning at home.
How is OticArmor applied?
At recheck, clean the ears, rinse with water, then gently dry the ears
Apply OticArmor with a disposable syringe (needle removed) and/or the provided applicators
No sedation is required.
Contact AllAccem, Inc.
1300 Industrial Rd, Suite 16
San Carlos, CA 94070, USA
Phone: +1-650-593-8700
Email: info@allaccem.com