06 Sep 2022
Reimagining diagnosis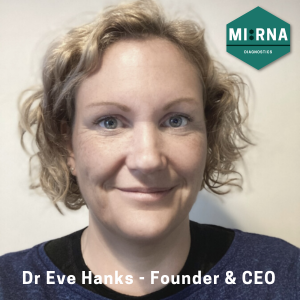 EIE is an Investor Readiness Programme that offers the most advanced start-ups and scale-ups the opportunity to undergo an intensive programme to make them investor ready. This programme culminates at our technology investor showcase, where we bring together our cohort of incredible companies with international investors.
As we lead up to the showcase, we are pleased to offer you an in-depth look at the companies in our current cohort.
The cohort for EIE22 comprises of the most innovative companies spanning multiple sectors of interest, and in this new series of stories, we will feature companies that will be pitching for investment at the investor showcase in early October.
Our fifth feature in this year's roundup of features is on MI:RNA.
Reimagining Diagnosis
Founded in 2019, MI:RNA is a veterinary diagnostics company specialising in the development of testing technology for veterinary disease. In short, they detect early disease in animals.
Founder Dr. Eve Hanks, a trained veterinarian and clinical pathologist, formed MI:RNA when she realised she could improve diagnostic testing using expertise from her PhD in veterinary medicine at the University of Glasgow.
Combining RNA-based science and artificial intelligence to detect early disease has made MI:RNA the first diagnostic testing laboratory to bring early diagnosis to veterinarians in the UK.
"The main driver behind this is to increase the quality of life and longevity of our pets and to reduce the environmental impacts of agriculture," says Dr. Hanks.
Taking a Preventative Approach to Heart Disease in Pets
This approach to early detection in heart disease in animals allows vets to reassure their clients and bring an extra level of care to the pets that have been diagnosed.
While the journey has so far been exciting, there have been some barriers to overcome along the way, says Dr. Hanks.
"Getting the right team in place, juggling other work responsibilities and raising funding are the main hurdles that we have been working through," she says.
EIE Raises Awareness of the Journey
Dr. Hanks believes in EIE's ability to create "good visibility" for the companies involved.
The progress the team at MI:RNA have made throughout their journey is notable, with achievements under their belts like winning the Animal Health Nutrition and Technology Europe Award this year.
We look forward to watching the founders of MI:RNA pitch for investment at EIE22!
EIE is delivered by The Bayes Centre, the University of Edinburgh's innovation hub for data science and artificial intelligence