10 Oct 2022
The Reptile Academy Returns to LVS2022 with our Reptile & Amphibian Training Programmes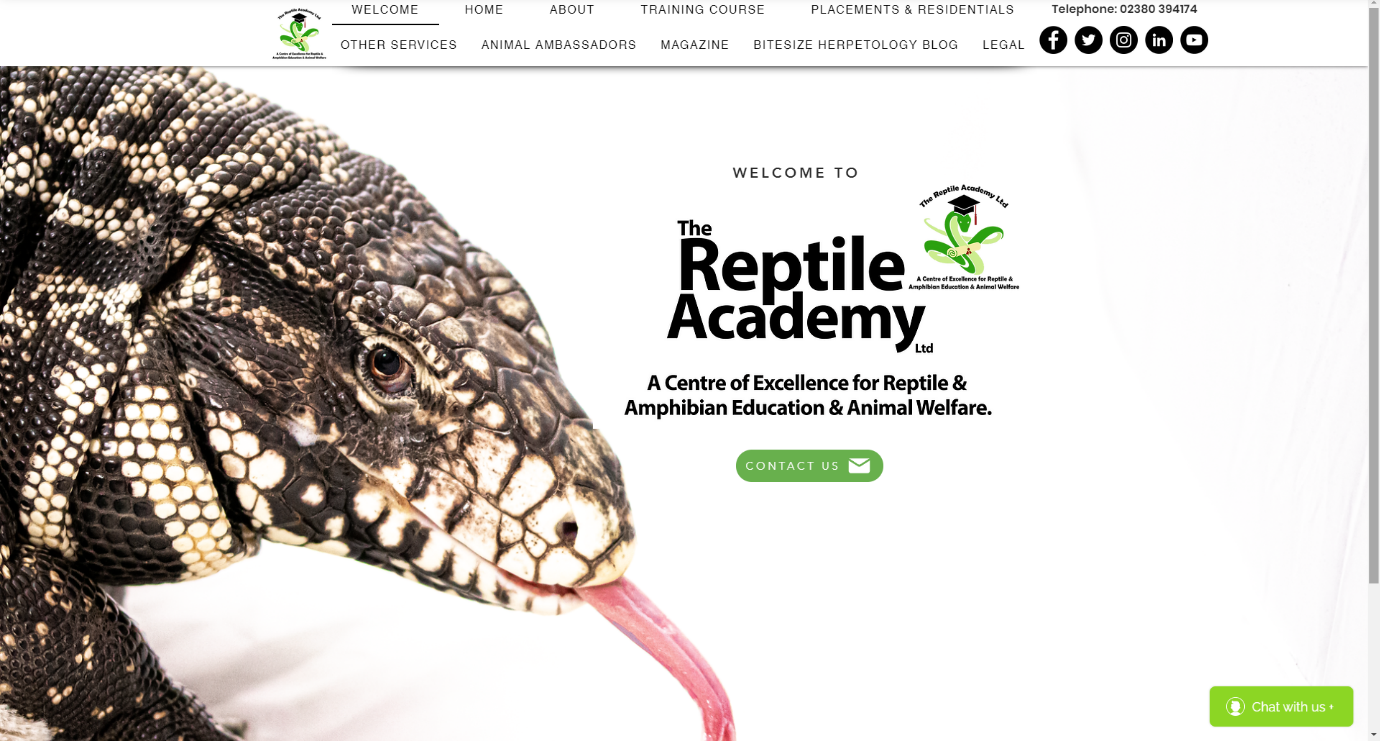 This 12-module, online, asynchronous course is the perfect adjunct for anybody studying towards or currently working in veterinary medicine or nursing, biological or zoological sciences, animal welfare and animal management roles. Worth more than 150 hours of CPD, this course provides an exciting and valuable alternative for those aiming to achieve their annual CPD and extramural studies requirements.
Our friendly education team look forward to seeing you at stand: C12
The Reptile Academy Ltd is a Centre of Excellence for Reptile and Amphibian Education and Animal Welfare in the UK. We are home to a diverse array of species of snakes, lizards, monitors, frogs and toads, from almost every corner of the globe. We specialise in interactive and educational workshops and training sessions, aiming to improve the standards of animal welfare and captive animal husbandry. Previously, we have delivered several formal courses and training workshops with clients such as The University of Southampton School of Biological Sciences and the Wildlife Society, Bioblitz, Forestry England, 3B Education and many more. Throughout covid-19, we have adapted much of our material to be delivered online through seminars, for example with the Nottingham University Veterinary and Zoology Society. Having proven popular at a time where the demand for online learning is high, it has led to the development of our brand new, accredited online course and e-learning platform, which launched last year at The London Vet Show 2021.
"We are very much looking forward to be returning to LVS2022 after a hit success at LVS2021 launching our reptile and amphibian training course. This course represents years of working with a plethora of wonderful exotic species, and a desire to drastically improve the standards of reptile and amphibian welfare to what we would expect in 2022. It's exciting to see so much enthusiasm from people we have previously worked with as well as prospective students across the veterinary profession, biological and zoological sciences fields as well as wider reptile keeper and enthusiast community. I hope that anyone who signs up will find the online course extremely rewarding and be the perfect adjunct to qualifications and careers they are currently pursuing, that often lack a much-wanted reptile and amphibian component."
Jake Weeks, MRes, AMRSB, FLS, FISAP (Herp Edu), MIACE
Managing Director and Principal Instructor at The Reptile Academy Ltd
We firmly believe that our course is the most comprehensive and informative programme surrounding herpetology in the context of captive reptile and amphibian husbandry and animal welfare, brought to you by qualified biologists and zoologists. The Reptile Academy has a passion for improving the welfare standards of these remarkable animals to a standard we would expect in 2022. We've answered several questions we thought you might have about the course below, and we look forward to sharing our passion for herpetofauna with you as you join us.
What topics does the course cover?
The entire course comprehensively covers the world of reptiles and amphibians through 12 fully interactive and asynchronous modules, focusing on the captive care requirements of 24 popular species and their surrounding herpetology. Here's a breakdown of the modules:
Module 1. Evolution of Reptiles and Amphibians.
In the first module, we shall explore the evolution of amphibians and reptiles throughout time, learning how our understanding of evolution and adaptations can influence modern day husbandry requirements.
Module 2. Animal Welfare Law & Global Conservation
There are a plethora of laws and treaties surrounding the welfare and conservation of exotic species. It is important to understand their strengths, limitations, and discuss how they can be used to enhance the standard of our animal welfare practices today.
Module 3. Core Principles in Reptile and Amphibian Husbandry
Module 4. Advanced Principles in Reptile and Amphibian Husbandry
These modules introduce the major components of reptile and amphibian keeping, from appropriate enclosure design and diet through to complex lighting requirements. Once the basics are mastered, students will learn how to further improve their standards of animal husbandry, for example through bioactivity and photoperiodicity cycles. It's not about surviving in captivity, it's about thriving.
Module 5. Snakes: Natural History, Husbandry and Handling
Module 6. Lizards and Monitors: Natural History, Husbandry and Handling
Module 7. Amphibians: Natural History, Husbandry and Handling
Modules 5, 6 and 7 cover the previously explored herpetology and animal management principles in the context of 24 species of widely kept snake, lizard and amphibian. These include species across the pythons, boas, varanids, geckos, iguanas, tegus, chameleons, frogs, toads and salamanders. The content you learn here can be applied beyond the covered species and forms a major component of this course.
Module 8. Reptiles and Amphibians at Work
Reptiles and amphibians are an incredibly important and underrated group of animals that are widely used across many settings. This module covers their importance, benefits and use across special educational needs and disabilities learning, pharmaceuticals, disease spread, pest control and much more.
Module 9. Taboo Topics & Critical Thinking in the Reptile Keeping Community
The reptile and amphibian keeping community is often under much scrutiny from several organisations and attracts negative attention. It is important to acknowledge that key issues in fact do exist within the community. The module goes on to explore how education coupled with improving animal welfare standard is the best strategy to protect the community from within, of which the majority has high standards and displays a genuine passion for these species.
Module 10. Reptiles, Amphibians & Disease
Reptiles and amphibians often develop a range of diseases in captivity due to a lack of research and improper husbandry. This module covers a broad range of common diseases and illnesses from metabolic bone disease through to impaction and highlights how optimal husbandry and adopting certain protocols can help prevent these diseases.
Module 11. Mini-Research Project
In this penultimate module, use the skills and knowledge learned to develop a short research question to inform on an aspect of reptile and amphibian husbandry, care, or management.
Module 12. Native UK Herpetofauna
Finally, explore the UK's native reptile and amphibian species through a virtual field trip to the New Forest in the heart of Hampshire.
How is the course taught?
The course is asynchronous, meaning that the content is ready to go, and you can learn at your own pace around your other commitments such as work, college, or university. Typically, the course is taught through several mediums including presentations, recorded seminars, audio podcasts, interactive workshops and even a virtual field trip. An online forum also allows for feedback between learner and tutor, as well as discussion with other students.
Who teaches the course?
The course is designed and taught by our diverse education team comprising of qualified biologists and zoologists. In particular, the team specialise in fields across Infection Microbiology, Paleobiology, Marine Biology & Zoology as well as Evolution. Several of our instructors are currently working in wider academia and research roles, and therefore deliver this course material with a scientific approach, and others have over a decade of experience working with exotic species and have hands-on experience working at UK herpetofauna conservation sites.
How is the course assessed?
Each module is assessed online to ensure that students are learning the material provided but also to help track students' progression. Assessments take the format of multiple choice or short answer questions, poster or short powerpoint presentations, and mini quizzes for example, and vary throughout the course. At The Reptile Academy, plenty of support is on hand to make sure all students succeed, no matter their educational background or experience.
Does my location matter?
No, the course is delivered online and should be accessible from anywhere so long as you have an internet connection. The material can also be downloaded and accessed offline afterwards. The Reptile Academy Ltd is based in Hampshire, UK, but this only matters if you are interested in the ad-hoc hands-on training workshops that we are planning to get back up and running in Spring 2022.
How can the course be accessed?
We have a new e-learning platform that allows students to log on to their account and access all course materials, take assessments, track progress and engage with the education team and other students.
How will I benefit from taking this course?
Many people study towards careers involving animals at college or university such as veterinary medicine and nursing, biological and zoological sciences as well as animal management. Some have already completed their formal qualifications and are employed. Covering reptiles and amphibians usually forms very little or none of their current studies or work, and we often get students sign up to enrich their current knowledge and skillset. People who keep reptiles and amphibians as pets often translate what they have learned into how they keep their animals at home, improving their animal welfare standards too. Our course materials are also recognised and accredited by several organisations that endorse the quality of our education and animal welfare practices, and completion of the course is worth over 150 hours of CPD and may be suitable towards animal husbandry extra-mural study requirements.
What is CPD and animal husbandry extra-mural studies?
CPD stands for continued professional development and is used to describe the learning activities professionals engage in to develop and enhance their abilities. Membership of professional bodies often requires completion of annual CPD, for example to progress through membership and fellowship status. CPD may also be considered useful for annual appraisals.
Animal husbandry extra-mural studies (AHEMS) are placements taken throughout veterinary degrees which prepare students for working with animals. They are an essential part of veterinary education. Due to impacts of coronavirus-19, some universities may accept such courses for AHEMS credit.
How do I sign up?
You can visit us on stand: C12 at The London Vet Show to chat to our friendly education team. Otherwise, simply email education@reptileacademy.co.uk with your query and we can sign you up to the course platform.
Supporting Organisations
The Reptile Academy Ltd has been readily supported by UoS Careers and Employability Team as well as Santander Universities UK towards the development of the course and other educational initiatives since 2019, which includes funding for our educational workshop equipment as well as attendance to The London Vet Show 2021.
The Reptile Academy's fully interactive and asynchronous online course allows learners to explore the world of reptiles and amphibians, through 12 informative modules focused on their captive care, husbandry, and wider herpetology. Access the course online, anytime, using our integrated learning management system and course materials platform that gives you control over how you learn. Typical course media includes presentations, seminars, podcasts, virtual workshops, and video demonstrations, as well as a virtual field trip.
Contact Information
If you would like to know more, or wish to get sign up, please email our education team at education@reptileacademy.co.uk for more details or visit our website at www.reptileacademy.co.uk.
Links and Social Media
We also welcome you to follow our socials on Facebook, Instagram and Twitter.
Website: www.reptileacademy.co.yk
Facebook: www.facebook.com/reptileacademy
Instagram: www.instagram.com/reptileacademy
Twitter: www.reptileacademy.com/reptileacademy