29 May 2020
StreetVet During COVID-19 - Adapting to Lockdown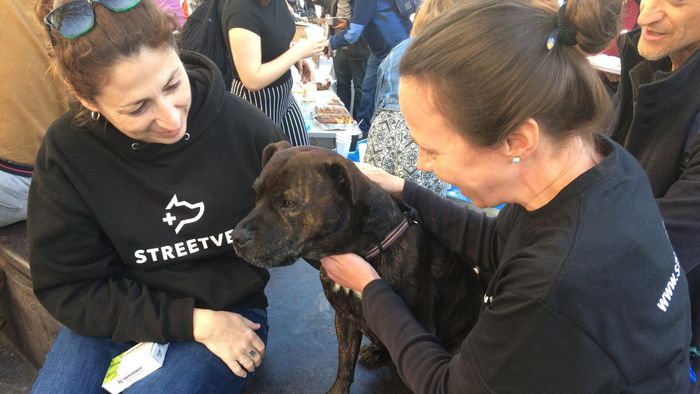 Covid-19 has had a huge impact on the veterinary world and has redefined the role of vets and vet nurses as custodians of animal welfare and disease prevention. As an RCVS-registered practice, StreetVet is closely following ever-changing professional guidelines to provide an appropriate level of patient care and service for vulnerable members of the community.
Our outreach stations have been temporarily suspended with most incoming client communication arriving via our partner charities, emails and phone alerts. Many of our regular clients have been temporarily housed in different areas of each city, making initial contact post-lockdown a challenge in itself. Some have been lucky enough to be housed with their dogs, but for those less fortunate we have been able to provide temporary kennel support for as long as it is required.
Each StreetVet city is unique and teams have had to adapt quickly to their volunteer's circumstances and their patient's needs. Dogs requiring urgent attention are being taken to our out of hours veterinary care providers as usual and more routine matters are dealt with by phone. Across the UK, emergency phone calls to StreetVet have more than doubled since lockdown began. As we adapt to remote veterinary care, telemedicine now plays a large part in our case management.
The London team have been monitoring several of their patients with weekly telephone consultations, but they have been kept busy on the ground too - reuniting a lost dog with his owner and arranging emergency hospitalisation to provide a critically ill patient with a blood transfusion.
The Birmingham team have been out delivering much-needed food to hostels, whilst in Plymouth and Brighton the local street kitchens have continued their amazing work and have been handing out dog food and pet sundries alongside hot meals for the owners. Many of our clients are well known to these other homeless charities and so their local StreetVet team can be quickly alerted if the owners have any concerns about their dogs.
A special mention must go to Webbox and Tails who are steadfast providers of dog food supplies for StreetVet. At times like this, when donations are scarce and many regular food sources have completely halted, it is absolutely crucial that we are able to continue to supply food to our patients. Additionally, through our relationship with Tails, we have facilitated the supply of pet food to many Big Issue sellers in several UK cities.
Our teams continue to volunteer for StreetVet alongside their regular work as vets and veterinary nurses in practice, academia and industry.
Despite current restrictions, our Gloucester team have managed to perform some urgent consultations in a local park. And, although this is not feasible in most cities, it is proving very effective for the clients and their dogs. In Plymouth, the team have met a new patient suffering from arthritis that they have assessed and treated, despite the outreach posts being closed. All cities have been provided with adequate PPE should they need to make a patient assessment in person, and social distancing is observed at all times between the clients and our volunteers, as in all veterinary practices across the country.
In Swansea the team have been supported by local practice, enabling them to triage their patients within a veterinary clinic – a real luxury compared to our usual StreetVet environment!
The Brighton team had lost contact with one of their favourite elderly patients for some time when they heard he was back in the area sleeping in a tent with his owner. With the help of members of the local community, the vet team provided a telephone consultation and were able to send out the arthritis medications that he so desperately needed.
There are uncertain times ahead for many homeless charities, within the veterinary profession and across all industries globally. We anticipate that the practical measures we have in place will provide some stability for our patients for many months to come. Sadly we predict that a rise in homelessness post-pandemic will see the need for services such as StreetVet increase dramatically in the coming months and years. More patients mean more emergency calls and an increasing requirement to fund their veterinary care.
The general financial downturn and social distancing regulations have to lead to a virtual standstill in both passive and active fundraising for StreetVet, making challenging times even more difficult. Of course, our work would not be possible without our outstanding group of volunteers, the goodwill of the general public, and the support of the veterinary profession as a whole. Without the backing of the many veterinary manufacturers, food companies, medicines suppliers, laboratories, veterinary press and the general veterinary community, we would not be able to continue to provide this critical service to our communities, and many owners and their dogs would be left to suffer in silence, so a huge thank you to you all!
Please visit www.streetvet.co.uk for more information and to make any donations.