26 Mar 2018
Thanks to effective vaccination Canine Distemper Virus (CVD) is now incredibly rare in the UK, but here is a recent case described by Rebecca Clayton BVetMed MRCVS, Westover Vets Ltd; as reminder to what look out for'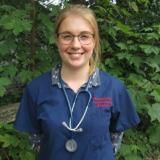 Thanks to effective vaccination Canine Distemper Virus (CVD) is now incredibly rare in the UK. Westover Veterinary Centre has recently seen a case of CDV in an unvaccinated animal. Unfortunately, the dog presented with severe clinical signs. These included large amounts of mucopurulent ocular and nasal discharge, thickening of the skin on the eyelids and nose, and ulcerated lesions on the paws and limbs. On presentation, the dog was non-ambulatory, displaying significant neurological signs and increased respiratory effort. The condition had developed rapidly over the preceding three days, although lethargy and occasional episodes of vomiting may have been evident for around a week. Sadly, the dog was euthanized but blood was taken for distemper testing. This demonstrated a high antibody titre, which in combination with the presentation is consistent with CDV infection. PCR can also be performed on CSF or tissues to provide a diagnosis.  
It is thought that Distemper is present in the fox and ferret population within the UK, giving a possible source of isolated cases. Historically the disease has been associated with large populations of unvaccinated dogs; such as rescue centres.  With an increasing number of dogs being imported from overseas into the UK, growing concern surrounds an increased risk of exposure.  Although the virus does not survive for extended periods in the environment, if dogs survive the initial infection, they may continue to shed the virus for several months.
Three presentations are recognised following infection. The first is a mild disease. Affected animals may show pyrexia, lethargy and inappetence. The second, generalised infection is a more severe form with characteristic clinical signs as described earlier. The third involves nervous disease, which may include encephalomyelitis and other neurological signs which tend to be progressive. Seizures, ataxia and paralysis are all reported. It is possible for a dog to develop characteristic neurological signs months or even years after apparently recovering from infection.
There is no specific treatment. Supportive therapy can be given to dogs showing signs. Vaccination once infection is present will not alleviate the progression of the disease.
With cases of confirmed CDV reported in the UK over the past few years, unvaccinated dogs are at high risk. This may coincide with a noticeable decrease in the frequency of vaccination of dogs. Particularly older dogs when owners have considered giving booster vaccinations no longer necessary. The re-emergence of the disease in the absence of vaccination remains possible.