14 Sep 2018
The London Vet Show Goes from Pink to Green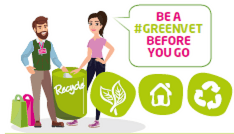 The London Vet Show is delighted to announce a series of initiatives to improve the sustainability and reduce wastage at the world-famous veterinary conference and exhibition this 15-16 November at ExCeL, London.
The London Vet Show, the largest veterinary event in Europe and the major focal point on the veterinary calendar, have partnered with Learning Without Landfill to deliver these initiatives.
The London Vet Show had confirmed the following steps forward to reduce wastage:
Agrees that their profession should be committed to reducing environmental damage.
Confirms they will review their current policies and protocols to identify areas which could be improved.
Confirms they will make at least 1 positive change per year.
Confirms they will help raise awareness of the current issues and encourage others to do the same.
"The landmark 10th London Vet Show this year is set to attract over 5,600 delegates" said Rachel Kilmartin, Senior Marketing Executive for the London Vet Show. "Therefore the team has developed additional steps to further affirm the sustainability of the London Vet Show in years to come."
The following initiatives will also be rolled out at the London Vet Show in November.
The London Vet Show will:
Replace plastic water cups with reusable and recyclable water bottles on water coolers
Remove one-use carpet and donating left over carpet to charities.
Create a recycling point for delegates to drop off any recyclable papers and literature.
Deliver left over pens and stationary to education charities.
Create a dry-food drop off point for delegates to drop off leftovers which will then be delivered to a charity.
Send any unusable food scraps to be sent to the ExCeL womery.
Use led lights in theatres and halls to reduce energy consumption.
Competitions to be announced for best use of recycled show collateral.
"We are excited to be rolling out these initiatives this year and we hope delegates and exhibitors at the London Vet Show take this opportunity to reduce wastage at the Show, and hopefully we can start a larger conversation about sustainability throughout the veterinary profession." Said Kilmartin.