13 Jul 2020
The Vet Profession: Unfiltered [A Recap of our Global Series Finale]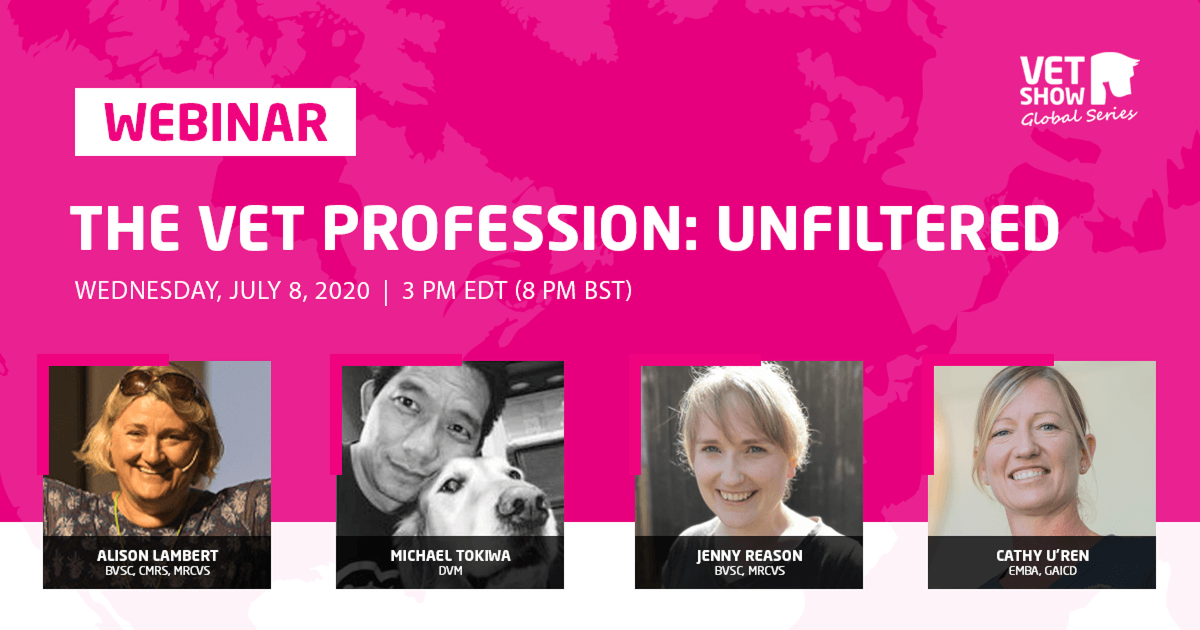 In case you missed out, our Global Series went out with a bang this week. A lively (and hilarious) panel of veterinary professionals, who have all become experts in COVID practice, gathered via live video conference to discuss the good, the bad, and the ugly of 2020 so far.
The panel consisted of a Fab 4: Michael 'Dr. T' Tokiwa, DVM from Princeton, NJ; Jenny Reason BVSc, MRCVS from Suffolk, England; Cathy U'Ren, EMBA, GAICD from Queensland, Australia; and our chair extraordinaire, Alison Lambert, BVSc, CMRS, MRCVS from Lincolnshire, England. As successful veterinary business owners, their experience and thoughtful opinions made for an energetic conversation based on questions from vets across the globe and unique polls scattered throughout.
They kicked off the chat with a tough, but important first question: "How are you dealing with angry clients in the midst of this pandemic?" Dr. Reason, who is a veterinary director/owner and surgeon, took the lead by saying that it all comes down to trust; she noted, "If you have the trust of your team and the trust of your clients, you are able to avoid the vast majority of the angry client situations."
Chief Wellness Officer and Owner, Cathy U'Ren, has had an easier time with COVID in Australia, but still had to lock her doors to clients in the beginning. Fortunately, her clinic has a large outdoor area, originally meant for wellness activities, which was converted into a consulting room where clients could watch the full examination from a safe distance. "That was enormous for people, to be able to see their pet and have a face-to-face conversation." Her team sat down to figure out what could be done to keep up their valued customer service, turning to random acts of kindness, small gestures for clients waiting in their cars, and over-communicating through channels like Facebook Live.
As the only American, Dr. T, founder and owner of a small animal hospital, has had a slightly more difficult time, functioning curbside only, going down to one doctor, and cutting hours of operation. His practice has been around for a long time, so they have been able to manage, finding that having a loyal and trusting clientele has been huge.
Other topics of discussion included the surge of new client registrations, the "puppy boom" and the consequent toll on the team, maintaining client communication during exams, and recruitment during this time.
One question, in particular, struck a chord with our panel and many audience members who wrote in: "We are out of control of our own safety, and we are scared. What do we do when our employers refuse to take simple safety precautions to protect us. Wearing masks is just one example…" Not too long ago, Dr. Reason was an employee herself, and her response was that if employees come to their owners with a problem, it's up to them to address that problem; however, she says:
"From an employee's point of view, it depends on what you've already tried to do. If you've said nothing, and moaned in your head (or to other team members), then it's not fair to expect your employer to rectify what they haven't been made aware of. It's all about speaking up for yourself", she said, "and if you already have, go to the employer with solutions. If that doesn't help, re-consider if this is where you want to be—otherwise you'll get burnt out and leave for the wrong reasons." Cathy agreed, saying that "if you're not going to be the best and safest you can be where you are, then don't stay there."
When discussing the current status of having clients back in the building, the panel was split. Cathy in Australia has all clients back in the building (as there are 0 active cases in Queensland), though they're still taking precautions. Dr. T is still entirely curbside. Dr. Reason's practice in the UK also isn't there yet, but they have allowed clients who have elected euthanasia to come into the building. She said that those procedures can have very long-standing emotional trauma on certain people, feeling strongly that if they want to be in the building, they can.
Coming to the end of the webinar, the panel got into their opinions on whether or not it was a good idea to continue with one's dreams to open a practice during this time. The answers summarized in a few words—
Dr. T: Follow your dreams. Banks know vets are recession-proof, so they're willing to help. It's about how your practice is going to be different...maybe even get a mentor!
Dr. Reason: You need a good plan and a strong head. You have to show passion and enthusiasm to the bank manager, and whatever you do, don't go through a broker.
Cathy: If you have a compelling enough reason for people to come to you, and you can communicate that well using all the mediums you have available, then absolutely go for it.
Finally, the panel was asked their top tips for other veterinary professionals during this time, and it all boiled down to three things: communication, respect, and caring for others. Dr. T left us with one solid, unfiltered line that summed up the conversation perfectly… "F COVID!"
Click here to watch the full webinar in all its glory.
Our Global Series may be over, but you've asked for more, and we will deliver! Stay tuned—or subscribe to our newsletter—for updates on future, engaging learning opportunities with us.