29 May 2020
The Vet Show Goes Global, Online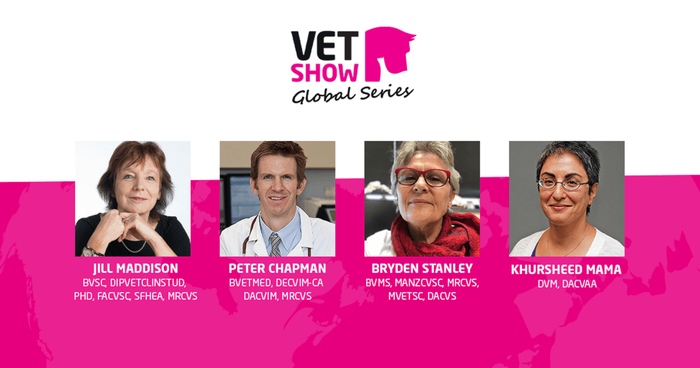 [LONDON/NEW YORK, 28 May 2020] – The team behind the worldwide Vet Shows have today announced they will host a limited series of live webinars, in response to the global need for high-quality veterinary education, available safely from the comfort of home or office. Vet Show Global Series will host weekly, hour-long sessions featuring a variety of premier veterinary educators, presenting up-to-date RACE-approved CPD, with live Q&A. Speakers and themes will vary from week to week.
The idea for the global series came after the high usage and overwhelming demand of the Vet Show's on-demand webinar platform, Vet Show Academy; this indicated that the global veterinary community has been using lockdown restrictions to find support, resources and education solutions.
"The Vet Show team produce 9 major veterinary events around the world. We are experts in providing world-class CPD solutions and we've always prided ourselves on adapting our live event experience to suit the climate of the host city and geographic audience.," said Charlotte Ellicott, Head of Marketing and Content for the Global Vet Show Portfolio.
"Although we are unlikely to gather in person over the next few months - our audience of dedicated vet professionals still need high-quality veterinary education, and that's exactly what our platform can provide right now. We've gathered some of the highest-rated speakers from our worldwide portfolio of events to bring practical and relevant CPD to your own laptop, pc or tablet, in an easily-digestible weekly format." Said Ellicott.
The speaker line-up includes Peter S. Chapman – Medical Director, Internal Medicine at VSEC and Dr Bryden Stanley - Surgery Professor, Michigan State University. Professor Jill Maddison – Professor of General Practice at the Royal Veterinary College, will commence the series, presenting: Top tips for interpreting liver and pancreatic clin path results in dogs and cats?
Vet Show Global Series will be open to all veterinary professionals. The series will be free of charge, but places limited, and will take place every Wednesday starting from 10 June 2020 at 7 PM BST (2 PM EDT, 11 AM PDT). Registration is required for each session.
Commercial opportunities: As spaces are very limited - the Vet Show are prioritising places for veterinary professionals from practices, animal hospitals, universities and other settings. Commercial participation is reserved for sponsorship opportunities only. Potential sponsors should inquiry immediately to avoid disappointment.
Top tips for interpreting liver and pancreatic clin path results in dogs and cats?
At what level does an increased ALT or ALP unequivocally indicate liver disease? When are bile acids useful and when are they not? What does a positive PLI really mean? Do the results mean the same in dogs and cats – if not, why not?
Liver and pancreatic enzymes and other diagnostic parameters used to assess the hepatobiliary system are commonly measured by veterinarians on unwell patients, prior to anaesthesia or as a general metabolic profile for geriatric animals. Yet deciding exactly what the results mean and what they confirm or rule out can be difficult. During this lecture, I will discuss my top tips for interpreting clin path results related to the liver and pancreas focusing in particular on differences between cats and dogs.
The learning outcomes for this lecture will include:
To understand how to interpret liver enzymes and what mild, moderate and marked increases mean
To appreciate when bile acids useful and when are they not
To learn what a positive pancreatic lipase immunoreactivity (PLI) result really means in dogs and cats
To understand why liver and pancreatic clinical pathology results differ in dogs vs cats
For more complimentary CPD and resources, make sure you are registered to receive the Vet Show fortnightly newsletters: https://london.vetshow.com/newsletter-signup
[ends]
About the Vet Shows
More information on any of CloserStill Media's Vet Shows can be requested from Rachel Kilmartin, Marketing Manager, r.kilmartin@closerstillmedia.com