If time is limited, head straight to the VetEnvoy stand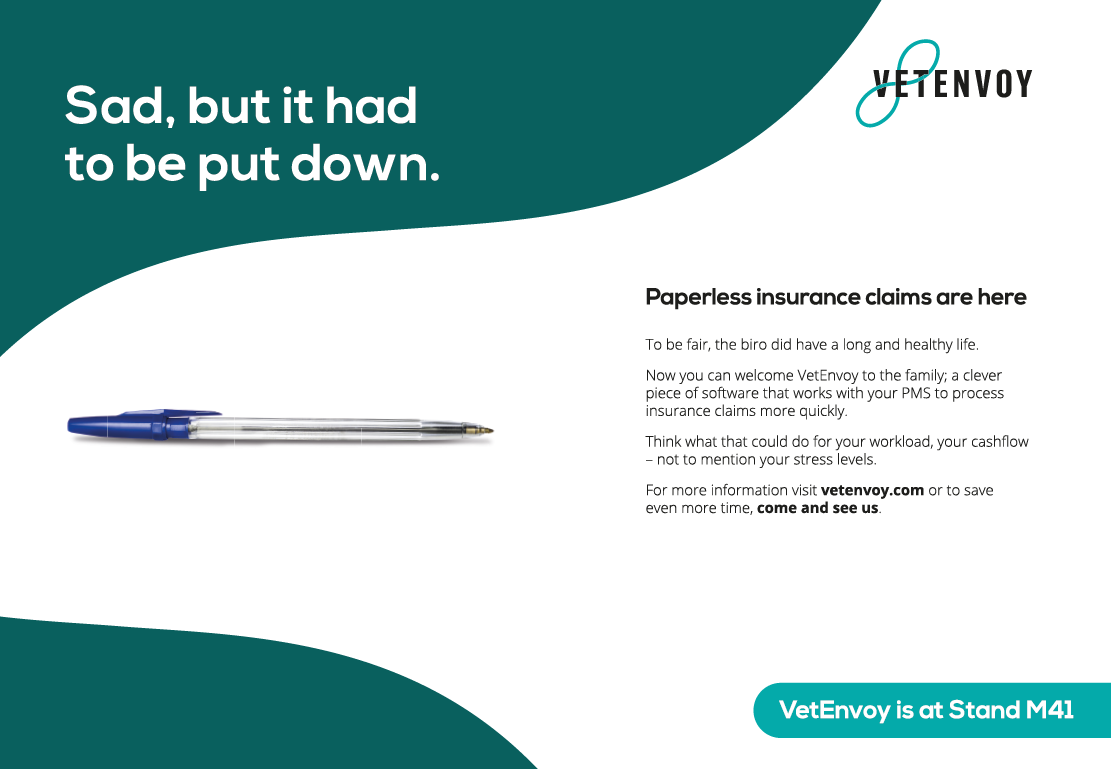 If there's one thing your practice could do with more of, it's time. So put down your pen and say goodbye to the paperwork.
VetEnvoy is a clever piece of software that works with your PMS to quickly process your customer's insurance claims - without the endless form filling.
By co-ordinating seamlessly across IT systems, VetEnvoy revolutionises the way vet practices can work. It frees-up time, reduces costs and improves cash flow.
And right now it's needed more than ever.
The growth in small pet ownership and the rising cost of living has inevitably had an impact on vet practices. Hours spent on admin, dealing with customer debt and an increased workload for vet teams, means that time is at even more of a premium.

But VetEnvoy isn't just about claims.
eMicrochip Registration
The VetEnvoy Microchip Registration Service lets you immediately transfer client details from your PMS to the registration database provider. This removes the need for all the usual paperwork and gives your client the peace of mind of having immediate cover should their pet go missing.
eLab Reports
The VetEnvoy Lab Reports Service directly transfers report requests and data between your PMS and the IT systems of lab companies on a completely paperless and secure basis. The report is automatically entered into the relevant client record on the practice's system.
Sounds familiar?
Be sure to check your PMS, as some practices don't realise they already have access to VetEnvoy as part of their system.
If not, then make Stand 41 the first stop on your visit. VetEnvoy could actually leave you with time on your hands.
Vet Envoy Stand M41
The London Vet Show 17-18 November 2022
https://vetenvoy.com/services/