13 Nov 2019
Wildlife Vets Help Save Turtles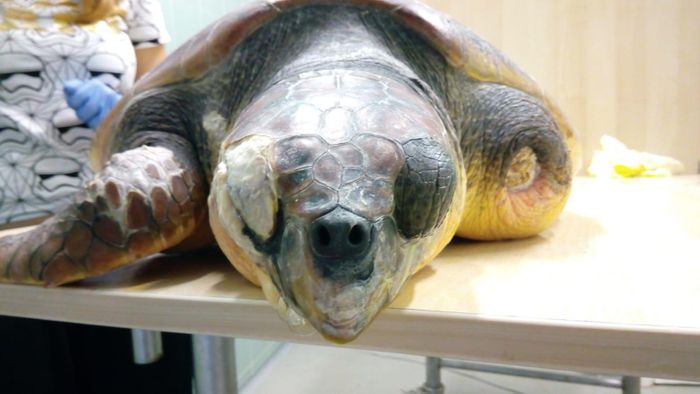 Charity Wildlife Vets International (WVI) summarises some of the clinical problems for turtles from increasing levels of plastic in our oceans. Sea turtles ingest plastic free floating in our seas from plastic bags, fishing nets, fishing lines and hooks and microplastics (<5mm). The long-term effects of plastic ingestion are unknown; however physical blocking of the gut hinders them from digesting properly leading to other complications. Research has shown it adversely affects growth and reproduction.
Turtles have injuries from being dragged and entangled in fishing nets and hit with blunt instruments (propellers, hammers). They are often dehydrated, have malnutrition, pneumonia, constipation and even decompression sickness as well as their visible physical injuries. All the turtles have plastic in their guts.
Leftie, is unfortunately a typical case at the rescue centres. Her eye was seriously infected and sight at risk; her neck was cut from ghost nets and her left flipper so poorly damaged it had to be amputated. The good news however, with support from WVI, she recovered well and was released.
The good news however, with support from WVI, she recovered well and was released.
WVI Marine Vet Specialist, Tania Monreal Pawlowsky and veterinary nurse Matt Rendle train vets, rehabilitation staff and volunteers in sea turtle medicine and handling and a sea turtle rehabilitation at excellent rescue centres. Through this collaboration, staff will be better trained to treat serious injuries, improve diet and nutrition and add to the captive environment in later stages of recovery. All of this will improve the fitness levels of turtles and increase their chance of survival after release.
Please support WVI's Big Give Xmas Challenge campaign, to help support expert training and protocols to other rehabilitators and veterinary students to improve the care of affected turtles.
#GivingTuesday 3 - 10 December ONE DONATION TWICE THE IMPACT
Training Vets. Saving Turtles