09 Oct 2019
TVM-UK introduces eye cleansing solution which combats tear staining!

Most vets and nurses have been asked by a client at some point in their career – 'what can I do to get rid of my pet's tear stains?'. Occasionally, this unsightly bugbear can be more concerning to the client than more seemingly pressing ailments. Historically, the answer they have been looking for was an elusive one but now, with Ocryl from TVM-UK's Corneal Focus Range, the answer becomes simpler.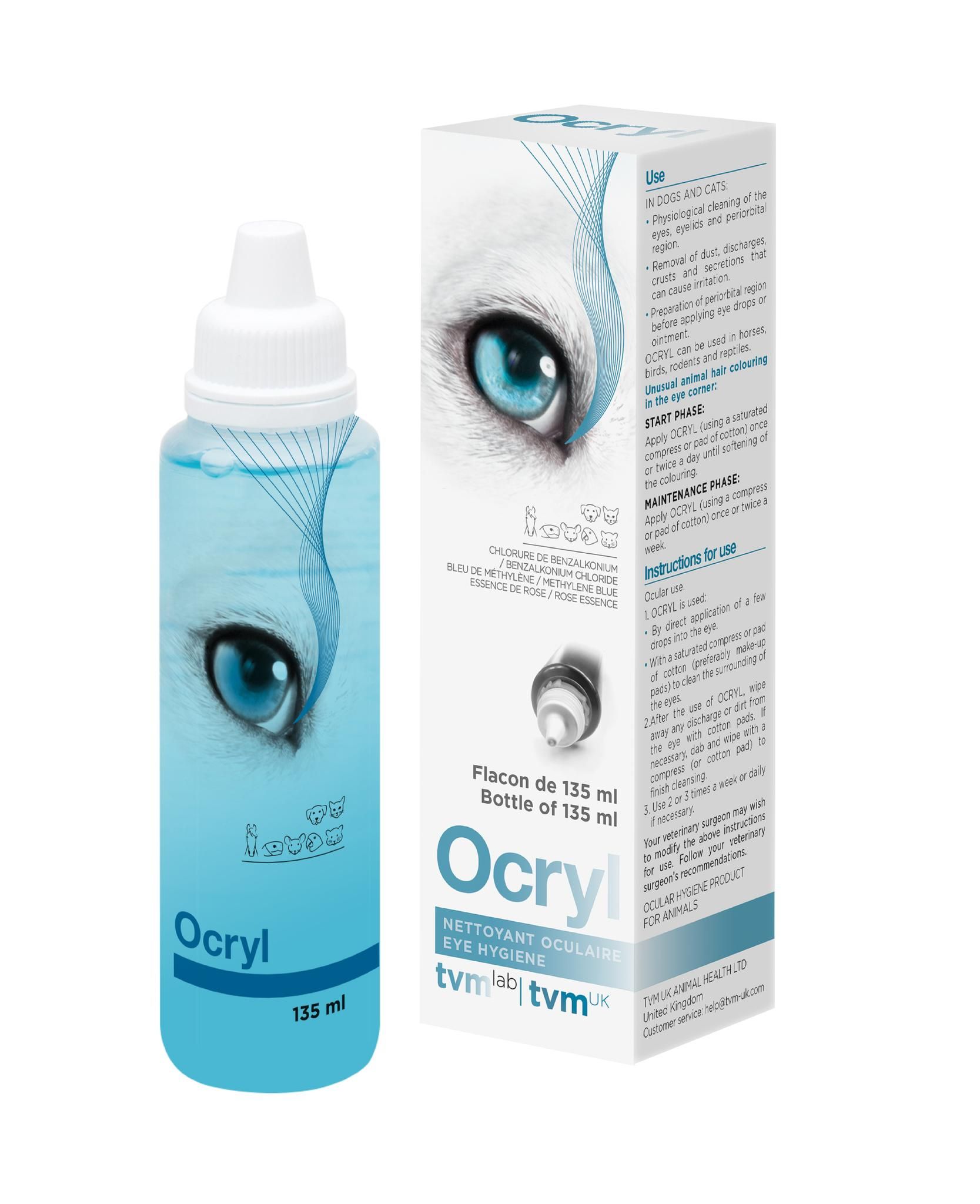 Ocryl is an ocular cleansing solution specifically designed for small animals. Not only does it gently help remove crusts, mucus and debris from in and around the eye, it's unique combination of ingredients help to combat tear staining and keep them at bay.

What are tear stains and how do they occur?
Dogs and cats contain high amounts of porphyrins in their tears, saliva and urine
Porphyrins are iron containing compounds resulting from red blood cell breakdown
When tears sit on the skin the porphyrin staining will intensify in the presence of light
Not only that, when tears sit on the skin around the eye the moist environment this creates favours bacterial growth– some bacteria can produce their own porphyrins therefore contributing to the staining effect
Why are some dogs/cats prone to tear stains?
Usually it is due to breed and conformation
Tear stains are more noticeable on light coated breeds
Most patients with tear stains produce a normal amount of tears which somehow find their way onto the face rather than draining down the tear ducts
- Occlusion of the tear duct entrance due to improper eyelid/facial conformation
- Hairs around the eyelid that wick tears onto the face
- Poor conformation of the tear duct
- Shallow eye sockets (brachycephalic dogs/cats)
In most cases tear staining is largely a cosmetic problem and dogs/cats will lead an otherwise normal life
However,
Some patients with tears stains have underlying ocular problems which mean they overproduce tears
IT IS IMPORTANT TO ENSURE UNDERLYING PATHOLOGICAL REASONS FOR TEAR STAINING HAVE BEEN RULED OUT BY A VET as if ignored the underlying problem may progress and become harder to treat
Ocryl Provides a Solution
To help combat tear stains, Ocryl is applied to a cotton pad and used on the tear stained area 1-2 times daily until staining resolves (usually within 10-14 days). Once resolved, it is then used 1-2 times weekly to keep stains at bay.
Ocryl may also be used for general eye hygiene as needed:
• Softening and removal of periocular mucus and crusts
• As a flush to remove debris from the ocular surface/conjunctival sac
• To prepare the eye for medicated drops/ointments
Ocryl has an antiseptic, astringent and soothing properties, and as it's pH is identical to tears it can be used in and around the eye with excellent tolerance.

To find out more and see testimonials from satisfied Ocryl customers visit TVM-UK, who are exhibiting products from their Corneal Focus Range, on stand P40 at London Vet Show this November.