09 Jul 2020
Vet from Prostock Vets wins international BVDZero award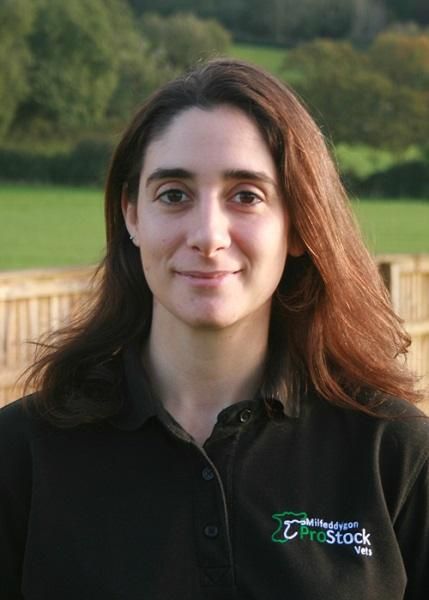 Vet, Magda Sioukiouroglou, from Prostock Vets in Carmarthen, South Wales, recently took first prize and a share in a 15,000 euros prize fund at the BVDZero Awards – an international competition open to anyone working within the cattle industry submitting a case involving Bovine Viral Diarrhoea (BVD). The award seeks to raise awareness of BVD and its control.
Magda's winning submission, entitled 'The Hidden Risks of the Show Ring', focused on a closed dairy farm with BVD-free status. The farm is also a member of the national BVD eradication scheme backed by the Welsh government, 'Gwaredu BVD'. Under the scheme, young stock from each management group are screened for BVD antibodies annually, at the same time as routine TB testing. A positive result would usually suggest contact with a persistently infected animal in the herd.
After an unexpected positive result was obtained, the farm became eligible for funding to identify possible persistently infected animals. However, all adult animals were negative. Using the British Cattle Movement Service, Magda was able to identify that the positive animal had been to cattle shows, where it is likely to have become infected.
Magda says her work underlines the importance of a robust herd health plan, "Biosecurity is a big concern and it's important that measures are put in place to protect herd health. We recommended that the farmer vaccinates any animals he wants to take to shows in the future and to keep them in quarantine for at least four weeks before introducing them back to the herd. Additionally, we will keep monitoring for BVD annually by screening youngstock and bulk milk samples for BVD virus and tag and test calves."
"We are really delighted with the recognition of Magda's work. It is a great example of one of the many ongoing BVD projects that members of the XLVet community are undertaking across the country with the theme of 'Make your farm your fortress'", said Alice Renner who leads the project. "By working together as a collaborative community of independent veterinary practices, XLVet members are able to share insights with their colleagues and use their knowledge and experiences to the benefits of all their clients."
Christianne Glossop, Chief Veterinary Officer, Welsh Government, congratulated Magda, "I am very pleased that the Gwaredu BVD scheme was used to facilitate your veterinary investigation. The health impacts for our national herd and the financial implications for our industry in Wales as a consequence of BVD can be devastating, and I am proud of the partnership work between Industry and Government that the Gwaredu BVD scheme provides for. The eradication of BVD across Wales is an achievable goal, thanks to our veterinary practices and practitioners such as yourself, engaging with the scheme and delivering it to farmers in order to improve cattle health across Wales".
Magda's winning submission can be read at https://awards.bvdzero.com/sites/default/files/2020_bvdzero_case_01_sioukiouroglou.pdf
Find out more about the XLVets community at https://www.xlvets.co.uk/the-boss/.
Note to editors:
BVD is a contagious disease of cattle occurring worldwide and many farmers place it among their highest economic and welfare concerns. It is a disease caused by a virus that produces immunosuppression and reproductive failure in cattle. Recently published figures show that the average-sized cattle farm will save £2,000 to £14,000 per year while it has a negative status (amount depends on farm type).
BVD creates big economic losses in the farming industry and many European countries have designed national strategies to eradicate this disease. The Welsh Government launched the Gwaredu BVD scheme in 2017 and provides free BVD antibody testing for three consecutive years to all cattle herds in Wales and a further £500 financial support for the identification of persistently infected animals and eradication of the disease.
The benefits of this scheme for the farmer are that the BVD status of the farm can be established, progress monitored and the disease eradicated where it exists, to protect and improve the health of the animals and the sustainability of the farm.
Press contact: Susan McKay, Companion Consultancy, Tel 07887 515870, susan@companionconsultancy.com
About XLVets
XLVets is a community of independent practices, enabling members to collaborate with shared knowledge, experience and skills.
Practice ownership and therefore all decision making, is veterinary led, in the hands of those who work within their practice and remains with veterinary professionals who are committed to achieving and maintaining excellence.
Members benefit from group synergies as a result of improved access to resources, processes and economy of scale, that would otherwise be beyond their reach, ensuring they remain highly competitive.
The support of their peers and colleagues means members can freely express their individuality but are not alone. XLVets is proud to celebrate leadership, creativity and technical know-how demonstrated by the best-in-class professionals at every level within its community.
With a focus on building cooperative relationships and networks, XLVets recognises the strong tradition and heritage of veterinary practice and welcomes opportunities to put control of the future into the hands of veterinary surgeons and their teams.
Founded in 2005, XLVets began as a collection of dynamic farm animal practices that saw benefits to working together to support each other, while retaining their own individuality. As a champion of independent veterinary practice XLVets has grown rapidly, with equine and companion animal practice now also strongly represented. The appeal of the business model has extended internationally and there are XLVet communities in the UK, Ireland, New Zealand and Canada.
Find out more at https://www.xlvets.co.uk/ and https://www.xlvets.co.uk/the-boss/
Twitter @XLVets
LinkedIn https://www.linkedin.com/company/xlvets/about/
Facebook @XLVetsConnect