11 Aug 2019
VETERINARY CE EVENT NEW YORK VET CELEBRATES SUCCESSFUL THIRD YEAR IN NEW YORK CITY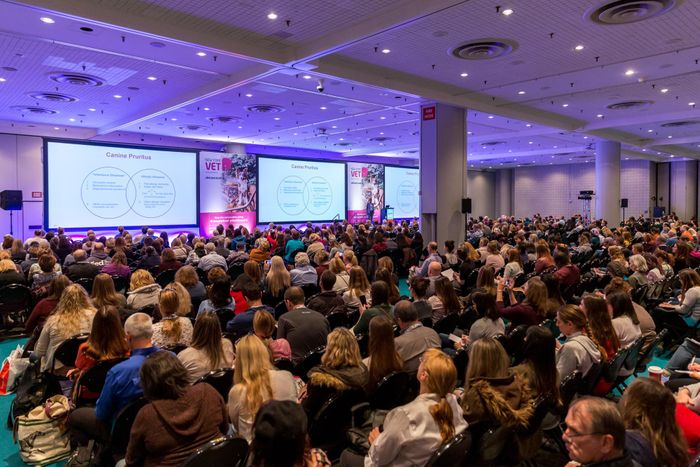 NEW YORK, NEW YORK—More than 2700 attendees and 280 exhibitors gathered at the Javits Center in New York City on November 7 and 8 for the third year of New York Vet, a national, 2-day veterinary conference designed specifically to fit in the demanding schedules of today's practicing veterinarians.
"This year has absolutely been our best year yet," said Elizabeth Green, Brief Media CEO and founder. "Our team has been blown away by the level of excitement and community spirit at New York Vet, and it has now set a benchmark for success going forward. It has been rewarding to see our efforts to provide the veterinary industry with affordable and quality CE surpass our expectations."
Every year, New York Vet features a comprehensive continuing education (CE) program, developed by the veterinarians behind Clinician's Brief and supported by the veterinary team at Royal Veterinary College. Attendees were able to choose from 100+ hours of RACE-approved and NYSED-accredited CE to earn up to 16 hours and take home practical, relevant insights to grow their practices, enhance patient care, and much more.
"I'm a surgery tech—I want to get in all the [sessions] that have to do with anesthesia," Yvonne Strube, Veterinary Technician, said, noting what made her want to attend New York Vet. "The topics are relevant to what I'm doing on a daily basis, and so far, the lectures I've sat through have been excellent."
New York Vet's 2019 program, an expansion of the event's first two years, covered a variety of practical topics, from feline orthopedics and budget-friendly clinical cardiology to trauma care and smartphone use in veterinary practice. In addition, the New York Vet Builds and New York State Veterinary Medical Society theaters, new for 2019, were well attended by veterinary professionals seeking guidance for successful practice renovation and shelter animal welfare, respectively. All sessions offered attendees high-quality education in energizing, interactive formats, focused on key insights attendees can put into practice as soon as they return to work.
"New York Vet gets better every year," said attendee Lisa Lippman, DVM. "I never miss it and look forward to it every year. I learn so much in such a short time—from incredible speakers to vendor booths with all the latest. Can't wait for next year's show!"
New York Vet is hosted by CloserStill Vet US, LLC, a joint venture between CloserStill Media, organizers of Europe's largest veterinary conference, the London Vet Show, which returns for its tenth year on November 14-15, 2019, and Brief Media—publisher of Clinician's Brief and Plumb's Veterinary Drugs.
"Everyone at New York Vet is delighted to have hosted such a phenomenal third year," said Christina Zoccoli, Event Director for New York Vet. "As well as continuing our mission to deliver world-class education to thousands of clinicians and veterinary teams at an affordable cost, we are especially thrilled with the positive energy onsite, the busy exhibition with attendees and exhibitors networking effectively, and some of the fantastic new features and social occasions at this year's event. We are already looking forward to New York Vet 2020!"
The event's innovative layout allows for a continuous flow between the exhibition hall and sessions, creating a truly unique learning and networking experience for all involved.
"It's consistent on the floor—there are quite a lot of people around," said VetMedWear representative Charlotte Brown. "[New York Vet has] the mix right for when people are in theaters and when they're on the show floor."
New York Vet will return to the Javits Center November 5-6, 2020, with world-class CE, a growing community of exhibitors, and more opportunities to explore New York City. For more information or to register for next year's event, visit newyork.vetshow.com. For more information about the Vet Show portfolio—which includes veterinary CE events in Austin, Chicago, Reno, and Washington, DC—visit vetshow.com.
Questions?
MEDIA CONTACT
Ketheren Thorn
(646) 956-2974
k.thorn@closerstillmedia.com
ABOUT CLOSERSTILL MEDIA
CloserStill Media specializes in high value, content driven events and the nurturing of B2B or professional communities. The company operates chiefly in the healthcare and technology markets with events in London, Birmingham, Paris, Frankfurt, Hong Kong, Singapore and New York City. Our portfolio includes some of the fastest growing, and often award winning, events including the London Vet Show, Cloud Expo Europe, The Pharmacy Show, Learning Technologies and The Dentistry Show.
CloserStill is the fastest growing British exhibition organizer in international markets according to the eighth annual Sunday Times International Track 200. In addition, the Financial Times FT1000 Index named CloserStill the fastest growing exhibition organizer in Europe. CloserStill's ranking is the highest of any exhibition organizer since the Sunday Times Fast Track series inception.
In the last seven years, CloserStill has been repeatedly recognized as a leading innovator with its teams and events winning multiple awards (over 30 in total) including Best Marketing Manager—five years in succession—Best Trade Show, Best Launch Exhibition, Best Brand Extension, Rising Star—two years in succession—Best Operations Manager, Best Sales Person, Management Team of the Year and was voted 'Most Respected Company of the Year' at the 2016 Association of Event Organizers Excellence Awards.
ABOUT BRIEF MEDIA
Brief Media is committed to delivering premium peer reviewed educational content and point of care tools to more than 269,000 veterinary professionals worldwide. The company's award-winning journals include Clinician's Brief, voted the most essential publication in veterinary medicine for 11 years running, and Veterinary Team Brief, voted the #1 educational resource for the entire practice team. Plumb's® Veterinary Drugs, Brief Media's digital and mobile friendly veterinary drug reference, provides rapid access to the trusted drug information busy veterinary professionals need—right when they need it.
Brief Media's partnerships include the World Small Animal Veterinary Association (WSAVA) and Mission Rabies, and the company's latest endeavors include New York Vet, Chicago Vet, and Wild West Vet, veterinary CE conferences developed in collaboration with CloserStill Media and geared toward practicing veterinarians.