Veterinary telehealth service Vetster, launches to improve access to care for pet owners across UK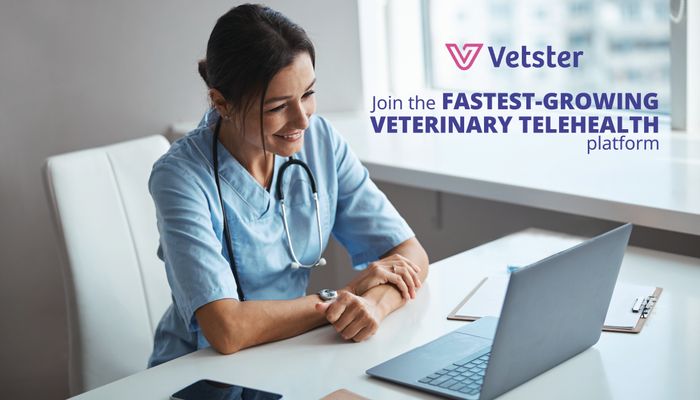 The world's fastest-growing veterinary telehealth service Vetster has officially launched across the UK market, following its success in North America. Vetster connects licensed UK veterinarians with pet owners via video, voice and online chat to address non-urgent pet care issues. The service aims to reduce the critical shortage of pet healthcare facing the UK, where one in two veterinary clinics are overbooked and unable to take on more patients.
A new study revealed that the biggest challenge UK veterinary clinics faced was the volume of pets (57%), followed by being overbooked (50%) and unable to take on new patients. Previous reports also show that 37% of vets are "actively" thinking about quitting, with 80% of the UK professionals leaving to get a better work-life balance.

"We are experiencing a global crisis in pet care exacerbated by the pandemic," said Mark Bordo, CEO and co-founder of Vetster. "Veterinarians are facing tremendous pressure to provide services to millions of pet owners. Vetster's virtual care platform connects pet owners with licensed UK veterinarians to provide support when their clinic is closed, to answer a non-urgent question, and to improve the health outcomes of their pet and help ensure owners can care for their animals."
Vetster empowers veterinarians to create a virtual care practice that provides teletriage, addresses non-urgent issues, and provides pet owners with answers to their questions. The most common cases treated by Vetster veterinarians are dermatology, gastrointestinal, respiratory, urinary tract, ophthalmology and musculoskeletal issues. By diverting these cases to licensed UK veterinarians online, Vetster aims to relieve the pressure on clinics so that clinics can serve pets in need of surgery, immunizations, bloodwork and other clinical treatments.
"Veterinarians are able to incorporate a new modality of practice to improve their work-life balance, serve pet owners outside of a clinic environment, and hopefully practice for longer, avoiding burnout and stress associated with this much-needed profession," continued Bordo.
The pet telehealth service has been operating in North America for more than two years and recently entered the UK market, attracting both top-rated licensed veterinarians and customers to use virtual care for their pets. Since that time, veterinarians using the platform to deliver virtual care services have treated more than 20 common pet health concerns, with 97% of appointments resulting in a positive outcome for the pet and pet owner.
Veterinarians seeking to explore virtual care can visit: https://vetster.com/en-gb/for-vets
Veterinary practices seeking to provide after-hours support to clients can visit: https://vetster.com/en-gb/for-vet-clinics