04 Nov 2022
VETS4PETS TO SUPPORT WOODLAND TRUST AT LONDON VET SHOW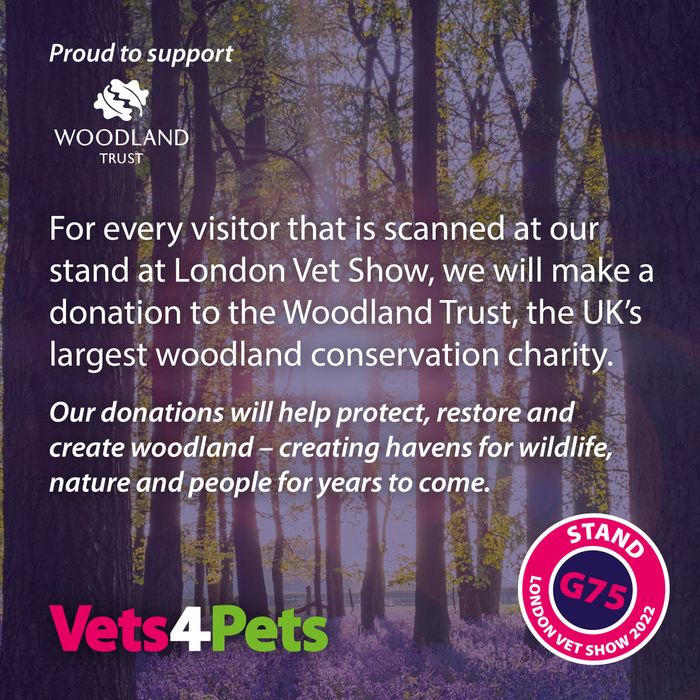 Vets4Pets, which is part of Pets at Home, has announced it will donate to the Woodland Trust on behalf of all of those who visit the business' stand at London Vet Show.
This year, the Vets4Pets team is inviting delegates to join them on stand G75 to find out more about the business and career development opportunities available within the Vets4Pets network, alongside how every role is designed to help individuals to develop and thrive.
This includes opportunities for professionals at every stage of their career journey, from graduates to veterinary nurses, veterinary surgeons and practice owners, and all visitors will have the chance to hear directly from Vets4Pets on a wide range of topics. From their approach to colleague development and the importance of supporting health and wellbeing, to what it's like to be part of the Vets4Pets family.
As a thank you to those who attend, Vets4Pets will also make a donation to the Woodland Trust, the UK's largest woodland conservation charity, for every visitor they meet on the stand during the event.
The donation will form part of Pets at Home's partnership with the Woodland Trust and supports its Better World Pledge, which includes commitments to positively impact the life of every pet in the UK by 2030, enhance the lives of one million people by 2030 through a shared love of pets and to become net zero by 2040. All will play a vital part in helping Pets at Home to achieve its mission of becoming the most responsible pet care business in the world.
Louise Stonier, Chief Operating Officer at Vets4Pets, said: "I'm really proud of our partnership with the Woodland Trust and all the money we raise will be used to help create, restore and protect woodlands across the UK.
"This will also be the first time I've attended London Vet Show since my appointment as Chief Operating Officer and I'm very much looking forward to catching up with contacts and colleagues from across the industry. I look forward to meeting many of you there, either on our Vets4Pets stand or in the wider exhibition."
London Vet Show is one of the veterinary industry's biggest events of the year and will welcome thousands of delegates when it takes place at the ExCel, London, on 17-18 November. It provides an opportunity for people to relax and reconnect with their peers, whilst accessing the support they need to develop their careers through the conference's extensive CPD programme.
For more information about careers at Vets4Pets, please visit: www.vets4petscareers.com.