15 Nov 2022
WIN AN EKO DIGITAL STETHOSCOPE AND BOTTLE OF CHAMPAGNE WITH VVS!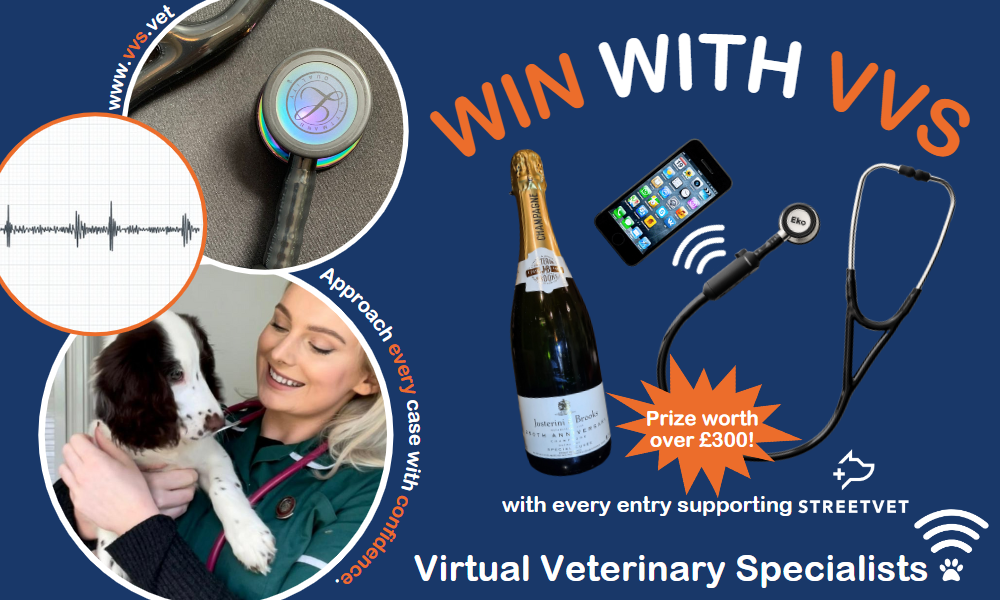 Virtual Veterinary Specialists are offering you the chance to win an Eko Digital Stethoscope worth over £300!
All work and no play makes Jack a dull boy: The same can be said for our notoriously hard-working veterinary colleagues, and so Virtual Veterinary Specialists have thrown in a bottle of Justerini & Brooks 250th Anniversary Champagne to the prize pot for good measure!
With the Royal Warrant of Appointment, Justerini & Brooks have been supplying the Royal Household since 1997 – and we think it's about time LVS got in on the action!
To be in with a chance of winning, scan the QR code on your VVS "Join the referral revolution™" flag found in your delegate bag on arrival to London Vet Show 2022!
For every entry into the competition during LVS, Virtual Veterinary Specialists will make a donation to StreetVet, supporting the amazing work their volunteers do for people experiencing homelessness and their pets.
Virtual Veterinary Specialists supporting the outstanding work of StreetVet since 2017!
Book in to speak with a member of the VVS Team at LVS here for your opportunity of a FREE introductory VVS Internal Medicine Mentorship session with Professor Rob Foale! Rob will be available on VVS Stand H13 on Thursday afternoon to answer all your mentorship questions!
Join the referral revolution is a trademark of Virtual Veterinary Specialists. Copyright © 2022. All rights reserved.