05 Apr 2018
Winners of the 2018 Petplan Veterinary Awards announced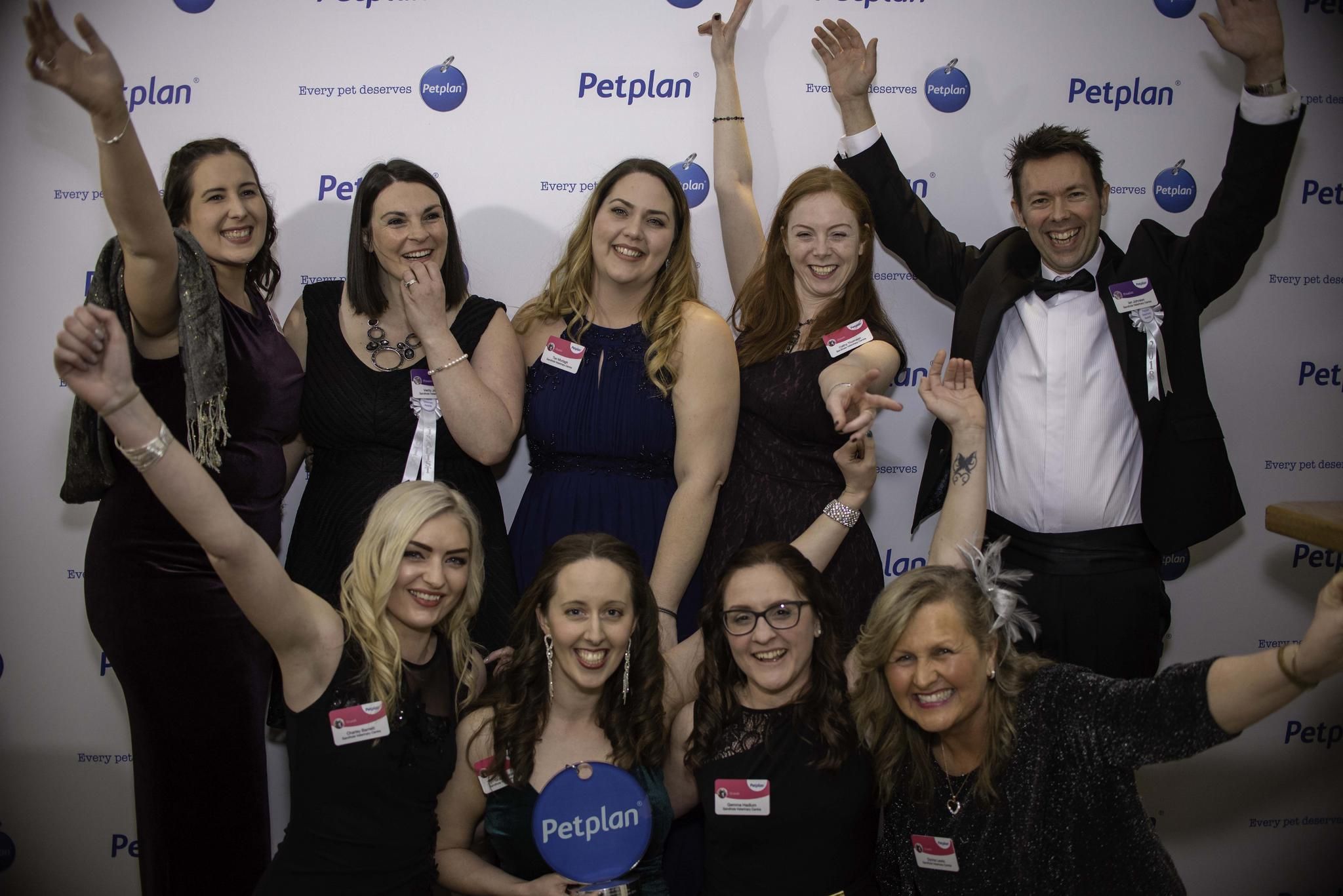 The winners of the 2018 Petplan Veterinary Awards were announced on the 5th April during a ceremony at the iconic Town Hall in Birmingham.
The Awards, now in their 19th year, celebrated the nation's most outstanding vets, vet nurses, practices, practice managers and support staff who had been nominated by their colleagues and clients for continually going that extra mile, keeping pets healthy and giving owners peace of mind.
James Barnes, Head of Partnerships at Petplan, commented:
"This year we received an outstanding number of nominations, seeing over 22,000 entries from pet owners and the veterinary community. The quality of entries was exceptionally high and our judges had a very tough decision choosing the winners in each category."
He added: "We had a brilliant evening celebrating the outstanding talent of our deserving winners and would like to congratulate them on such a fantastic achievement!"
The following prizes were awarded:
Veterinary Practice Manager of the Year – Helen McHugh of Holmefield Veterinary Clinic in Selby, North Yorkshire
Particularly impressive for the independent panel of judges was Helen's strong commitment to the practice's ethos of doing the best she can for both patients and customers, whilst always maintaining a lead by example approach to continually motivate the team.
On receiving her award, Helen said: "Oh wow, I can't quite believe this has happened! I was relaxing at the back of the room thinking that my name wouldn't be called out and when it did it was a complete shock, I didn't expect to win at all. The night has been absolutely brilliant and made much better by being named a winner."
Veterinary Practice Support Staff of the Year – Bryony Flynn of Cedar Grove Veterinary Clinic in Belfast, County Antrim
Bryony was highly-commended for her remarkable generosity of spirit with a plethora of heart-warming and sometimes amusing examples of her caring and compassionate nature to humans and animals alike. Bryony's "can do" mentality and genuine desire to help and support clients and staff deserves recognition.
Commenting on her win, Bryony said: "I am absolutely speechless to have won the award. The standard of veterinary care demonstrated by teams and staff this evening is overwhelming. I am grateful to have received the nominations and proud to work at Cedar Grove- go team CG!"
Vet Nurse of the Year – Anna Ashworth of Dalehead Veterinary Group in Settle, North Yorkshire
Anna stood out amongst the finalists due to her education in large animal welfare and her proactivity towards her own personal development. It was also recognised how Anna is a great example of how a registered vet nurse can make an impact in a large practice and a rural community.
Commenting on her prize, Anna said: "I can't quite believe it, when I heard the news I was very shocked I thought I was having chest palpitations! When I watched the other finalists I really didn't think they would call my name, but I'm very pleased they did and I'm lucky to be a winner".
Veterinary Practice of the Year – Sandhole Veterinary Centre in Snodland, Kent
The judges were impressed by the practice's outstanding care for both animals and staff, demonstrating a great level of community engagement. The team were also praised for spending a weekend delivering free care at an animal rescue centre.
Commenting on their award, the team said: "We're just amazed, we've worked so hard to achieve this award. It's a testament to everyone, to what they do every day. It's fantastic to be winners and it feels quite surreal at the moment, but well done to all- go team Sandhole!"
Vet of the Year – Martin Brice of Emerson's Green Vet Surgery in Bristol, Avon
Martin was praised for his leadership style, compassion to clients and the community. Martin continually motivates staff members to improve and progress their career.
Commenting on his prize, Martin said: "This is truly the most wonderful experience I've ever had. I couldn't have done this without my staff, the vets and receptionists, everything behind me. It's not about me, it's about them. I am so grateful to my clients, to my colleagues and to my family for putting up with me. I really hope I can represent the profession to what it deserves".
For further information on the awards and to learn more about the winners, please visit Petplanvet.co.uk.