30 Aug 2019
Worlds most sustainable dog food aims to reduce carbon pawprint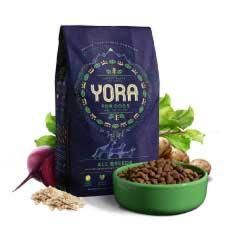 Launching in January 2019, Yora is a trailblazing new pet food that provides your dog with a healthy and delicious diet at the same time as reducing their environmental impact.
Pets are estimated to consume around 20 per cent of their country's meat and fish[1], a statistic which is set to grow further with the trend for feeding human grade meat to dogs and cats.
Yora is 100% natural, free from artificial preservatives and made with highly nutritious insects which are better for pets and the planet. The kibble features little grubs combined with British grown oats, potato and natural botanicals and looks and tastes just like regular food.
For years, environmental experts have proposed insects as the food source that can end world hunger without harming the planet. Insects are unbelievably nutritious - packed with essential proteins, fats, minerals and amino acids - and are even easier to digest than chicken, so they're perfect for pets with sensitive stomachs.
Insects use a fraction of the resources to farm and Yora's grubs are reared in a brand new, £18 million high tech facility in Holland. The grubs are extremely efficient and even consume recycled vegetable matter that would otherwise go uneaten.
When compared to beef farming, Yora's grubs need just 2% of the land and 4% of the water to produce each kilogram of protein, which means they generate 96% less greenhouse emissions. The insects grow naturally at a rapid pace, reaching full size in just 14 days, so there's no need for growth hormones or antibiotics.
Yora is supported by a team of veterinary experts including TV vet Dr. Rory Cowlam who said: "Yora provides a healthy, high protein alternative to conventional kibble. It's hypoallergenic, and free from antibiotics and growth hormones. Pets love the taste – plus it's great for the planet."
"As a keen conservationist and dog lover, I am incredibly excited by the enormous potential for this dog food to reduce our pets' collective carbon pawprint."
The insect protein in Yora offers a higher quality protein than the by-products found in most pet foods. Yora features tasty and nutritious ingredients like kale, seaweed and chicory which all have added benefits for your dog including Vitamin C, improved digestion and anti-inflammatory properties.
Tom Neish, founder of Yora, comments: "Animals and humans have been eating insects since the dawn of time and we believe Yora is the future of pet food. We have trialled 29 recipes to find the perfect combination of great tasting ingredients and are very proud of the end result."
"Yora enables dog owners to take the lead in giving their dog a nutritious, tasty food whilst having a positive impact on the environment."
Nigel Baker, chief executive of the Pet Industry Federation, added: "With increasing pressure on all of us to reduce our meat intake, it's clear that the pet industry will need to diversify, and we welcome this innovative new dog food product."
Top 5 reasons to feed your dog Yora:
World's most sustainable pet food
A fraction of the carbon footprint
No growth hormones or antibiotics
Hypoallergenic
Deliciously tasty and nutritious
Available to buy online or from independent pet stores, Yora costs £13.99 per 1.5kg bag (which equates to £1.68 per day[1]), £47.99 per 6kg bag (£1.44 per day) or £89.99 per 12kg bag (£1.35 per day). To find out more, watch this video, visit the website or check out our Instagram feed.
For further information, images or interview requests, please contact:
Jenny Briggs 07542 566437 / jenny.briggs@greenhousepr.co.uk
Helen Bell 07880 560233 / helen.bell@greenhousepr.co.uk
---
[1] Cost per day is based on a medium sized dog (15kg) eating 180g of food.
---
[1] Okin GS (2017) Environmental impacts of food consumption by dogs and cats. PLoS ONE 12(8): e0181301. https://doi.org/10.1371/journal. pone.0181301